Dir: Calvin Poon. Hong Kong. 2011. 91mins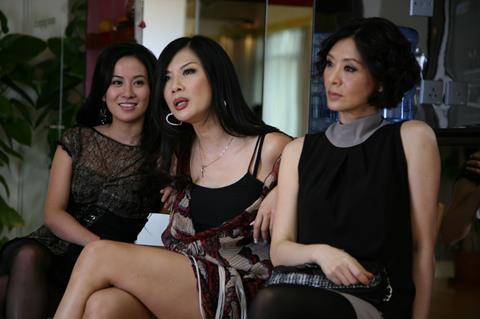 Desperate housewives go on pleasure-seeking trips that spiral hopelessly out of control in this stylistic throwback to early 1990s Hong Kong B-movies. With its neurotic characters' fluid sexuality, kitschy music score, and bundle of excessively melodramatic plot developments, Hi, Fidelity plays like a low-rent Almodóvar picture that has forgotten the need for an emotional core amid its sensationalistic overdrive.

Marking the screen return of 1980s movie actress Pat Ha (An Amorous Woman Of Tang Dynasty, My Name Ain't Suzie), this directorial effort by Calvin Poon - a Cantopop lyricist, football commentator, screenwriter and one-time film director (1986's Kiss Me Goodbye) - starts out as a character drama centred around three unhappily married middle-aged Hong Kong women, but gradually turns into full-on B-movie mode.
The earlier parts of Hi, Fidelity are punctuated by grainy monochrome shots that are eventually revealed to be part of a plot twist that barely registers.
While limited theatrical release in Asian countries (especially those in which Hong Kong cinema was a box office draw in the 90s) is possible, an outside chance of making it to fests will likely only arise at those with a special affinity to Chinese language films or a wide-ranging interest in lesbian content.
Upon learning at a women's association meeting of her husband's infidelity, disenchanted housewife Mrs. Man (Ha) is whisked away to the neighbouring city of Shenzhen by three of her peers, played by Michelle Ye (as Mrs. Ma), Carrie Ng (as Mrs. Ho) and Bonnie Xian (as a 20-something beauty, who is apparently too young to have to pay for sex).
While starting out as a drama on married women asserting their sexuality, any illusion of female empowerment that this film may project swiftly goes out of the window as the protagonists grow increasingly obsessive about Bill (pop idol William Chan), the most popular gigolo at the club they visit.
Under the script by Poon and Yeeshan Yang (who also co-wrote the sex trade dramas Whispers And Moans and True Women For Sale with director Herman Yau), Hi, Fidelity supports its unusual premise with some intriguing performances in its first half, with the emotional struggle between Ye's carnal character and her impotent triad boss husband (Chapman To) being one of its highlights.
Sadly, the film also seems to be in a race with its ensemble cast to see which will first lose its sanity completely - and the film wins by a fraction. In particular, Bill's back stories are provided by way of incredible revelations that keep coming out of nowhere: he's a machine in bed because he has a passive twin brother,
Ben (also played by Chan), acting as his moonlighter; he's actually hired by the increasingly jealous Mrs Ma to make her secret crush, Mrs Man, happy; being Mrs. Ho's favourite gigolo, he's also secretly screwing her husband (Lawrence Cheng); and, in a uncharacteristic turn to madness, he turns into a misogynistic psychopath and stabs Mrs. Ma to her death.
In what might at first be misunderstood as a hint to the film's experimental edge, the earlier parts of Hi, Fidelity are punctuated by grainy monochrome shots that are eventually revealed to be part of a plot twist that barely registers: these shots, indeed, are supposed to be footage taken by detectives as part of Mrs. Man's husband's investigation into her private life.
The casting of semi-retired pop singer George Lam in this husband role is only one of the many subtle nods to the film's retro aesthetics, which also include a Cantonese ballad on the soundtrack late in the film, complete with Chinese-only subtitles for its lyrics - a common practice of early '90s Hong Kong cinema.
Production companies: Wide China Creation Ltd, Mei Ah Films Production Co. Ltd, Local Production Ltd
International sales: Mei Ah Entertainment, www.meiah.com
Producers: Maria Wu, Lee Kwok-hing, Ng Kin-hung
Executive producers: Tong Hing-chi, Charley Zhuo Wu
Screenplay: Calvin Poon, Yeeshan Yang
Cinematography: Ardy Lam, Derek Wan
Editors: Chung Wai-chiu, Hui Wai-kit
Music: Da Jamz
Main cast: Pat Ha, Michelle Ye, Carrie Ng, William Chan, Chapman To, Bonnie Xian