London's mayor cracks us up at a Wimbledon Studios launch.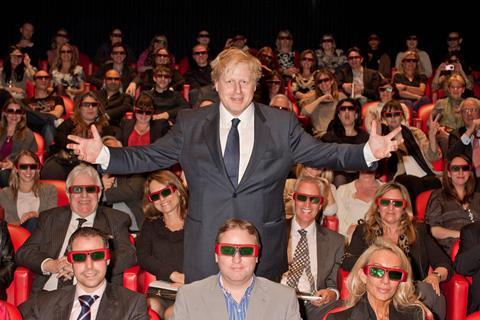 London mayor Boris Johnson made a scene-stealing last-minute appearance at the launch of the newest studio on the block, the Wimbledon Film and Television Studios, at the swanky Soho Hotel last night. (Our news story is here.)
Arriving in the nick of time on his trusty bike, Boris told an audience of industry types trying to juggle their champagne and 3D glasses, that this was his third speech of the night, but that he had "overruled and thwacked down" some members of his staff who had had the nerve to say he didn't need to be at the event.
The film-loving mayor joked that he had recently spotted his office, City Hall, in the background of a gigantic poster for the latest Harry Potter film ("Harry Potter And The Awful Experience or whatever it was") on the side of a London bus as it "glided past at the average speed of 9.4 miles per hour."
He also went on to take personal credit for "rescuing Film London from the grad grinds of the Treasury in a manoeuvre worthy of James Bond."
A cunning linguist he may be, we're just not sure how he'd look in a pair of Daniel Craig's Speedos.