Based on estimates, The Hobbit has narrowly retained its UK box office crown ahead of The Impossible's impressive $6.5m (£4m) debut, including previews.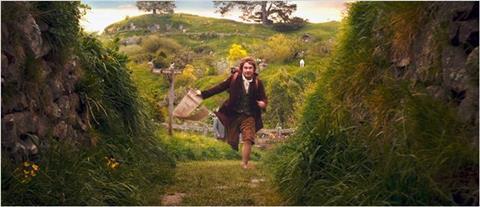 With only around $80,000 (£50,000) between them, The Hobbit: An Unexpected Journey appears to have held onto its UK box office crown for a fourth consecutive week ahead of impressive newcomer The Impossible.
Warner Bros.' fantasy epic journeyed to a further estimated $6.5m (£4.1m) for a strong $72.3m (£44.9m) to date. Should it retain top spot when official figures are released, The Hobbit will become the first film since The Inbetweeners Movie to go four weeks at the top of the UK box office. Skyfall achieved four weeks at number one, but its fourth week at number one came after The Twilight Saga: Breaking Dawn - Part 2 had enjoyed two weeks at the chart's summit.
The Hobbit: An Unexpected Journey is currently tracking ahead of the best performer of the Lord of the Rings trilogy, Fellowship of the Ring, which stood at $70.3m (£43.7m) after its fourth weekend. However, both The Two Towers ($73.9m/£46m) and Return of the King ($79.5m/£49.5m) were ahead of Fellowship after their fourth weekend in play.
Following its release on New Year's Day, eOne's The Impossible enjoyed an excellent start to its UK run, debuting with $6.4m (£4m) including previews.
That result is already ahead of the overall gross of director JA Bayona's The Orphanage in the UK ($2.8m/£1.8m) which received a smaller release. Even if it doesn't make up the £50,000 difference, eOne will be mightily pleased with the tsunami-set drama's opening that continues their strong 2012 run at the box office, which saw them end the year as the UK's leading independent distributor [see separate story here].
Continuing its superb run at the UK box office, despite dropping a place to third, was Fox's awards contender Life of Pi.
Grossing an estimated $5.3m (£3.3m), Ang Lee's 3D adaptation of Yann Martel's Man Booker Prize-winning novel fell just 19% in its third weekend and has now amassed a fantastic $28.7m (£17.8m) and with healthy word-of-mouth, it looks set to enjoy a long run.
Opening, like The Impossible, on New Year's Day, Momentum's Quartet was the week's second highest new entry, debuting with a non-final $3.7m (£2.3m) including previews in fourth.
Comparable to the $3.6m (£2.3m) opening of last year's The Best Exotic Marigold Hotel, albeit from just three days, Dustin Hoffman's directorial debut seems to have appealed to the same audience that saw John Madden's comedy-drama to over £20m at the UK box office and Quartet should enjoy solid returns during the week.
Two of last week's new openers enjoyed sturdy holds in their second weekend. Paramount's Jack Reacher fell only 27% adding $2.7m (£1.7m) for $11.5m (£7.2m) to date, while Fox's Parental Guidance recorded just an 8% drop for $1.4m (£878,000) and stands at $5.4m (£3.4m).
Paramount's Rise of the Guardians crossed the £11m mark in its sixth week and has taken $18m (£11.2m) so far.
Lionsgate's Playing For Keeps debuted outside the top ten after grossing $814,000 (£507,000), including previews, from its 269 sites, but the distributor should see a stronger return for its 3D sequel to the original 1974 The Texas Chainsaw Massacre, Texas Chainsaw 3D, which opened at number one in the US this weekend and held UK previews on Friday and Saturday.
This week sees saturation releases for Warner Bros.' Gangster Squad (opens Jan 10), Universal's Les Misérables and Lionsgate's Texas Chainsaw 3D (opens Jan 9). Following its Ireland release last year (where it grossed $489,000/£304,678), Artificial Eye's What Richard Did is among the films receiving a limited release.