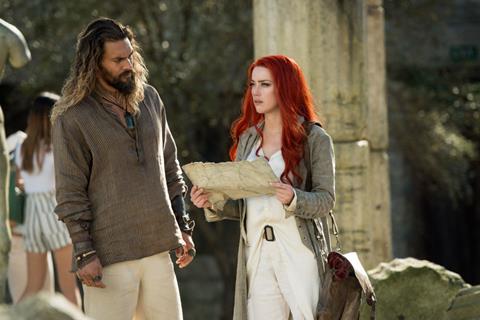 Strong performances over the Christmas and New Year holiday period have pushed total North American box office for 2018 to a record $11.859bn, according to the final figure from measurement company Comscore.
In the international market place, meanwhile, the holiday period saw Aquaman pass the $600m box office mark, helping boost Walt Disney Studios' global take for 2018, which had already become the second biggest tally by a single studio in a given year, to $7.325bn.
North American box office passed the previous annual record - 2015's final tally of $11.383bn – over Christmas. The final tally from Comscore represents a 6.7% increase over 2017's $11.119bn.
With final figures due in a couple of weeks, the tracking company is currently estimating an international box office tally for 2018 of $29.8bn, up 1% on 2017's record $29.5bn, and a global total of $41.695bn, up 2.6% on 2017's record $40.619bn.
Disney's final global tally for calendar 2018 ranks second only to the studio's 2016 record of $7.605bn. Disney is the only studio to have passed the $7bn global mark for a single year.
Domestic box office made up $3.092bn of the total, beating Disney's previous industry record tally of $3.001bn from 2016 and giving the company an estimated market share of 26%. The domestic total came from 13 films, three of which – Black Panther, Avengers: Infinity War and Incredibles 2 – each took more than $600m in North America.
Disney's international take of $4.233m was the studio's second biggest annual total ever and the third biggest in industry history.
Disney's latest hit, DC Entertainment adventure Aquaman, added to its international box office haul with an estimated $16.8m on Monday (December 31) and $24m on Tuesday (January 1), the studio has reported. That took the film's international total to $606.6m from 79 markets and its running worldwide total to $822.9m.
The underwater outing opened in Italy with a first day take of $1.8m from 526 screens, the biggest opening ever in the territory for a DC title.
The film's top five Tuesday market totals came in China, with $7.3m, for a cumulative $275.5m; Korea, with $3.1m and a running total of $30m; Australia, with $1.3m, for a $13.3m total so far; Mexico, with $960,000, for a $23.5m total; and France, with $710,000, for a $16.7m total.
Commenting on Disney's 2018 box office showing, studio chairman Alan Horn said: "Thanks to the support of fans of Disney, Pixar, Marvel Studios, and Lucasfilm around the world, it's been a monumental year for The Walt Disney Studios. I want to especially acknowledge Marvel Studios' pivotal year, during which Black Panther and Avengers: Infinity War sparked conversation and broke records and expectations to cap an unprecedented first decade for this exceptional studio.
"Right alongside these superheroic performances was the return of the Supers in Pixar's Incredibles 2, bringing these beloved characters back to the screen with their powers stronger than ever.
"We truly appreciate the amazing talent of our studio team as well as the filmmakers and creatives we're fortunate to work with, and we look forward to a great 2019."