Dir: Marc Evans. UK. 2011. 107mins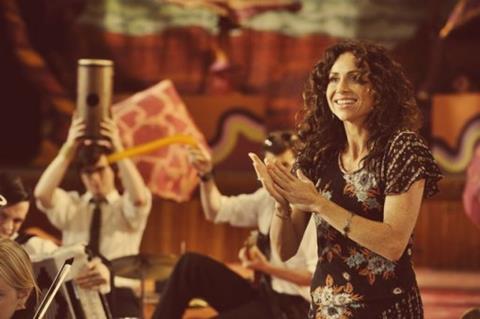 The clarion call "let's put on a show!" has fuelled films all the way from Babes In Arms to High School Musical and Marc Evans is the latest director to succumb to its seduction, working from a screenplay by Laurence Coriat whose very name calls to mind David Bowie's 1971 album and the whole glam rock, concept pop era.
Hunky Dory has a good sense of the rites-of-passage summer.
Set in a Welsh village during the sweltering summer of 1976, Hunky Dory is centred around the efforts of the local school's new drama teacher Viv (Minnie Driver) to stage a musical play, a rock opera, based on Shakespeare's The Tempest. A cracking real-life school band, complete with triangles, accordions and tambourines, delivers tracks ranging from Bowie himself to the ELO (and really, how can you go wrong with a bunch of kids singing It's A Living Thing?).
But, like Viv's play, Hunky Dory can occasionally be a little shaky. On several levels, it's a stirring success with some inspired casting (by Jessica Ronane) of young British talent; an unexpectedly winning soundtrack; evocative camerawork by Charlotte Bruus Christensen; and some clever set dressing. This is a heroic team effort, especially given, from the film funds and sheer volume of executive producers credited, Hunky Dory was probably not awash with cash.
Hunky Dory has some structural weaknesses, however. It should be Viv who drives this 107-minute film, but she's often missing in action. She has a great Welsh accent, courtesy of Minnie Driver, floating kaftans and tambourine-tapping, free-spirited ways, but Viv never feels fully-formed. She's positioned as a youthful, outspoken, often dangerously irresponsible adult and it's fair to say that Driver is probably too old to play her, but even given this, Viv is a challenge, and director Marc Evans (Patagonia) can seem tentative around her
None of the young actors on screen hesitate in the slightest, however, and they should help market the film in the UK at least, where wide exposure seems likely for Hunky Dory. In particular, its young lead Aneurin Barnard has the smoldering presence to ensure he goes on to greater things, while young Danielle Branch is warm and natural as Stella - although young Tom Harries, as sexually confused teenager Evan, may ultimately become the star here.
Hunky Dory has a good sense of the rites-of-passage summer and the feeling of being on the brink of adulthood with all the potential and pain that brings is evocatively conveyed.
Viv arrives back in Wales from London, for reasons which remain unclear, and becomes hell-bent on getting her class to "express themselves" in her play, with "school bike" Stella (Branch) playing Miranda, Davy (Barnard) as Ferdinand, skinhead Kenny (Darren Evans) playing Caliban and likeable headmaster Robert Pugh stepping in as Prospero.
Initially obsessed with Miranda, Davy is easily persuaded to turn his attentions to Viv, who becomes increasingly distressed when the kids don't turn up for practice and, naturally, almost falls apart when the school hall burns down. But it'll be all right on the night, kids, and those who drag themselves away from the social highlight of the local chip shop should be rewarded with a rousing song-and-dance finale, although why Davy is dressed up like Adam Ant back in 1976 is anybody's guess.
Mostly, the school choir and orchestra (credited as coming from Ty Cerdd) interpret the tracks, although Hunky Dory does boast some original versions. Vocally, Harries is the most impressive of the young performers. Attempts to flesh out Viv's character with some background, including the provision of a brother, seem half-hearted, and it's fair to say that Hunky Dory works best when the kids sally forth to do their own thing. Oh, You Pretty Things indeed.
Production companies: Big Pond, Bad Wolf
Producers: Jon Finn, Dan Lupovitz
International sales: Independent Film., www.independentfilmcompany.com
Screenplay: Laurence Coriat
Cinematography: Charlotte Bruus Christensen
Prod designer: Jacqueline Abrahams
Main cast: Minnie Driver, Aneurin Barnard, Tom Harries, Robert Pugh, Danielle Branch, George Mackay, Adam Byard, Kayleigh Bennett, Haydn Gwynne, Steve Spears