Dirs: Emma Davie, Morag McKinnon. UK-Denmark. 2012. 73mins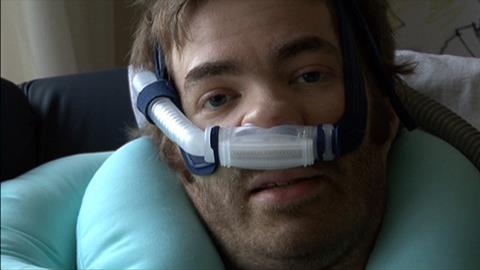 The final months of a young man stricken with Motor Neurone Disease form the heart-breaking core of I Am Breathing, a simple, straightforward documentary that quietly demonstrates how life continues to flourish even in the face of death. Directors Emma Davie and Morag McKinnon don't attempt any grand statements in their look at a 34-year-old Scottish architect coming to terms with the end, and such modesty goes a long way to celebrating an ordinary man facing the unimaginable.
Utilising subdued but resonant music from Kieran Hebden and Jim Sutherland, I Am Breathing doesn't strain for overly poetic musings about life and death.
Making its North American premiere at the True/False Film Festival, I Am Breathing may have a tough time with theatrical prospects because of the subject matter. (With that said, though, the recent Oscar-winning Amour could spur interest in more stories about lovers coping with grave illness.) At the very least, the film's emotional pull should make it a sure-fire festival attraction, not to mention a perfect fit for cable and PBS.
I Am Breathing introduces the audience to Neil Platt, who was diagnosed with Motor Neurone Disease, also known as ALS, which soon made it impossible for him to manipulate his limbs and left him confined to a wheelchair, using a ventilator to breathe. With his death fast approaching, Platt (an architect by trade) focused on a blog to chronicle his reactions to his deteriorating condition. (Because of his immobility, he had to use dictation software to transcribe his observations.) Sad to be leaving behind his supportive wife and one-year-old son, Platt tries to make sense of a life tragically cut short.
Some audiences might resist going along on this difficult journey simply because they haven't heard of Platt, who isn't a larger-than-life figure like an athlete, artist or other kind of celebrity. Nor does he behave in a pronouncedly inspirational way that is meant to offer a feel-good message to viewers. But such superficial complaints miss I Am Breathing's larger point, which is that the nearness of death is a constant, showing no favouritism in whom it strikes.
Davie and McKinnon record Platt as he and his wife Louise accept the fact that there's no chance of him recovering from this disease. There are no big emotional meltdowns or revelations, but instead there is a series of small, understated moments that slowly bring us to Platt's inevitable demise. By emphasising Platt's humility and sweetness, the filmmakers highlight the casual grace and humour that he showed near the end of his days, looking back at his time on earth while at the same trying to decide how best to prepare his child for a life without his father.
Utilising subdued but resonant music from Kieran Hebden and Jim Sutherland, I Am Breathing doesn't strain for overly poetic musings about life and death. (No tortured thematic metaphors are explored, thankfully.) Instead, the documentary incorporates excerpts from Platt's blog, as well as old home movies that offer glimpses of a man very happy with his new bride. If Platt emerges as a quietly brave person, then so too does Louise, who shows incredible strength in the most impossible of times. They may be ordinary people, but their deep, abiding love is anything but.
Production companies: SDI Productions Ltd., Danish Documentary Production ApS, Creative Scotland, Danish Film Institute, Channel 4, Wellcome Trust, MNDA, DR, YLE
International sales: DR Sales, www.dr.dk/Salg/DRsales/index.htm
Producer: Sonja Henrici
Executive producer: Noé Mendelle
Editor: Peter Winther
Music: Four Tet (Kieran Hebden & Jim Sutherland)
Website: www.iambreathingfilm.com