Dir: D. J. Caruso. US. 2011. 109mins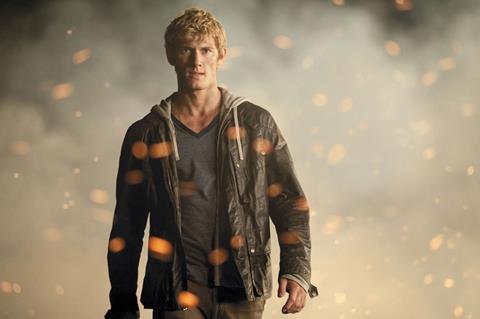 An adaptation of the first of a proposed six-book series about an extraterrestrial prodigy hiding out on Earth from would-be rival alien killers, I Am Number Four is a technically polished but rather unexceptional thriller that never much sets its sights beyond satisfying the lowest-common-denominator expectations of its target teen demographic.
Pettyfer is a chiseled youngster with a certain easygoing charm and movie star looks.
With its full-bodied focus on adolescent bullying and blossoming romance, as well as its desperately open-natured ending, this movie clearly yearns to be the next lucrative Twilight franchise — a tale of teen love set against a wildly improbable backdrop, except with aliens and sci-fi elements substituting for vampires and werewolves. Some glossy technical execution and a concerted marketing push should make it a solid if not spectacular international player.
Based on a 2010 novel by Pittacus Lore, the pen name of Jobie Hughes and disgraced A Million Little Pieces memoirist James Frey, I Am Number Four centers on John Smith (Alex Pettyfer), a specially empowered extraterrestrial who leads a nomadic existence as an American teenager, along with the protector who poses as his father, Henri (Timothy Olyphant). After an incident in Florida, John and Henri alight for a small town in Ohio, where John finds his developing feelings for Sarah (Dianna Agron) complicated by both a jerky jock, Mark (Jake Abel), and the almost pubescent onset of hot flashes of power, which he must learn to control.
John is tracked by a group of nasty, gilled alien assassins, the Mogadorians, intent on murdering off nine of their extraterrestrial rivals in exact numerical order, for no other explained reason than perhaps some collective compulsive disorder. As John learns of their intent and the Mogadorians close in, computer geek Sam (Callan McAuliffe) gets sucked into the proceedings, and Number Six (Teresa Palmer), a fellow gifted alien, shows up to help John do battle.
Broken down to its component parts, it's difficult to not look a bit cynically upon I Am Number Four, since it feels a bit like an emo-valentine mash-up of carefully cross-tabbed teen movie trends. A by-the-numbers adaptation reinforces this reading, loading up on explanatory voiceover and making various plays for manipulation of mood rather than trying to flesh out the characters much beyond their archetypal functionality. And when, late in the film, Mark experiences a change of personality and assists John, it is an especially grievous misreading of the conflicts heretofore set up. It may be done to preserve the prerogative of a future franchise romantic rival, but it rings terribly false.
The real star of the show is Palmer, who shows great flashes of spitfire energy. But since Number Six only really becomes a part of the main story in the last 20-25 minutes of the film, the chance for greater contrast between her no-nonsense attitude and John's awakening impulses is largely wasted. Also, the film does a poor job delineating the different legacies, or powers, that its aliens possess.
Perhaps owing to producer Michael Bay's involvement, the movie features an aggressive sound mix, but its third act leans heavily on CGI creature grappling, shunning more potentially nuanced and interesting human battles.
Pettyfer, who five years ago failed to kick-start a franchise in the kiddie spy flick Alex Rider: Operation Stormbreaker, is a chiseled youngster with a certain easygoing charm and movie star looks (as well as a couple other high-profile films in the can), but will need both better material and a more focused sense of interior purpose if he is to succeed in becoming a bankable leading man.
Production companies: Touchstone, DreamWorks SKG, Reliance Big Entertainment, Participant Media, Bay Films
Domestic distribution: Walt Disney Pictures, www.disney.go.com/movies
Producer: Michael Bay
Executive producers: David Valdes, Chris Bender, J.C. Spinks
Associate producer: Emily Berger
Screenplay: Alfred Gough & Miles Millar and Marti Noxon, based on the novel by Pittacus Lore
Cinematography: Guillermo Navarro
Editor: Vince Fillipone, Jim Page
Production designer: Tom Southwell
Music: Trevor Rabin
Website: FindNumberFour.com
Main cast: Alex Pettyfer, Dianna Agron, Timothy Olyphant, Teresa Palmer, Callan McAuliffe, Jake Abel, Kevin Durand, Jeff Hochendoner