Dir/prod/scr. Xavier Dolan. Canada. 2009. 100 mins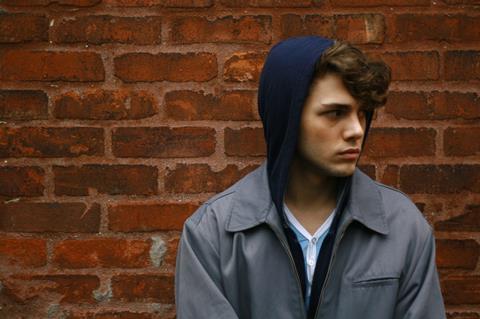 The turbulent relationship between a mother and a son unfolds with a compelling combination of savage fury and melting affection in I Killed My Mother. A stunning, semi-autobiographical tour de force from writer/director/producer/performer Xavier Dolan, it is a film with the sting of shrewdly observed truth.
The coming of age drama is a well-trodden genre and Dolan's film does have similarities with the likes of C.R.A.Z.Y. and Tarnation, but it boasts a caustic humour and some terrific performances which make it stand out from the crowd. Striking enough to win critical acclaim and entertaining enough to attract audiences, I Killed My Mother will have a busy life on the Festival circuit and should also attract substantial theatrical sales.
To say that 16-year-old Hubert (Dolan) and his mother Chantale (Anne Dorval) have a love-hate relationship is a gross understatement. They fight and revisit old wounds with the same relish as George and Martha in Edward Albee's Who's Afraid Of Virginia Woolf?. Hubert is a petulant, floppy-haired adolescent who has grown to hate every single aspect of his mother's life from the messy way she eats to the horrible fashion faux pas that constitute her wardrobe. He isn't shy about telling her. Arguments become shouting matches with Hubert displaying the kind of uncontrollable rage that would have done the late Klaus Kinski proud. " We used to talk, " murmurs his mother. " I was four and had no one else," he roars back at her.
If I Killed My Mother was just a succession of vicious arguments it would quickly become tiresome. Dolan is only 20 but shows great maturity and assurance as a filmmaker in the way he captures both sides of this complex relationship. There are times when either Hubert or Chantale are so consumed by righteous anger or frustration that they burst into laughter at the absurdity of their own behaviour. At different moments both of them acknowledge that they can no longer live with each other but perhaps cannot live without each other either.
Dolan creates a smoothly flowing narrative that encompasses sparingly used literary quotations, montage sequences and moody black and white direct-to-camera confessions from Hubert. These all illuminate the central relationship but never seem pretentious as they might have done in other hands.
Dolan's saving grace is always his acute sense of the comic. Chantale learns of her son's homosexuality at a tanning salon when the mother of Hubert's boyfriend casually mentions that they have been a couple for the past two months. Dolan also writes one stand-out scene for Anne Dorval when she berates a boarding school principal for suggesting that her status as a single mother may explain why Hubert has run away.
I Killed My Mother succeeds so well because it reflects a truth about human relationships that any viewer can recognise. The bond between Hubert and Chantale may be more extreme and exaggerated than most but in the pettiness, manipulations, reconciliations and heartache it expertly conveys the way we all have the ability to hurt the ones we love the most.
Production Company
Mifilifilms
International sales
Rezo
33 (1) 42 46 46 30
Cinematography
Stephanie Weber-Biron
Production design
Anette Belley
Editor
Helene Girard
Music
Nicholas Savard-L'Herbier
Main cast
Anne Dorval
Xavier Dolan
Suzanne Clement
Francois Arnaud
Patricia Tulasne