Dir/scr: Mike Cahill. US. 2014. 117mins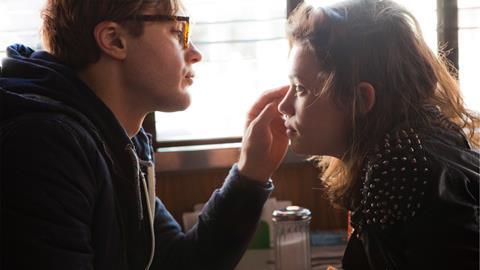 A brain-tickler that at the same time asks deeper questions about spirituality and loss, the twisty I Origins represents for writer-director Mike Cahill a major step forward after his promising, uneven feature debut Another Earth. Telling the story of an ambitious molecular biologist whose faith in science will be challenged in unexpected ways, this sci-fi romantic drama is consistently engaging and unpredictable, growing in emotional impact as its mysteries start to slowly assert themselves.
Where Another Earth's performances sometimes veered toward the chilly, here Cahill leads his able cast through a full gamut of emotions.
Launching at Sundance, where Another Earth also premiered, I Origins should be a solid indie performer, buoyed by the presence of Michael Pitt and Another Earth star (and co-writer) Brit Marling. Brandishing elements of a love story, detective piece and speculative fiction, the film could transcend easy genre pigeonholing, although strong reviews would go a long way toward coaxing on-the-fence viewers to give this unconventional offering a try.
The story begins as Ian Gray (Pitt) is pursuing his PhD in molecular biology, specifically interested in the eye, which he believes holds the secret to proving to Creationists that human beings aren't the product of a divine being. (Naysayers argue that the human eye is so complex that it couldn't have possibly come about through evolution. Ian aims to demonstrate that even the intricacy of the eye could have developed over millenniums.)
Amidst his studies, though, Ian falls in love with a model named Sofi (Astrid Bergès-Frisbey) whose gorgeous eyes transfix him. However, their burgeoning love isn't the only highlight of Ian's life: His lab assistant Karen (Marling) has isolated a species of sightless worm that she's been able to mutate to give it vision, proving his thesis.
It would be best not to go into detail about what precisely happens next, but let it be said that Ian and Sofi's passionate romance comes to an end abruptly and startlingly — and that soon after Ian and Karen fall in love. Seven year later, Ian and Karen are married and enjoying the success of his bestselling book that explains their groundbreaking research. But when the happy couple have their first child, questions about the newborn put into motion upsetting new revelations about Ian's research.
Another Earth took an intriguing concept — what would any of us do if we knew there was a duplicate Earth with a duplicate us living on it? — but got bogged down in a contrived love story. For I Origins, Cahill does a far better job meshing his philosophical ideas and sci-fi hook, and part of the movie's appeal is that it's not initially clear where it's headed. But from the outset, there seems to be little doubt that I Origins will travel down dark terrain: Even the film's initial up-close images of the human eye — beautiful but also fragile — hint at the teasing uncertainty that is to follow.
For all its genre trappings — for all the twisty plot points raised by the strange revelation about Ian's son — I Origins works best as a character piece in which Ian gradually comes to grips with all the mysteries of life that science cannot explain. These may be put into place rather overtly by Sofi, who disapproves of Ian's haughty attitude toward people like herself who believe in God, but Cahill for the most part does subtle work navigating Ian toward this unlikely change of heart, eschewing the blatant metaphors and on-the-nose exposition that hampered Another Earth. As a result, this is a surprisingly emotional sci-fi thriller, with an ending that quite satisfyingly brings together the disparate plot strands, including Ian's unresolved feelings about Sofi.
Where Another Earth's performances sometimes veered toward the chilly, here Cahill leads his able cast through a full gamut of emotions — particularly Pitt, who shows a vulnerability that's well-served for a character whose overreliance on logic and facts eventually proves useless when confronted by the revelations he uncovers. Likewise, Marling is at her warmest as Ian's partner and wife, swearing she's not jealous of Ian's obsession with Sofi but still cognizant of how that reality inserts itself into their hopes of starting a family. As for Bergès-Frisbey, her character is the least-defined of the three — she's meant to be a bit ethereal and enigmatic — but she does enough with the role so that Sofi isn't just a cipher. In fact, the best compliment to give the actress is that while her screen time diminishes significantly as I Origins moves along, her presence haunts the proceedings to the very last shot.
Production companies: Verisimilitude, WeWork Studios, Bersin Pictures, Penny Jane Films
International sales: WME Global, www.wmeentertainment.com
Producers: Mike Cahill, Hunter Gray, Alex Orlovsky
Executive producers: Adam Neumann, Rebekah Paltrow Neumann, Bonnie Timmerman, Adam S. Bersin, Jayne Hong, Tyler Brodie, Burton Gray, Michael Pitt
Cinematography: Markus Förderer
Production designer: Tania Bijlani
Editor: Mike Cahill
Music: Will Bates, Phil Mossman
Main cast: Michael Pitt, Brit Marling, Astrid Bergès-Frisbey, Steven Yeun, Archie Panjabi, Cara Seymour, Venida Evans, William Mapother