Dir: Pawel Pawlikowski. Poland. 2013. 80mins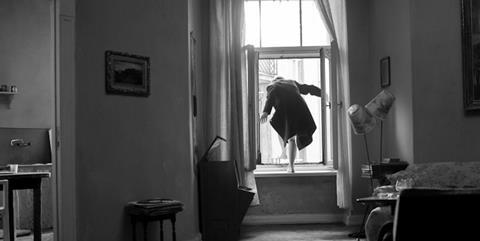 Director Pawel Pawlikowski goes back to his roots, both geographically and cinematically, with this exquisitely photographed and precisely told story about a young nun who goes on a journey of personal and national reckoning in 1960s Poland.
A return to form after his mainstream genre misfire The Woman In The Fifth, Ida reaffirms Pawlikowski's status as an important world auteur.
Like his powerful debut Last Resort, Ida employs carefully framed black-and-white cinematography in the services of its austere and somber setting—a wintry country still grappling with the legacy of WWII. But like the director's second feature, the highly accessible, My Summer Of Love, the movie is never dour, driven by a compelling plotline and its two memorable main characters, the angel-faced Ida (Agata Trzebuchowska) and her blustery aunt Wanda (Agata Kulesza).
A return to form after his mainstream genre misfire The Woman In The Fifth, Ida reaffirms Pawlikowski's status as an important world auteur, and should find outside of the festival circuit both critical support and discerning art-house and TV slots.
The movie's initial stark images inside a convent—where the nuns endure a repressed and regimented existence—suggests the film could be another diatribe against the conservatism of the Catholic Church. Pawlikowski's choice to shoot the film in the square-ish frame ratio (1.37:1) typical of classical movies further accentuates their cage-like lives. But the film is more concerned with the young woman's experiences outside of the nunnery.
Perhaps as a test of her faith, the Mother Superior asks Ida before taking her vows to meet her last living relative, Wanda. At first glance, the middle-aged woman—standing at her door in a house robe and smoking a cigarette with the sounds of a Polish cha cha cha in the background—it immediately becomes clear that Wanda is Ida's opposite. She's dark; Ida's light. She's a hardened cynic; Ida's a gentle ray of hope. As Wanda says, "I'm a slut and you're a little saint." As the odd couple set out to discover dark family secrets buried in the Polish forest, the two women both come to terms with their identities and their destinies.
At a streamlined 80 minutes, Ida is the embodiment of efficient storytelling, without a single superfluous beat. Through striking compositions, many times offsetting the characters against large swaths of empty space, Pawlikowski is able to communicate their isolation, anguish, or confusion with little exposition or dialogue. In one crucial scene, the audience waits for the single faint thudding sound that alone conveys waves of meaning.
As the chain-smoking, alcoholic Wanda, veteran Polish actress Agata Kulesza delivers a superb performance, expressing layers of anger, regret and sorrow with just a glance. Even the way she butters and eats her toast one morning exhibits a profound sense of inner turmoil. The character also lightens up this ostensibly sad story with acerbic wit: prodding young Ida over her faith in God and dealing with townsfolk like a cosmopolitan bully. While Wanda questions a local bartender about Ida's deceased Jewish parents, the man appears reluctant to help. "Jews?" he says. "No," replies Wanda. "Eskimos."
Pawlikowski also beautifully captures a pivotal transitional moment in his homeland's history—from the strictures of the immediate post-war Communist period to a more liberal socialism, from dilapidated cobblestone streets to modernist architecture, from classical music to John Coltrane, and from Wanda's fatalism to Ida's humanism.
Production company: Opus Film, Phoenix Film
International sales: Fandango, www.portobellopictures.com/fandango-portobello
Producers: Eric Abraham, Piotr Dzieciol, Ewa Puszczynska
Executive Producer: Christian Falkenberg Husum
Screenplay: Pawel Pawlikowski, Rebecca Lenkiewicz
Cinematography: Lukasz Zal, Ryszard Lenczewski
Editor: Jarek Kaminski
Production Designer: Katarzyna Sobanska, Marcel Slawinski
Music: Kristian Selin Eidnes Andersen
Main cast: Agata Kulesza, Agata Trzebuchowska