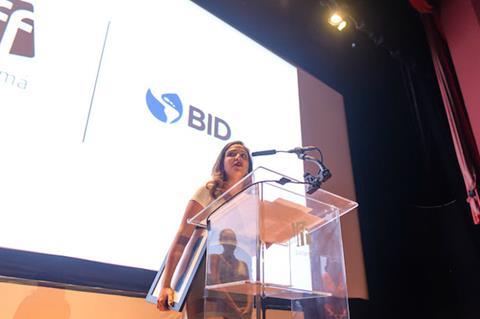 Panamanian identity is a recurring theme among the Caribbean nation's storytellers. The recent IFF Panama premiered a number of local films that tackled the subject and Screen spoke to three sets of documentary filmmakers whose self-funded projects are at different stages.
Edgar Soberón Torchia's festival selection Panama Radio recounts the story of the eponymous cult record store, where appearances by music stars were commonplace. It no longer exists but holds a special place in the hearts of music and culture lovers.
Mercedes Arias has directed films with Delfina Vidal for 12 years and the partners are looking for finishing funds after completing 90% of their fourth feature, Tito, Margot & Me. The film explores the relationship between Panamanian diplomat Tito Arias and the British ballerina Margot Fonteyn. The filmmakers will attend Doc Barcelona on May 23/24 and are looking for post-production funds.
Barcelona-based Ana Elena Tejera's (pictured) feature directorial debut Panquiaco goes back to the time when colonialists arrived in Panama. The project was the only one from Panama selected for the Primera Mirada works in progress section at the festival and won first prize. Tejera is looking for funds before she starts work on the final cut.
Edgar Soberón Torchia, Panama Radio
Talk about your first memory of Panama Radio
The first time I entered there I was around 15, 16 years old and I was still in high school and I'd go and buy my records and leave. I didn't know during the day they'd have these events and invites performers from Iberoamerica and people would meet with them. At one of those events [Cuban salsa legend] La Lupe climbed on to the counter and she began to sing. The person who tells the story [on film] said she couldn't remember what song she sang. After the screening a man came up and told us it was La Tyrana [The Tyrant]. He was there. He was 12 years old at the time. And then he left."
How did the store treat customers?
They had a very special way to treat you. You'd enter the shop and ask for the latest record by Shirley Bassey and they'd take you over and show you where it was and tell you about the person and their favourite songs. They had the personal touch, which has almost disappeared.
Origins of the project
A friend of mine from San Francisco came to Panama and bought singles and took them to London. They liked the Panamanian music and produced three records, so when they released the first CD I was at a party and met three women. I recognised one them because she used to sell LP's to me [at Panama Radio]. They were Buddhists. One day at their home they took out an album and showed photographs and I wanted to make a coffee table book because you'd see all these Latin American artists interacting like Leonardo Fabio, Jose Coser, La Lupe. But we couldn't do it so I decided to do a documentary instead… it turned into a hydra with many sub-plots and we ended with 20 hours and got it down to one hour. I'm not quite satisfied with one hour.
Who did you make the film for?
Internationally if people don't like Panama Radio I don't care. I made it for Panamanians. Of course if it has an international audience, fantastic. I made it for Panamanians – especially the young, because it shows an interesting model of enterprise because they sold records and they staged those events, and produced music and distributed music from Mexico, the Caribbean and New York and consulted to other records shops.
Mercedes Arias, Tito, Margot and Me
Mercedes, as Tito's niece, what does this project mean to you?
MA: This is my own soul-searching; trying to understand who they were. I was reaching out to learn about my own history.
Did you meet Tito and Fonteyn?
MA: I met Tito and Margot once when I was around 12 or 13. I remember her upper lip was super thin.
There was so much about Fonteyn that seemed quintessentially English. Tell us about what Panama meant to her
MA: She really wanted to do something for Panama. She felt very much a Latin American, a Panamanian. She was so simple: it's not about the glamour of the stage. Tito commissioned a portrait of her by an Italian painter in which she wears a pollera – the national Panamanian dress – that hung in a museum in London for many years. Now it's in New York in the family.
How did Tito and Fonteyn meet?
MA: Tito was a jetsetter and well connected. He read law at St. John's, Cambridge. There he met Margot and they fell in love. Then the war came and they didn't see each other for 40 years, in which time Margot became a world-famous dancer. She was dancing in New York, and Tito was Panama's UN representative and sent her a calling card and they met again and rekindled her love. He got divorced from his wife and they spent the rest of their lives together. They got married in Paris.
What's the film about?
MA: This is not a ballet film; it's about the relationship of these two. When they moved to Panama she felt very much at ease. She lived in a house with no telephone and at night they would listen to the BBC. She kept dancing for years beyond the point when most dancers would retire. She met Nureyev and kept dancing for another 20 years, even though she was 20 years older than him. But her centre was Panama, that farm… She took a lot of Panamanian dancers under her wing, got them scholarships to London.
Ana Elena Tejera, works in progress selection Panquiaco
What is Panquiaco about?
It's a hybrid film that tells the story of an indigenous Panamanian called Cebaldo from Gunallala – an archipelago of 300 islands in the Caribbean. He's a fisherman nostalgic for Panama who returns to Panama. But things are not the same and all the things he missed have disappeared. He stayed there until he died.
What made you want to tell this story?
This film started with a question. What is it to be a Panamanian? We have more sea than land. You can see the two oceans from a mountain. We're a place of transit – the Aztecs and Incas came through. This geographic position created a conflict between the Panamanians. The idea of this film was born from an investigation that I started to make about oral stories, indigenous character myths prior to colonisation; forgotten figures of Panamanian history.
As I got closer to the subject, I was increasingly fascinated with the power of my country's geographical position in relation to the cosmovision of indigenous peoples. For many native groups, the meaning of the sea goes further, the sea is where the origin lives, what we are and where we come from. [Recites a poem:] 'Everything was dark. There was no sun, no moon, no animals, no plants. The sea was everywhere, the sea was the mother, she was spirit, it was thought and memory.' In this poem, the relationship that the indigenous people have with the sea as a center of origin is clear.
What has happened to the way Panamanians think of the sea?
The mythological sense of the sea has changed since colonisation and Panama has since suffered a conflict of identity and become a commercial transit route. One of the [agents] of this change was the so-called discovery of the South Sea in 1513, when [Spanish conquistador] Vasco Núñez de Balboa arrived at the Isthmus of Panama in search of gold. He spoke with Panquiaco, an indigenous man who takes him through the Darién Gap [jungle] to get to the Pacific Ocean. This tour immortalises Balboa, in Western history, as The Discoverer of the South Sea and made it a symbol of Panamanian identity: currency, avenues, national awards, among other references that proudly bears his name.
So what does Panquiaco embody?
Panquiaco is then that conflict, it is that being of the two seas that suffers from sadness for having given the news to Balboa, which caused the disappearance of the cosmovision of the original people. Panquiaco is reincarnated in Cebaldo, a character that I find while I am investigating, an indigenous exiled in the western world with a great nostalgia for his past; a being that carries a historical weight, a mythological weight, the weight of that romanticism from the past, from childhood and from the two seas that will not return. Cebaldo is also that need for decolonisation to be able to heal and surrender to the earth. It is a journey from private memories to collective ones.