Dir/scr: Andrzej Jakimowski. Poland-France-Portugal. 2012. 105mins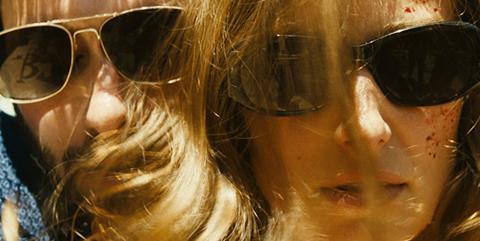 The old adage "love is blind" is explored sincerely (and literally) in Imagine, a combination romance and inspirational-teacher drama that's filled with grace notes but is simply too pedestrian in its telling to fully connect. A look at an unconventional blind man who insists he doesn't need a cane to navigate through the world, Polish writer-director Andrzej Jakimowski's film works best when it brings leads Edward Hogg and Alexandra Maria Lara into one another's orbit — their chemistry helps an otherwise pokey narrative.
In keeping with Imagine's overly soft sheen, Ian and Eva's love story is more sweet than it is rapturous.
Largely in English, Imagine may cater to art-house couples because of its love story, but its lack of stars could prove problematic for international audiences. Ironically, the film's commendable decision not to reduce its characters' blindness to toothless disease-of-the-week drama might also hurt its commercial prospects. (A more generically upbeat storyline probably would have guaranteed rosier theatrical returns.)
Imagine introduces us to Ian (Hogg), a new teacher at a Lisbon institute for the blind who is himself blind. Ian's core philosophy is that the visually impaired don't need to feel helpless - instead, by incorporating echolocation (a technique that allows the blind to sense objects around them by paying close attention to acoustic echoes), those without sight should be able to feel comfortable moving through their environment. This philosophy isn't embraced by everyone at the institute, but it does draw the interest of Eva (Lara), a beautiful patient who usually avoids contact with others.
The film doesn't begin promisingly, establishing a tension between Ian and his superiors that seems destined to play out in predictable ways. Happily, Jakimowski is more nimble than that, dropping hints that Ian's beloved echolocation method is not without its flaws — the scars on Ian's face betray the times he's tripped over objects — and casting doubts on him as an effective teacher. Jakimowski also cleverly illustrates how echolocation works, presenting scenarios in which the audience is put into the same mindset as the film's sightless characters, trying to determine the origin of sounds that occur outside the institute's walls or otherwise offscreen.
But despite these novel touches, Imagine is a victim of its overly relaxed, sentimental tone. While Jakimowski leads us to wonder if Ian could be a scam artist — some speculate he's not really blind — the movie follows a conventional route while resolving this doubt, which sidesteps deeper issues about the delicacy of trust. Indeed, the mild-mannered Imagine is so enchanted by its characters that it doesn't give them enough to do dramatically. (Perhaps part of this is due to the fact that mostly blind non-actors played the institute's patients — they're likable without being that compelling.)
In keeping with Imagine's overly soft sheen, Ian and Eva's love story is more sweet than it is rapturous, although there is one powerfully (and unexpectedly) sensual sequence in which the two travel into the city as he leads her past pedestrians and motorists to grab a drink. Using only echolocation as their guide, Ian and Eva are connected in a way that's more intimate than if they saw one another, and the sighted actors' easy rapport makes you wish that their director had given them more opportunities to be so free with one another.
Production company: Zjednoczenie Artystow, Rzemieslnikow Sp. z o.o., KMBO Production, F&ME, Filmes do Tejo, Multimedia Lda, Film and Music Entertainment Limited, CANAL+ Cyfrowy Sp. z o.o., Wytwórnię Filmów Dokumentalnych, Fabularnych, Can Do Films, Polish Film Institute
International sales: Beta Cinema, www.betacinema.com
Producers: Andrzej Jakimowski, Mike Downey, Vladimir Kokh, François d'Artemare
Cinematography: Adam Bajerski
Editor: Cezary Grzesiuk
Production designer: Ewa Jakimowska
Music: Tomasz Gąssowski
Website: http://www.betacinema.com/en/produkt/do/detail.html?pId=3392
Main cast: Edward Hogg, Alexandra Maria Lara