Dir/scr: Lake Bell. US. 2012. 93mins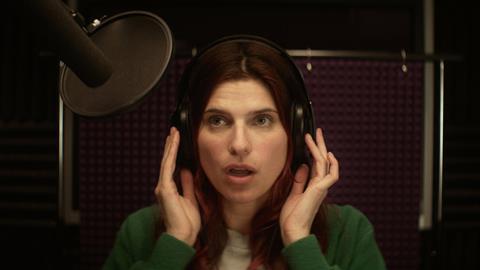 A delightful comedy that goes a long way on the strength of its very likeable cast, In A World… isn't uproariously funny, but its steady stream of chuckles and ingratiating tone leave a very warm afterglow. Making her feature directorial debut, writer-director-star Lake Bell takes us into the world of voiceover actors, and even though she doesn't have much profound to say about that subculture (or modern-day relationships or family) she radiates a nerdy charm that's rather beguiling.
As a filmmaker, Bell is much the same as she is as an actress: adorable, a little loopy, and blessed with a pleasant disposition that's always inviting.
After its unveiling at the Sundance Film Festival in the US Dramatic Competition, In A World… will no doubt court buyers thanks to its crowd-pleasing spirit. There aren't many big stars in the cast, but comic talents like Demetri Martin, Michaela Watkins, Rob Corddry, and Nick Offerman will be of interest to hip audiences who are familiar with their names from stand-up and television. Specialty engagements seem assured, although with a little luck this very accessible comedy could become a crossover hit.
Bell plays Carol, a Los Angeles voice coach who longs to do voiceovers in movie trailers and TV commercials like her father, pompous industry titan Sam Sotto (Fred Melamed). Her opportunity to step out of Dad's shadow finally presents itself when she gets booked for a few high-profile voiceover jobs, which angers the other members of this cliquish, male-dominated profession, including rising star Gustav Warner (Ken Marino), who sleeps with her one night, having no idea she's the same woman who's muscling in on his turf.
In A World… gets some nice comic mileage out of the weirdness of the main characters' occupation, which requires them to "perform" in an overheated, bombastic manner. But ultimately, the novel setting is merely a backdrop to what is otherwise a fairly conventional romantic comedy that possesses elements of light family drama as well. Carol's sexual misadventures with Gustav and her nervous courtship with a sweet, awkward studio engineer (Martin) have a sitcom-y quality, although the sharp dialogue always elevates the proceedings.
What makes In A World… such silly fun is the camaraderie of the actors. The cast includes a who's who of respected comic stars, but the movie doesn't seem overloaded with egos. Instead, the ensemble displays boundless generosity, giving everyone his or her moment. Consequently, In A World… doesn't just feel like Carol's movie but, rather, a story that encompasses many people in Carol's orbit. This is especially true with a subplot involving Carol's sister Dani (Watkins) and her husband (Corddry), who are going through a rough patch. This particular storyline doesn't add up to much, but it provides texture and feeling, always welcome components to a film so dependent on its distinctive characters.
Despite the ample breezy laughs, In A World… examines more poignant terrain when it addresses Carol's complicated relationship with her competitive father, who's unwilling to relinquish his supremacy in the world of voiceovers. Even here, though, the movie has a light touch, helped by Melamed's gently amusing turn as the arrogant Sam. But in the end, the movie truly belongs to Bell and Martin, who have a great geeky chemistry that's never cloying. There's nothing very fresh in the romantic setup, but the vibrancy of the performances makes all the difference. As a filmmaker, Bell is much the same as she is as an actress: adorable, a little loopy, and blessed with a pleasant disposition that's always inviting.
Production companies: More Films, Team G, 3311 Productions
International sales: United Talent Agency, www.unitedtalent.com
Producers: Eddie Vaisman, Jett Steiger, Lake Bell, Mark Roberts
Executive producers: Ross Jacobson, Sean O'Grady
Cinematography: Seamus Tierney
Production designer: Megan Fenton
Editor: Tom McArdle
Music: Ryan Miller
Main cast: Lake Bell, Fred Melamed, Demetri Martin, Michaela Watkins, Ken Marino, Rob Corddry, Nick Offerman, Tig Notaro, Alexandra Holden