The independent landscape may be tougher than ever but Lars von Trier's films attract financing and pre-sales — despite their unpredictability. In the first of two case studies held at Les Arcs European Film Festival (Dec 11-18) and moderated by Geoffrey Macnab, some of the director's associates discuss his forthcoming Melancholia.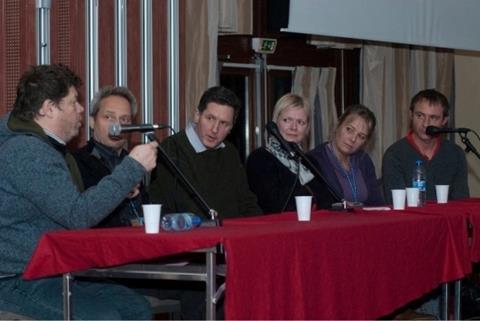 In a period when auteur-driven arthouse cinema is struggling more than ever in the international marketplace, the Lars von Trier wagon keeps rolling on. The director may be a divisive figure in his native Denmark, and his work may split international critics, but financiers and distributors are still ready to support him. A new Trier movie is always news.
At an industry panel during the second Les Arcs European Film Festival in France last month, some of Trier's associates reflected on his new $9.2m (€7m) project, Melancholia. The film finished shooting in the autumn at Swedish regional fund Film i Vast's studios in Trollhattan, Sweden, and is now being readied for a likely premiere in Cannes in May.
What became clear in Les Arcs was that the artistry in Trier's films is not just to do with the storytelling: it also applies to the financing. Zentropa, the company formed by Trier and producer Peter Aalbaek Jensen in 1992 and co-owned by Scandinavian major Nordisk Film since 2008, works on an international level.
It has set up companies in a number of territories, including Germany and Belgium, to access soft money and international talent and also has long-term alliances with several funders and distributors.
"The structure we have now is more or less with the same people as 15 years ago, when I started working with Lars on Breaking The Waves," recalls Trier's Paris-based co-producer Marianne Slot of Slot Machine.
Other partners, such as Swedish producer Memfis Film, have also been working with Trier for many years. A more recent addition is Bettina Brokemper's Heimatfilm as Zentropa's German partner.
The director's films are also generously backed by national and regional film funds. Among Trier's supporters, one of the most important is Film i Vast. "When you have a star coming in once in a while, it gives a feeling of lift-off for the entire region," Per Nielsen, senior executive, feature film at the fund says of the boost it gives western Sweden when a new Trier production comes to town with actors such as Kiefer Sutherland and Charlotte Rampling in tow. The presence of the production also generates income and jobs.
'No more happy endings'
Another key element is pre-sales. The challenge here, as Susan Wendt, head of sales at TrustNordisk reveals, is that Trier is notoriously secretive about his projects. Melancholia came with the tagline 'No more happy endings!' — a sly joke given the director's films rarely have happy endings.
A few plot elements were revealed — this is a psychological disaster movie which begins with the end of the world and flits backward. The leads, played by Kirsten Dunst and Charlotte Gainsbourg, are sisters with very different temperaments.
"As a sales company, we didn't know more either. We hadn't read any script —there wasn't any script," Wendt recalls. Nonetheless, the same distributors who had handled previous Trier films were still ready to pre-buy. "People still believe in him," Wendt says. The days are gone when a company such as Fine Line paid a reported $5m for US rights to the director's Dancer In The Dark (2000) but US distributors are circling Melancholia.
In the late 1990s, the years of Dogme and its "vow of chastity", the focus at Zentropa was on pared-down, low-budget local production. Now the emphasis has changed. Zentropa thinks on an international scale. Downfall director Oliver Hirschbiegel is preparing a TV mini-series about fraud and corruption in Europe which will shoot out of Brussels. Thomas Vinterberg has a new project in the vein of Festen which should shoot in Sweden.
Other directors in the Zentropa stable — Susanne Bier, for example — often score better box office than Trier. But it is clear the director remains the driving force at the company. Could Zentropa survive without him?
"We talk about it now and then," says Zentropa producer Peter Engel. "When I see what I'm doing with international partners, I probably couldn't do it if it hadn't been for Zentropa… I don't think Zentropa would exist without Lars or Peter [Aalbaek Jensen]."