Thomas Stuber directs this touching romance starring Sandra Hüller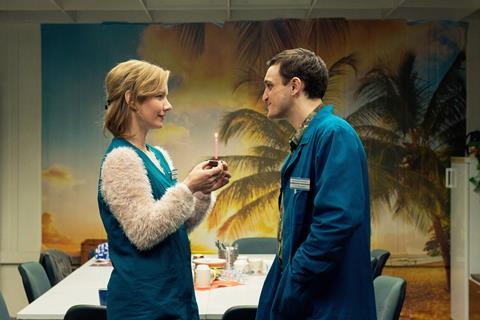 Dir. Thomas Stuber. Germany. 2018. 125mins
A love story between shelf stackers in a provincial superstore isn't the most scintillating pitch. And yet, with the aid of affecting performances and a good eye for the virtuoso moves of a forklift truck, director Thomas Stuber mines the magical in the mundane. In The Aisles (In den Gangen) represents a dramatic change in tone from Stuber's previous, Herbert, a hard-core drama about an ageing boxer facing his final count. While the writer-director doesn't shy away from the everyday pathos of people who might be regarded as the losers of reunification, In the Aisles plays predominantly as deeply touching, bitter-sweet romance.
Distributors twiddling their thumbs for the next from Aki Kaurismäki could be alive to this film's potential
With talented up-and-comer Franz Rogowski and the inestimable Sandra Hüller in the leads, this film ought to be a domestic shoe-in. Internationally, its low-key milieu may ostensibly seem like a more challenging prospect, but distributors with a penchant for loners, outcasts and downbeat whimsy – twiddling their thumbs for the next from Aki Kaurismäki – could be alive to its potential.
The setting is a wholesale warehouse, sitting alongside a motorway somewhere in East Germany – a soulless enough place for customers, so heaven knows what effect it has on staff who spend hours trapped within its artificial lighting and canned music.
Yet Stuber opens as he means to go on, counter-intuitively, with a gorgeous introduction to the empty store at night, accompanied by the dawn chorus of Johann Strauss's 'Blue Danube' – the dancers in this particular waltz being the forklift trucks gliding between the aisles in choreographed, romantic harmony.
Christian (Rogowski) is the new night stacker, a young man so shy and taciturn that he could be mistaken as mute. Luckily, he's amongst a crowd of good and supportive people, including store manager Rudi (Andreas Leupold) and his boss in the booze section, Bruno (Herbert's Peter Kurth), who schools him in internal politics ("We don't get on so well with canned goods. Sweet goods we're fine.") and the difficult art of the forklift.
And then there's Marion, in sweets, who Christian first spies refilling the Gummi Bears. How could it not be love at first sight?
Earlier in the Berlinale, Rogowski was the brooding, dashingly dressed existential hero of Christian Petzold's Transit. Here, he exploits his distinctive looks to create a lonely, vulnerable figure, whose bad-boy past is represented by the tattoos that threaten to seep beyond his collar and cuffs, and the thugs who pester him in the store, who wants nothing more than to fit in.
In her first significant role since the triumphant Toni Erdmann, Hüller has humour positively dancing in her eyes and around her mouth. But her flirtatious Marion is married, albeit unhappily. As that reality sinks in, for both, Stuber pulls aside his hitherto fanciful façade and reveals the pain felt by characters whose thankless jobs barely enable them to make ends meet.
Jenny Roesler's production design captures the forced jollity of this hermetic world, with its palm tree wallpaper and a sign over the staff mirror that says, 'this is how the customer sees you,' contrasted with the grimness of Christian and Bruno's homes. The film is at its most optimistic through Peter Matjasko's roaming cameras, whether the birds-eye shots that suggest the determined, 'show must go on' sense of community, or the mobile pursuit of the forklifting Christian's ever-more confident passage through the aisles.
Production company: Sommerhaus Filmproduktion
International sales: Beta Cinema, beta@betacinema.com
Producers: Jochen Laube, Fabian Maubach
Screenplay: Clemens Meyer, Thomas Stuber
Cinematography: Peter Matjasko
Production design: Jenny Roesler
Editor: Kaya Inan
Main cast: Franz Rogowski, Sandra Hüller, Peter Kurth, Andreas Leupold