Dirs/scrs: Joel Coen, Ethan Coen. US. 2012. 105mins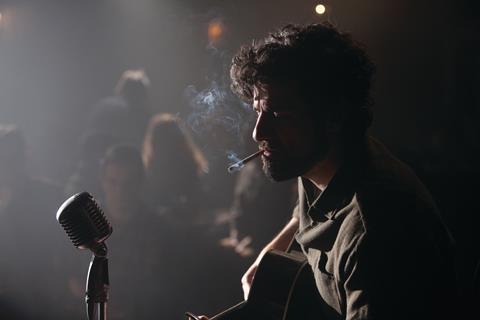 A very funny and moving look at a folk artist whose sizable talent always lags behind his personal failings and bad luck, writer-directors Joel and Ethan Coen's Inside Llewyn Davis is a companion piece of sorts to A Serious Man, their 2009 comedy-drama in which a decent, ordinary man seemed to have the entire world conspiring against him. The filmmaking duo's new movie features a protagonist far more flawed and self-defeating, but thanks to a sterling lead performance from Oscar Isaac, the Coen brothers have once again delivered an impressively nuanced character study — one that has much to say about art, compromise and all the aspiring hopefuls who never got their moment in the sun.
The pleasure of the Coens' screenplay is in how it teases out character information about Llewyn, only slowly revealing a full portrait of this driven but also occasionally shortsighted individual.
Premiering in the Official Competition at Cannes, Inside Llewyn Davis will be released in the US on December 6, hoping for Oscar attention. The Coens are coming off their biggest hit with their remake of True Grit, and Inside's setting (the burgeoning New York folk scene of the 1960s) will no doubt draw comparisons to the filmmakers' O Brother, Where Art Thou?, which like this new offering was highlighted by a lively soundtrack supervised by musician T-Bone Burnett.
The film takes place in the winter of 1961 as folk singer Llewyn Davis (Isaac) is trying to scrape together a solo career now that his moderately successful duo has ended for reasons that aren't initially made clear. There's no question that Davis can write soulful songs, but he can't shake an impression among his peers that his best work was with his former partner. In the midst of his struggles, he's also desperately low on money, forced to crash on friends' couches. If all that wasn't enough, one of his fellow folk artists, Jean Berkey (Carey Mulligan), tells him that she's pregnant and that she thinks he's the father, which is incredibly problematic since she's married to another man.
Inside Llewyn Davis fits in the Coens' canon alongside such films as Barton Fink, A Serious Man and The Man Who Wasn't There, which all revolved around richly conceived central characters who are at a crossroads. The brothers' new film may feel at times like a musical, spotlighting full performances of rearranged traditional folk songs that are performed by Isaac and others, but Inside Llewyn Davis is also something of a road movie and a redemption story, following along as Llewyn attempts to catch a break as a performer.
The pleasure of the Coens' screenplay is in how it teases out character information about Llewyn, only slowly revealing a full portrait of this driven but also occasionally shortsighted individual. As played with charm and subdued anger by Isaac, perhaps best known for roles in Drive or Robin Hood, Llewyn is not the typical terrible-person/astounding-performer artist cliché.
Throughout the film, we get a sense of a honourable, disillusioned guy who can't seem to pull himself together. It's important to note that the filmmakers don't mock his aspirations — as with A Serious Man, the Coens find the humour in Llewyn's turmoil but they also sympathise with his plight. Inside Llewyn Davis never quite pins down why he hasn't been "discovered" in the rising folk scene, and that mystery is important in explaining Llewyn's perpetual purgatory: He can't figure out why he hasn't broken through, either.
In lieu of a traditional narrative — there's no big musical competition that's driving the film's engine — Inside Llewyn Davis simply spends a week with Llewyn as he comes to grips with this pregnancy news, lands a gig as a session player, tries to get his record out to managers, and discovers a few secrets about his past. The film can sometimes meander a bit, bringing on supporting characters that are colourful without being especially memorable, but taken as a whole the movie's seemingly lackadaisical storyline compassionately but also humorously reveals how he became the artist that he is, successful or not.
Considering this really is Llewyn's show, the supporting cast stays in the background, essentially providing harmony vocals for his tune. Despite limited screen time, Mulligan leaves a forceful impression as a pragmatic singer utterly mortified that a stupid one-night-stand with Llewyn could have resulted in a pregnancy. Others, such as Justin Timberlake, Garrett Hedlund and John Goodman, really do feel like mere signposts along the way of Llewyn's personal journey.
But whereas in the past the Coen brothers would sometimes settle for broad comedy in their bit players, the folks around Llewyn serve as opposing viewpoints to his desire to pursue pure folk music without settling for commercial accessibility. (Even here, though, the Coens don't make him a caricature of the pretentious artiste. Audiences will recall that the brothers did something like that already with their biting satire Barton Fink, which won the Palme d'Or at Cannes 22 years ago.)
From a technical standpoint, Inside Llewyn Davis is glorious, starting with cinematographer Bruno Delbonnel's de-saturated period look and production designer Jess Gonchor's loving re-creation of 1960s New York. This isn't a nostalgic New York, though: The Coens' sharp dialogue and clear-eyed observations about Llewyn's creative struggles keep the proceedings from being too cozy. As for the musical performances, they're quite strong, with Isaac convincingly delivering his own vocals. Llewyn may never become a star, but this breakthrough role may make Isaac one.
Production company: Anton Capital Entertainment
International sales: StudioCanal, www.studiocanal.com
Producers: Scott Rudin, Ethan Coen, Joel Coen
Executive producers: Robert Graf, Olivier Courson, Ron Halpern
Cinematography: Bruno Delbonnel
Production designer: Jess Gonchor
Editor: Roderick Jaynes
Main cast: Oscar Isaac, Carey Mulligan, John Goodman, Garrett Hedlund, F. Murray Abraham, Justin Timberlake