Tribeca Institute recently unveiled the 10 projects selected to receive support in its drive to nurture distinctive voices from Latin America and the Caribbean.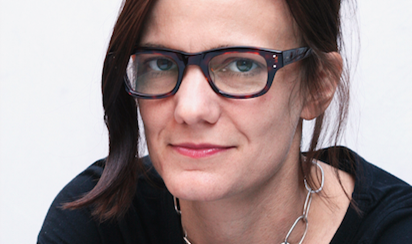 Vice-president of Artist Programs at TFI, Amy Hobby, talks to Jeremy Kay about how the Institute helps film-makers realise their vision and works with regional storytellers to overcome their inferiority complex.
Tell us about the origins of the fund and its aim
In 2009 the TFI Latin America Fund started as a nomination-based programme to support two Mexican film-makers with grants of $10,000. In 2011, the fund shifted from nomination-based to a yearly open call for submissions for documentary storytellers living and working in Mexico, Central America, South America and the Caribbean.
With the support of Mexico-based sponsor Canacine, and presenting sponsor Bloomberg Philanthropies, the programme has expanded again to support scripted storytellers. The current aim of the TFI Latin America Fund is to support scripted and documentary film-makers telling creative and unique stories that reflect the storytellers' diverse cultures and ​present vibrant perspectives about contemporary Latin American culture. Its goal is to fight against the Latin American stereotypes propagated in the US as well as abroad, and support layered complex stories that show a new Latin American identity.
Does the involvement of Canacine mean there has to be a project backed by it or there has to be a grantee from Mexico?
The projects supported by Canacine are not necessarily backed by the Mexican organisation but rather, the grants are awarded to feature-length fiction and documentary Mexican film-makers working on compelling stories that reflect their native country or the Latin American/Caribbean region as a whole.
How is Tribeca and its partners able to help?
Tribeca Film Institute staff mentor each project through completion and encourage connections with the best possible distribution platforms/outlets for the respective stories. TFI Latin America Fund -supported film-makers are invited to participate in TFI'S Network Market (held each year during the Tribeca Film Festival) in order to connect the filmmakers to a plethora of US and international funders, producers, sales agents, festival programmers and other ancillary support platforms.

From then onwards, TFI staff work closely with the supported film-makers in a curated fashion — from strategising each project's festival route and delivering notes and feedback on each script draft or cut of the supported project, to recommending projects to Latin American festivals and markets, for additional project development. In the past three years, TFI has also conducted on-the-ground Filmmaker Workshops and Training in four separate Latin American countries, which enables the Institute to discover new talent and continue to support and promote those projects that have already been funded.
Who is involved in the selection process?
Final decisions for the TFI Latin America Fund are made internally by the TFI Artist Programs department. The Scripted and Documentary Programs departments convene to discuss their shortlist, and a deliberation session ensues to select the scripted and documentary grantees. One the grantees are selected, TFI reviews the projects with our TFI Latin America Fund advisory board, which is a coalition of Latin American thought-leaders and experts who are active in the film industry throughout Latin America and the Caribbean. The advisory board acts as a brain-trust for the TFI Latin America Fund, in helping to further connect these projects to additional sources of financing, participation in festivals or markets, and providing other sources of support.
How have you been able to measure success and what have been the success stories so far?
When the programme started in 2010, submissions were scarce and funding was minimal. Now in 2016, we award just over $100,000 each year to projects and we review around 225 submissions. Since launching in 2010, the fund has awarded over $700,000 in film-maker support, and has supported more than 54 film-makers in 14 different Latin American countries.
Our success stories have been consistent within the festival circuit. Our Latin Fund-supported doc When Two Worlds Collide won a special jury prize at Sundance this past January. The Brazilian 2012 Latin Fund supported doc Elena went on to sweep awards in Brazil and cross over into the US market at SXSW. Several 2013 grantee projects have established themselves in the international panorama, from Plaza De La Soledad (Sundance 2016) to Where I Grow Old (2016 Rotterdam). Paula Schargorodsky, the film-maker behind the 2013 [funding recipient] Single: Girl Behind The Camera, created one of the most popular NY Times OpDocs ever, widely shared on social media by millions of people.
We've also been proud to support critically renowned Chilean filmmaker Maite Alberdi several times. Another Chilean project that received TFI Latin America Fund support, Beaverland, screened at the renowned Valdivia Film Festival in 2014 and won the Best Chilean Film award. Last but not least we are mighty proud that a 2014 Latin Fund-supported documentary, El Charro De Toluquilla, will be having its US premiere at the 2016 Tribeca Film Festival. We look forward to adding the same measure of success with distribution for the projects in the next 2 years.
What have been the lessons learned?
Latin American film-makers often have a philosophical fear of applying for grant support because they feel they are in a wholly inferior league to storytellers from other regions of the world. That is NOT true, of course – but we have learned we need to be more pro-active in combatting this mind-set in person and with persistent encouragement. We learned we need to instil in Latin American and Caribbean film-makers that their stories are equally as important and rich as any other storyteller's, and they deserve equal support and recognition.

TFI has also learned that combining funds with mentorship is far more impactful and that an in person "on the ground" approach with Latin American and Caribbean film-makers reaps the best benefits. Now more than ever, it is crucial for a funding organisation like TFI to continue to lead the way in conducting film-maker workshops throughout the Americas – and to follow through by bringing those talented film-makers and their projects into the US film industry marketplace.

Has there been an observable impact on the film industries of any LatAm territories?
This is the first year that we have supported a project from Costa Rica. We've been tracking and watching their film industry grow by leaps and bounds in the past few years. Mexico, Chile and Argentina continue to lead the way, but Central America is now angling to make its presence known (like Guatemala's foreign film entry, the excellent Ixcanul). We hope that with US-Cuba relations strengthening, Cuban – and Caribbean – stories will gain a stronger hold in the industry.
Any other observations that you'd like to share?
I'm writing to you from the Guadalajara Film Market where I've just met with three extremely exciting projects from the region that I feel optimistic we could provide funding for. I am looking forward to a strong year for scripted projects in particular.