When New Zealand journalist stumbled upon the world of competitive endurance tickling he was intrigued and made enquires to the person who seemed to be in charge, Jane O'Brien. Then things got dark in the Sundance documentary.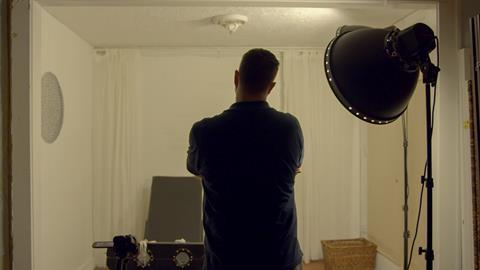 Farrier and co-director Dylan Reeve tell Jeremy Kay about their journey to the States, the tricks and threats they encountered and… their own attempts to survive a tickling onslaught.
The film was funded via Kickstarter and the New Zealand Film Commission. Magnolia and HBO acquired North American rights to the World Cinema Documentary Competition selection and Magnolia International will kick off sales at the EFM in Berlin.
So you heard about this unusual world and make enquiries. You got rude emails and threats from someone who appears to be in charge of it all, Jane O'Brien. How did you feel?
David Farrier: When I ran into those comments it was initially offensive and then humourous given what the company was making. But it went from funny to… terrifying for a while because we didn't know how valid or invalid these things were because they got real lawyers involved and we didn't have money to defend ourselves.
Jane O'Brien sends three lawyers from the US to warn you off from investigating further. What did you talk about?
They were some of the most bizarre conversations we've ever had. They kept on talking about "this person'" and we didn't know how much they knew or didn't know. Marco [one of the three] had done some research on me and found out I loved Jurassic Park. When he left and assumed I wasn't going to go to the United States he left me a Stan Winston book and this card that said under other circumstances we could be good friends.
You watched video footage of young men tickling each other. What went on?
DF: Clothes are on. From what we could tell there's nothing else. It's tickling in clothes.
Dylan Reeve: As far as we could tell Jane O'Brien didn't require any other things to take place. The weird thing about it is this could all be done up-front, in the open. It didn't need to be like this but because of the personality behind it there's this requirement for it to be a power play.
So Jane paid young men all over the world to participate and if they wanted to leave she'd run these smear campaigns; mocking them and spreading highly defamatory lies about them online. What did it pay?
DR: It paid $1,500 and expenses plus flights and hotels. There are favourites. Jordan talks about one person being offered $30,000 and a car.
DF: It's good money and you're in sports gear so why not? When it developed and people found these websites with their names on them claiming they had done things they had never done it got hateful.
DF: On one occasion there were tickets to the Stanley Cup Final.
You mention Jordan, one of the very few people who's not scared to talk on camera about this. Sounds like a real struggle to get interviews.
DF: It took weeks. I took time off work. We had this website with domain names and FaceBook was a great tool. We gave them some basic background that we were looking for this thing and wanted to talk. A lot of people said they would talk but didn't. eventually we got him [Jordan].
DR: Jordan was pretty ballsy.
DF: He was sick of it. his house had been broken into and stuff was stolen. There was really weird stuff going on.
Did you ever feel in danger as you got closer to the person in charge of it all?
DR: Some people after the fact said we should have been [in fear of our lives.] It wasn't in our minds.
DF: It was in my mind when I walked up to [someone closely involved with the operation.] We didn't want to run up with a camera. We're in America and people can carry guns. We'd been trying really hard not to let [this person] know we were there.
So what happens next?
DF: We're going to wait and see what happens. I think [the person] will do something. This person has never been exposed in this way before and their whole shtick runs on fear. How do you defeat a documentary because it's out there in the world.
DR: We thought we would hear from [the person], especially once the Sundance announcement came out. We spoke to Sundance to hold back on the announcement.
DF: Since we had [this person] on camera we didn't want [them] to think there would be a documentary, so we kept pretty quiet about it because we wanted things to go smoothly.
You met one tickling aficionado called Richard who has nothing to do with Jane O'Brien and spoke openly about his love for endurance tickling.
DF: He's cool. He and his partner are amazing. There was a beautiful scene of him singing karaoke from Grease but we couldn't get rights clearance to use it. He was cute and so open about it.
DR: There was concern in the tickling community that we were going to make a film that mocked them and [Richard] was an ally to make sure we weren't out to get them.
And at Richard's place you submitted yourselves to a tickle. How'd you get on?
DF: I did 10 minutes. It's horrible. You're locked in these stocks and tickled and you can't jerk away from it. He takes off your socks and lubes your feet and takes a brush with hard bristles.
DR: I lasted two minutes. The world record is something between 20 and 30 minutes.