Ahead of the April 17 world premiere in Tribeca, Ian Olds discusses his drama about an Afghan 'fixer' for Western war reporters who discovers new intrigue when he leaves his life behind and settles in northern California.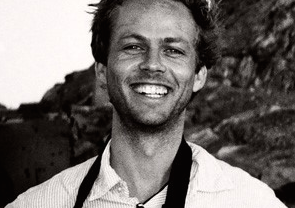 Olds tells to Justin Gorkowitz what inspired him to make the leap from documentaries to fiction, and how leaving a danger zone.
Dominic Rains stars alongside Melissa Leo, James Franco, Rachel Brosnahan, Tim Kniffin, and Thomas Jay Ryan. CAA represents US rights and Caroline von Kuhn of ACE Productions handles international sales.
You've made a documentary about fixers prior to this film. What drew you to Afghanistan, this war and this topic?
I made a film with Garrett Scott in Iraq called Occupation Dreamland, where we spent a month with American Soldiers in Fallujah. But before we started shooting I was living in Baghdad for a few weeks trying to get things going and spent a bunch of time with journalists and fixers and saw the very intimate relationship between them first-hand. A fixer is not somebody who simply interprets language; they are a cultural translator, a guide, the person who keeps you safe.
A couple years later I went to Afghanistan to make a film about the war there thinking that if I could focus on the relationship between a journalist, his fixer, and the story they were telling it could give us unique insight into the larger issues of the conflict, so that was the initial instinct. That film took a grim turn when we were back in the United States raising money to continue shooting. One of the fixers we were working with, a man named Ajmal Naqshbandi, was kidnapped and murdered by the Taliban. I initially planned to abandon the project because it was just too painful. But then when I went back and looked at the footage it became clear that we had an obligation to go back and tell his story. So we went back to Afghanistan to investigate his death and that became the central focus of our film Fixer: The Taking Of Ajmal Naqshbandi, which was picked up by HBO Documentary Films in 2009.
As we were finishing that project I became involved in the asylum process for another Afghan fixer. He was a friend of ours and managed find his way safely to Europe. But once he got there and was fortunate enough to be granted asylum, he realised he had no idea what to do with himself. He had spent much of his life trying to escape Afghanistan, but now that he was safe he found himself facing a quieter, existential crisis. Essentially he was a man seeking purpose outside of war.
Thinking about this moment was the initial inspiration for the film. We ended up creating a fictional character, transplanting him into a small bohemian town in Northern California and tasked him with reporting petty crime for the local paper. The goal was to create a dramatically compelling narrative that treated the Afghan journalist at its centre as a complex human being with a rich inner life and not simply as a victim of war.
Prior to this endeavour, did you see yourself moving to scripted films, or was this just such a powerful experience you felt the need?
My original intention was to make fiction films and I went to graduate school focusing on narrative work. I ended up getting side-tracked into documentaries after the invasion of Iraq and developed a close working relationship with a documentary partner there. But I always knew I wanted to come back to narrative work, so after the Afghanistan doc I set my sites on developing a narrative film that I really believed in. There were also personal reasons: I was done with war zones and no longer had the stomach to expose myself to that kind of danger. That, combined with the fact that I couldn't stop thinking about the story of this Afghan fixer, kept me focused on the project. Working with my writing partner, Paul Felten, we kept writing and re-writing until the story began to surprise and excite us as we worked. That's when we knew we were really onto something.
Do you feel a little lost, similar to Osman in the film, when you're home from the Middle East or other danger zones?
I don't think so much that, but one of the things we thought a lot about with this character was that so often you see Afghan characters only through the lens of war trauma, so that Afghan characters are either simplistic terrorist types or symbolic victims of war, and we realised we wanted to write a complex human being who was dealing with deeper existential issues, someone who we could all relate to. So in that sense, his struggle to find purpose and meaning in the small moments of daily life is something I definitely connect with. Also I do think that my experience working in war zones sensitised me to certain aspects of Osman's journey. There is something powerfully immediate about working in conflict areas; the work feels so important while you are doing it and when you return home to banal safety it can feel as if life has flattened out. I think Osman's need to seek out danger in his new home comes out of that tension.
How did you fund The Fixer?
Caroline von Kuhn, my producing partner, is really the one who made the film happen. Over the last few years she developed relationships with financiers and executive producers who were genuinely excited about the project. So it truly was an independently financed film. It was really Caroline von Kuhn's tireless work that made this film a reality. We had great support from the Sundance Screenwriters Lab, the Guggenheim Foundation and especially the San Francisco Film Society which gave us five separate grants. This institutional support was incredibly important, but ultimately it was Caroline who was the key, because it's an unusual film and it took us time to find the right champions.
I'm glad you made the move to narrative because I truly enjoyed the film. Can you share anything about what you're working on now?
We're developing a few things but it's a little early to talk about them. Paul (Felton) and I are currently developing a couple of original projects as well as exploring a few book adaptations.