The leading LGBT distributor in the US looks back on her 30 years in the business.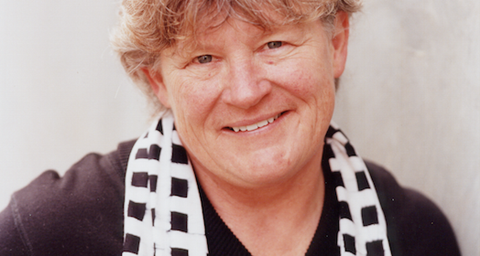 Kathy Wolfe launched her film distribution venture in a garage in south San Jose, California, after running a graphic design company.
Three decades later, with new president Jim Stephens in place after the 22-year tenure of Maria Lynn, Wolfe presides over widely respected business that not only handles leading titles but serves as a beacon of hope to its global customers.
Wolfe reveals how Wolfe Releasing has gone from strength to strength – from launching a mail order business in the 1980s to selling Lily Tomlin films, launching pay-per view service WolfeOnDemand.com and going global.
How did you get into the industry?
I owned my own business – a graphics business – for 18 years, but I wanted to do something that was more meaningful to me personally. One evening I drove to San Francisco and saw the pioneering LGBT doc Word Is Out, which challenges viewers to make a difference themselves.

I thought, 'Wow that's something I could do.' It would make my work life more relevant to my personal life. I started in production in 1981 and in 1985 I formed a company to sell VHS via mail order. I started with the titles I created and later I tapped into mainstream distribution so I could sell studio product as well.
How did you reach out to partners?
During the early days I contacted all the lesbian and gay bookstores and asked if they wanted to start up a video rental section. There was a sell-through and rental component. I did this essentially in the basement of my home. It's four doors down the street from where we are now.
What was it like back then as a LGBT distributor?
This was a period when video rental stories were popping up everywhere. Lesbian and gay bookstores were always looking for something that would add to their bottom line. We had immediate acceptance from many, many stores and we serviced about 70 or 80.
You said the decision to sell Lily Tomlin stand-up / concert films like 1992's The Search For Signs Of Intelligent Life In The Universe was a step up
I was always on the search for new titles to fit to these stores and the mail order service. I heard Lily Tomlin was working on five titles from her stand-up. When I contacted Lily to see if she could sell a few titles so we could re-sell them, I heard she wanted someone to take over her distribution – she was doing it out of her garage and it had got bigger than she planned. She liked our company and we were the company for her.
How did the association with Tomlin help?
At that point we were not in mainstream distribution and had no direct relationship with Blockbuster or Hollywood Video. Having Lily Tomlin on our label was a huge step for us. Now we could sell as well as buy. That was the all-important moment.
What response did you get from Blockbuster and Hollywood Video?
Some were like, 'Bring it on' and others passed. The sections were always called something different depending on the city. 'Community Favourites', 'Special Interest'. It was up to the manager.
You have cited examples of touching correspondence from grateful customers
People would say they never thought they'd see anything like this in their local Blockbuster store. Some people told me, '[The films] would safe my life.'
What next steps did you take to grow the business?
We went to Sundance and could buy movies. We went to other festivals and bought movies and packaged them and promoted them. We could sell into distribution and that's what we do now. We also had streaming [to iTunes, Netflix, Hulu, Amazon, etc] and Wolfeondemand.com.
As you expanded the WolfeOnDemand.com platform internationally you heard from plenty more customers
People were grateful and needy within the US for what we had and now that we're in the international space we're back with that type of customer – people who are very closeted, meeting in secret… people who might meet in somebody's basement with the windows boarded up and watch the movies. It's dangerous for them: I would hear more [about their gratitude] if I go to a film festival and someone will come up to me. It's like we have come back home in a way.
What are your leading international markets?
I am constantly surprised when I get the reports about which countries are watching. The US is number one and Canada often number two, but number three can be Pakistan or Saudi Arabia, or a country in Africa.
How do you reach your end-users today?
We acquire rights and do everything from designing the cover art and trailer to putting on iTunes, Netflix, Amazon, Hulu, among others. We create the DVD and sell into distribution and proudly stream on WolfeOnDemand.com. The DVDs are sold to our direct to consumer mail order and wholesale customer bases. Sometimes we can even get a broadcast deal from the likes of HBO or Showtime. We also sell public performance rights to colleges and universities. Because serving the LGBT market is what we do, we service every possible outlet within our niche.
Do you mount theatrical releases?
It's not our major model. We use it as a marketing strategy. We don't have the capacity to do 300 cities but we can do 10 or 15, maybe more. It's never been our major income source. It's always a promotional project.
What is the relationship with Netflix?
I license product to them. They started just down the street from us in Los Gatos and we used to go there and meet with [chief content officer] Ted Sarandos, so our relationship goes way back to their beginning.
Tell us about your slate
A lot of our current films are international films – all but one. The one made here in New York, Naz & Maalik, is about two gay Muslims. Starting in August we're releasing Seashore and then throughout the remainder of 2015 we have Summer, the anniversary re-release of Big Eden, In The Grayscale, The Girl King, How To Win At Checkers (Every Time), and Liz In September. In early 2016 we will release All About E and Naz & Maalik.
We're always plucking away at new things. The Girl King is a big-budget film set in the 1600s about Queen Christina of Sweden who was a woman raised as a boy and a lesbian. You've got costumes and horses and battles. It's a huge movie; we're so proud of that. That will take us to the next level.
Do you have a personal favourite over the years?
My favourite film of all time has been Big Eden. I was working with [director] Tom Bezucha to get a larger studio to pick it up. We showed it to the studios but nobody believed in it and finally we distributed it. We did the first double DVD ever for a gay title on this. We ended up selling over 75,000 copies.
How do you view the industry today?
The whole landscape has changed quite a bit. From a production standpoint it's amazing what's coming down the pike. Others are starting to see the strength of the LGBT community. I'm happy for that. It feels like we have done our part to make that happen.