The Swedish director of hit She Monkeys talks about her detention centre story, which plays in competition this week in Thessaloniki.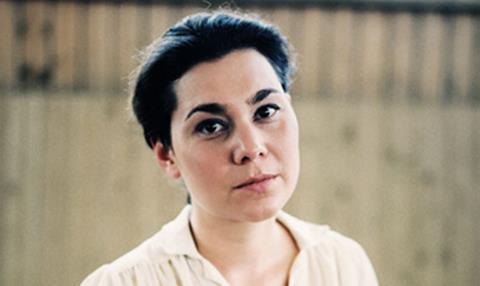 Swedish director Lisa Aschan follows up her 2011 hit She Monkeys (Apflickorna), with White People (Det Vita Folket). "I like to work with genre, with She Monkeys it was like a Western. This time I wanted to make a space odyssey," Aschan told Screen during Sweden's Way Out West festival in August.
But don't expect a spaceship — Pernilla August, Vera Vitali, and Issaka Sawadogo lead the cast in the story about a group of people held in a detention center awaiting to be deported at any minute. The guards there are in an unusual position of power over the lives of these 'prisoners,' and one prisoner (Vitali) clashes with them.
Aschan spent a year and a half researching at a real detention center while writing the script. "It took a long time to access the centre…I went through different processes to gain their trust."
"Scenes I saw during research were scary and funny," she continues. "People there are caretakers and guards in one. Like with [the Overlook Hotel] in The Shining, where the film is set effects everyone, it's like a main character. You all become part of the system."
"I made science fiction of reality," she says. "It's very surreal what I experienced…Every scene has the tension of the place."
Like She Monkeys, the film is about power. "But in this film, the people with the power are ashamed to have the power, That's what I was fascinated by."
She says the film is no political statement about immigration. "I wanted to make a thrilling, intense film that is absurd and funny in some way. If I wanted to make a political statement, I would have made a different film."
One of the most intriguing roles, head guard Viktoria, goes to veteran actress Pernilla August. "It was important to have someone so loved in that position. I wanted her to be blonde, I wanted her to be like a very normal person people could relate to."
This is a 'normal woman' who suddenly finds herself in power, which is something Aschan wants the audience to contemplate. "Under pressure, you are your true self. Would you eaten or be eaten, metaphorically?" It's something of a real-life Stanford Prison Experiment.
They shot in abandoned former cold war underground bomb shelters near Goteborg, which Aschan says was like "my spaceship."
White People (not to be confused with US production Dear White People) is produced by GarageFilm with backing from the Swedish Film Institute and with co-producers Film Vast, SVT, SF and Yellow Film & TV in Finland.
Next, the director is considering yet another genre. "I would like to made a comedy. I'm really interested in how you make something funny. Is there a code for humour? That's something I'd like to explore."
White People, which premiered in Haugesund's New Nordic Films section, screens in Thessaloniki's international competition on Friday and Saturday.