Ahead of the world premiere on June 4 at the Los Angeles Film Festival, the Bahamian talks to Jeremy Kay about her high-stakes follow-up to her Toronto 2008 selection Rain.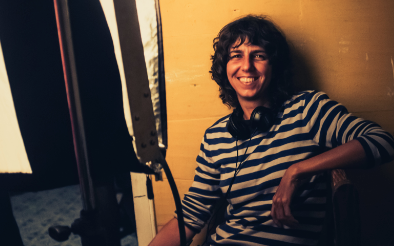 Play The Devil is an intense relationship drama set against the backdrop of Trinidad's unique Jab Molassie Carnival ritual. It recounts how a promising student from an impoverished background strikes up a relationship with a local businessman as the annual Carnival approaches.
Govan, who hails from a documentary background, also explores the culture of homophobia across the Caribbean and the devastating consequences that can ensue.
The drama is a Play the Devil Production in association with Irini Films, Creative TT, Film TT & Splice Studios. M Appeal handles world sales.
What got you into this subject?
I had heard of a 16-year-old boy, a talented, bright kid, who was involved with someone older and committed suicide when he was allegedly threatened to be outed. It haunted me and I thought if only this kid could have hung in there. I didn't want to make a story about a kid who kills himself. I wanted to understand violence in a greater context.
Being someone who is queer and comes from the Caribbean and had a rough time dealing with it, it fascinated me, this idea of how violence comes into our lives. I kept asking myself what is the devil and for me it's denial. Denial wreaks havoc.
What happened next?
My partner Abigail [Hadeed, a renowned Caribbean photographer who makes her producorial debut here] has invested decades of her life photographing Jab and she was the first Trinidadian photographer to document that. I was granted an art scholarship from the D'Aguilla Foundation to travel to Trinidad and look at Traditional Carnival. I saw Jab. I wrote the first draft in two weeks. It's the best first draft I have ever written. It was a story that picked me and moved through me and there was this energy that pushed it into the world.
Where does Jab take place?
It's specific to this village Paramin in Trinidad, which is this village high, high up in the hills. It was so high up and the roads were so narrow I literally said a prayer when we got back down. It usually takes place on the Monday night before Lent.
What is the ritual about?
They cover themselves in blue because the colour is iconic in cultures in warding off bad spirits: they have the blue hand in Middle Eastern culture and blue is used to protect from evil in Greece, too. They're a farming village [in Paramin], so they put blue on their crops to keep misfortune away. This community of people celebrate by paying the devil to leave them alone. It's a ritual rooted in African culture. It's primal and people become possessed with this. I wanted to tell the story of the boy who plays the devil [the protagonist Gregory plays the devil in the ritual and carries a trident.]
The Jab sequence in the film is powerful and feels documentary-like
They become possessed. We recorded that whole scene and hired a band of devils that Abigail has a relationship with and we shot them as they prepared.
Talk about homophobia in the Caribbean
There's tremendous suffering in our community because of it. By and large it's illegal to be gay in Trinidad. Recently they made their phobia "fairer" and now it's illegal for women to be gay, too. Ironically we were given support from the Trinidad & Tobago government, so there's clearly a bit of a disconnect.
There's a thriving art community and queer community, no question. But there are places [across the Caribbean] where it's harder than others. Trinidad & Tobago, Jamaica and even the Bahamas.
There's a culture of denial in Trinidad & Tobago and it's fine if you're gay so long as you stay in the closet. There are really powerful people who are closeted and the entire place knows so long as you stay closeted and we all lie together. This reinforces what denial does, certainly with what the Church does, perpetuating righteousness and hate. The Church plays a role in Play The Devil and I wanted to make a note of that subtly.
Tell us about the leads – the student Gregory and the businessman, James.
Gregory is played by a British actor [Petrice Jones] whom we found on the internet. He doesn't have much experience yet but he has representation and is a talented young man who deserves a shot. For James we used someone who is a friend [Gareth Jenkins]. He's a design entrepreneur and had no acting experience whatsoever, but he was great.
It's unusual to hear about a feature production from Trinidad & Tobago
This is the second film from Trinidad & Tobago after Bim in the 1970s. It's partly funded by private Bahamian and US investors and we shot last year in Paramin and all over Trinidad.
What's next for you?
I have two TV shows I am developing: one is really fun and the other is an interesting idea and like nothing we have seen on TV. I have a script called Epiphany, about a Greek Bahamian woman, and I have a quirky New York project, which is like nothing I have written before.