Emu Films' Mike Elliott talks to Andreas Wiseman about the challenges - and rewards - of making the transition from respected AD to feature producer.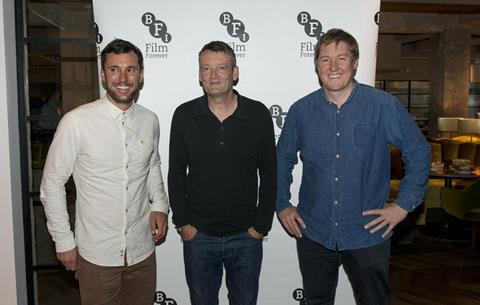 The old adage goes that you wait ages for a bus and then several come along at once. The same can be true of film-making.
"We're hoping to keep it a regular service," laughs Mike Elliott, producer at London and Manchester-based Emu Films, whose first two features, Catch Me Daddy and The Goob, debuted this year at Cannes and Venice, respectively.
Elliott knows the industry better than many first-time feature producers, having spent the best part of 17 years plying his trade as one of the most respected assistant directors in the UK.
The Yorkshire-born producer has collaborated with the likes of Michael Winterbottom (on six films), Lynne Ramsay, Matthew Vaughn, David Mackenzie, Jane Campion, Pawel Pawlikowski and Lars von Trier (including an unconventional interview process for Manderlay that involved drinking schnapps and swimming in the nude).
Transferable skills
The skills and contacts he gathered while assistant directing have proved invaluable during the transition to producing. "The connections I made while AD-ing have inevitably helped," he says.
"As an AD, you have to learn how to deal and work with directors to help them achieve what they need to achieve. You have to be on the same wavelength as the DoP and director, and make sure you're enabling them in the right way.
"The skills you bring are more to do with the physical production. Your comfort zone is the shooting. The difficulty is in the development period.
On the floor you're making decisions all day; you can mark your achievements. In development there's a totally different mindset. Added to that, if you're not independently wealthy, financially it's a challenging transition."
Elliott launched Emu four years ago, going into business with colleagues from his early career, Jim Mooney and Walli Ullah, both Emu company directors.
The outfit got its feet wet on a number of shorts including Screen Star of Tomorrow 2014 Chris Foggin's Friend Request Pending, starring Judi Dench, plus Chris Con-natty's Connected.
Meanwhile, former Emu producer Hayley Williams introduced Elliot to buzzed-about young music-video director Daniel Wolfe.
"I had a gut instinct that he had something to say," Elliott recalls about Wolfe, who directed Catch Me Daddy.
"He seemed someone who would do something very interesting with that idea [of a girl and her boyfriend on the run from her family]."
Emu caught Wolfe - another Screen Star of Tomorrow - as his career was on the rise. The director had recently made a successful video for musician Plan B and would go on to make a viral hit promo for French band The Shoes, starring Jake Gyllenhaal.
Elliott came into his own during the production process of Catch Me Daddy, which faced what he describes as "good, old-fashioned nuts-and-bolts" AD challenges.
"There was an unexpected hiatus at the beginning of shoot, which meant we had to stand the crew down for a few weeks. That was nerve-wracking. Then we got hit by the biggest snowfall on record in that region."
But the film's fundamentals were strong. Partners included Film4, StudioCanal, the BFI, LipSync and Screen Yorkshire.
Guy Myhill's debut, The Goob, a coming-of-age drama set in the beautiful but desolate fenland bayou of East Anglia, was shot as part of the iFeatures scheme just a few months after Emu wrapped on Catch Me Daddy.
"Both films feel like properly authored work," says Elliott.
"That's what we're interested in pursuing. If there's a legacy from my AD days, that is it - the desire to work with strong, distinctive voices." Both films are now in contention for the best first feature award at the BFI London Film Festival, and are due to be released in 2015.
Next up
Emu is now in development on a Daniel and Matthew Wolfe thriller set in China, which Elliott describes as a "Graham Greene-esque story of a British man who unravels in a dystopian Chinese cityscape", and is planning an early 2015 shoot on Johnny Harris's The Ballad Of Jimmy McCabe, a semi-autobiographical story about the actor's previous life as a boxer.
The latter will see Elliott return to his AD connections with Revolution Films on board as co-producers. Director Thomas Napper and actors Ray Winstone and Michael Smiley are attached. Other development projects include Myhill's next film and a project with playwright Anthony Neilson.
Elliott, Ullah and Mooney (the London office also includes development staff Thomas Hardiman and Laia Senserrich) now have their eyes on company growth.
Emu was recently boosted by a Creative England Enterprise Fund grant, which will help bring another producer into the company, specifically on the TV side.