At $3m, The Florida Project represented a huge budgetary leap for writer-director Sean Baker and producer Kevin Chinoy.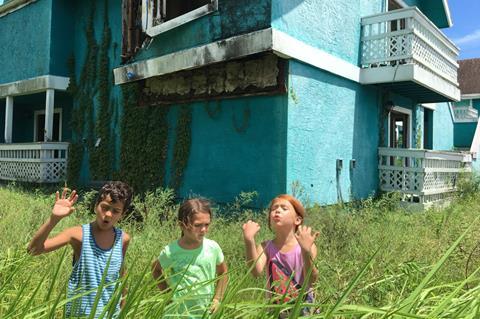 It took a series of black-and-white newspaper reports about Florida's hidden homeless to light the touch paper under what would become Sean Baker's The Florida Project, a chromatic portrait of a summer in the lives of a group of children living in the run-down suburb of Kissimmee, next to Walt Disney World. "All the news stories focused on the juxtaposition we ended up focusing on — children growing up in budget motels just outside the place we consider the happiest and the most magical place on earth for children," Baker explains. "I saw the potential in a narrative fiction film taking place in that world."
At that stage, however, the market had yet to see the potential in Baker and the luminously cinematic social-realist films he was making. He had just finished Starlet, his 2012 charmer about the unlikely friendship between a young actress and an elderly woman in California's San Fernando Valley. Although a festival favourite, Starlet did not open all the doors Baker hoped it would. He knew he would need a few million dollars to make The Florida Project: as well as all the research and location trips it required, he wanted to work with children and shoot on 35mm.
So, Baker went on to make Tangerine for $100,000 in 2014. The success of the 'iPhone movie', as it inevitably became known, began to prise open those doors and put The Florida Project back on the table. Working with his regular collaborators, co-writer Chris Bergoch and lead producers Kevin Chinoy and Francesca Silvestri of Freestyle Picture Company, Baker secured a development grant from non-profit organisation Cinereach. "The grant gave us a year of travelling to Orlando and enabled us to put together a schedule and a budget, and start to look at locations and casting," explains Chinoy, who has produced all of Baker's film and TV work, apart from Tangerine.
At the end of 2015, the production cranked up a gear. Baker directed Snowbird, a promo film for fashion brand Kenzo on which he found his Florida Project cinematographer in Alexis Zabe, whose feature credits include Carlos Reygadas's Silent Light. June Pictures, the production and financing outfit run by former ICM agent Alex Saks and Andrew Duncan, a financier from the digital tech industry, agreed to fully finance the $3m film and gave Baker final cut. US rights were sold to A24 Films, and London-based Protagonist Pictures took the rest of the world, selling it out at Cannes and then Toronto.
Familiar faces and first-timers
Casting director Carmen Cuba introduced Baker to Willem Dafoe, who had admired Tangerine, and he agreed to play Bobby, the big-hearted motel manager who was based on a real person Baker and Bergoch had met during development. With Dafoe on board and secure in the knowledge of his impressive track record of casting first-timers, June Pictures was happy for Baker to approach New York-based Bria Vinaite, a complete unknown he had spotted on Instagram selling her own clothing line.
He had toyed with the idea of casting a famous actress or even a pop star but decided the role of Halley, a young single mother living with her six-year-old daughter Moonee in a crappy motel room, needed a fresh face. After reaching Vinaite through direct messaging and convincing her that he was for real, Baker flew her down to Florida to meet the team. "I knew she had a long way to go but there was enough," he says. "She was very enthusiastic, very motivated. She saw this as her chance."
Vinaite worked with Baker and acting coach and associate producer Samantha Quan for a month. "We got her to a place where she was comfortable enough to not be intimidated when Willem came to town," Baker recalls.
When it came to casting Moonee and her friends, Jancy and Scooty — Baker and Bergoch ensured all the characters' names end with an 'e' or a 'y' — the director wanted to recreate the naturalistic spirit of Hal Roach's Our Gang series of 'Little Rascals'. The short films were about a ragtag bunch of mischievous children in the 1920s and 1930s during the Great Depression in the US.
He did a little bit of street casting himself and found Valeria Cotto (Jancy) in a local Target store, while Christopher Rivera (Scooty) came from a local casting call. But two calls in, and Baker still hadn't found his Moonee. Just as he considered pushing back the start of production, six-year-old Brooklynn Prince came in to audition. "Within seconds she won us over," says Baker. "She came with experience, having done commercials and modelling work. But to reach those heights and give the emotional performance [she does in the film], I didn't know she was going to be able to do that."
Baker normally encourages his cast to improvise but realised the children had a tendency to take it off the rails. "Sometimes I wanted it but realised it wasn't the right time for it," he explains. "For example, we thought the tour [of the motel] Moonee gives Jancy would be the time to allow the children to riff. But Deadpool had just come out in theatres and all Christopher could say was, 'Deadpool lives in here.'
"But at other times when I was just with Brooklynn alone, I could ask her to improvise. It was about asking her questions from behind the camera, and playing with her and getting to that place. She had the capability. The ice-cream drip scene? That whole scene is very scripted until the last moment where Willem's character says, 'Thank you very much,' and she says, 'You're not welcome.'"
Heavy weather
The Florida Project shot on location in Kissimmee in the summer of 2016 amid the Florida heat, regular thunderstorms and a daily 4pm downpour. A change in Halley's storyline during shooting also necessitated considerable alterations to the schedule, which Chinoy says the production took in its stride. "With Sean, I don't worry if he's going to tell the story. He writes, directs and edits so I'm not watching to make sure we're getting proper coverage," says Chinoy. "It's more, 'How do I make sure we're giving him what he needs?' His process is that he'll show up and realise he'll want to shoot it differently to the way we had initially planned. Those things create challenges for producers. But I welcome that. I don't ask for directors to make my life easy. We want to tell good stories.
"When Sean significantly changed Halley's arc, it caused us to restructure the movie. We had to move scenes and get rid of some. Those things are difficult but it was the right choice and we all knew it, so we just rolled up our sleeves and got it done."
The Florida Project premiered in Directors' Fortnight at Cannes in May and went on to screen at Toronto and a multitude of other festivals. A24 released it in the US on October 6, where it has grossed nearly $5m as of early December — which compares with less than $800,000 in the US for Tangerine — and the international rollout is now underway. Key awards nominations so far include best feature and best director nods at the Independent Spirits and wins for Baker and Dafoe from the New York Film Critics Circle. Dafoe was also awarded a best supporting actor prize by the National Board of Review.
Baker ponders what drew him to this story of female friendships and mother-daughter relationships. "I think all my films — most filmmakers' films perhaps — are responses to what you don't see enough of," he says. "Maybe I just didn't see enough of this in US film and TV."