With a huge push into virtual reality and a major focus on television and digital, the Tribeca Film Festival offers a wide-lens snapshot of contemporary content creation. But, festival director Genna Terranova tells Jeremy Kay, "Film is the bedrock."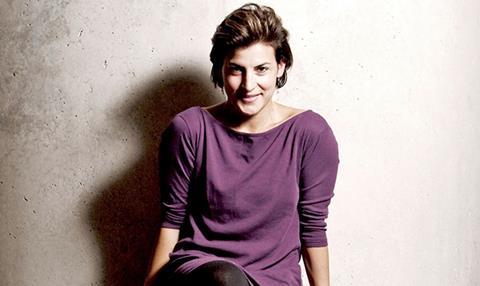 Terranova and Loren Hammonds, programmer, film & interactive, talk big picture and sample a selection of offerings at this year festival, based at the Spring Studios hub.
Other highlights include the inaugural Digital Creators Market, and the Hacked programme, curated by Def Con and Mr. Robot. The Tribeca Film Festival runs from April 13-24.
How do you feel as Tribeca gets underway?
Genna Terranova: It's a really fun year. We had a really good time putting together the programme this year. We've seen it change a lot over the years and for the first time people have been coming to us saying, 'We want to play in Tribeca, that's what we thought about from the beginning.' It was good to hear from the industry that their movies sold last year and we really took care of them. It makes our jobs a little bit easier when we know they're satisfied with what they're coming and getting. We work really hard to make it the best possible experience because it's New York and it can be overwhelming and they need to feel they're part of something special.
The film roster is lively and kicks off a little differently this year
GT: We've done opening night with each section. We divided out the US competition narrative from the international films and felt this was incredibly freeing. We were able to select a group of American films we feel are our discoveries. We wanted to give each film their own platform.

There are so many we're proud of. Look out for [US Narrative Competition opening film] Kicks, The Fixer, Elvis & Nixon, [Viewpoints opening film] Nerdland, good acquisitions titles like [Spotlight opening film] Devil And The Deep Blue Sea. We have Adult Life Skills, [Guadalajara winner] El Charro De Toluquilla, The Phenom, Wolves, [International Narrative Competition opening film] Madly, El Clasico, The Tenth Man from Berlin, Adult Life Skills, Califórnia, Reset.
In documentaries we have All This Panic, Betting On Zero, The Return, South West Of Salem, Solitary, Night School, National Bird, Keep Quiet, Tickling Giants.
You seem excited by Command And Control in the Spotlight programme
GT: Command And Control by Robert Kenner and Eric Schlosser is based on Eric's book about nuclear weapons and how we're reaching a crisis point. Eric and his producer wanted to create an installation on a grand scale. It's at Gotham Hall and they've worked with British Company United Artists who are masters at creating these immersive experiences. They've created a silo and this British band The Acid will be playing.
They've created a movie about nuclear weapons and it works backwards and shows you how it all came to be and… focuses on how this is a crisis and brings a lot of new imagery to get people aware of this crisis. There is a whole generation lost on this and they're building these weapons and there's no awareness. No-one cares that we have 16,000 of these weapons. Eric is very passionate about it. Command And Control is based on an incident mentioned in the book. They're intent on taking it around the world and it's backed by the MacArthur Foundation. It will play several times on the last weekend and Michael Douglas, who is a huge anti-nuclear advocate, will do a talk too. It's cool to see that intersection of music, film and theatre in one event.
The festival is covering a wide range of content and platforms now, besides film
GT: We're trying to be a little bit more platform-agnostic. Obviously film is most important to us. We haven't change the programme. We're still supporting the same number of films – that's the focus and it's where we give $175,000 worth of awards. And last year 80% of our films sold for distribution. But we also need to be very aware of where things are evolving and begin these new initiatives small. Three years ago we started highlighting [digital creators] and who knew that three years later there would be billboards and one has an HBO show.

So how do we service that community more, because they will transition, they are making feature films, it's already happening, but we want to support the artist in whatever direction they go in and that's one of the reasons we have an amazing Directors series this year. We have JJ Abrams, Joss Whedon, Andrea Arnold, Jodie Foster, Baz Luhrmann, Alfonso Cuaron – these are the icons [among] film directors right now and they will have brilliant conversations.

But we felt like since we are expanding what that notion is to be a storyteller we wanted to include more voices in those conversations, so that's why we added Tina Fey, Tom Hanks, who's a director-producer. People are doing a lot of different things… it's not the old studio system where people just make films. They're moving in a lot of different directions.

Tell us a bit about the TV offerings
GT: We're very proud of it. Animal Kingdom [TNT premiere] was not only a great pilot but has a great DNA as a Sundance film. Every premiere we do is coupled with an extensive talk because we want to educate the public about process… and help people understand a little bit more who the credits are.
Our identity has evolved. Storytelling has taken on a bigger focus. That's the advantage we have. We've been supporting storytellers in different mediums, not only film. Film is the bedrock of the festival but on the transmedia side and telling stories outside the screen – that's been a big priority for us for many years.
Loren Hammonds: The showrunners are really the auteurs now, creating these long-form stories that we're recognising as people are so immersed in that it's exciting to have The Night Of [HBO] with John Turturro in the lead role that was originally written for James Gandolfini, so it's finally come to fruition.
GT: We have Roots [History], we have Greenleaf, [OWN], which is being produced by Oprah and for fun, Time Traveling Bong [Comedy Central], and Broad City [Comedy Central]. Roots shows how The History Channel is moving into original content, which is exciting. Chef's Table is another one [Netflix Season 2], Grace And Frankie is a fun show on Netflix with a conversation between Jane Fonda and Lily Tomlin afterwards.
We have some great conversations: The Catastrophe [Amazon] writers are British. Full Frontal [TBS]. We have The Good Wife's farewell. It's been a huge hit for CBS and a New York institution. We're having Alan Ball come and do director's commentary for the final episode of Six Feet Under. We'll show O.J.: Made In America.[ESPN Films]. We feel the TV section represents a great cross-section of where television is today.
A lot of artists are crossing over and TV had become a stronger medium and there's been sharing [of] a lot of the talent and servicing both communities and our industry and our business, so anything that's providing more business for our business is a good thing, so being able to support across those platforms is important to us.

LH: We've also been able to keep our curatorial voice with TV. There's a lot of TV coming out, but there's enough great TV that we can pick and choose a creative programme.
GT: More and more TV companies and networks are thinking about festivals to launch their shows just as studios have thought about festivals for their films. There's so much to see out there that whatever can give that extra visibility and attention is [important]… If you think of it in terms of venn diagrams, you have film that has come closer to television and television had had a lot of success using talent from film as in True Detective and taking the medium and getting deeply into characters. As far as prestige goes [film] has been the focus for many years and [now] you see them coming together and the talent crossing over. You see the business models [coalesce] and the same companies are investing in TV as in film.
What can people expect from the Digital Creators Market on April 21?
GT: What's new this year is the digital creator world, which are people who work on YouTube and Vimeo. [They] know they might not make their first film but might make a web series or to-camera personal stories, and we're interested in how they come into the mix and [how] that talent is getting more exposure. You can see it on the billboards here.

There's a big wave that's happening and traditional media are curious. They need the development just like any other creators… so one initiative we're launching this year is the Digital Creators Market and Special Screenings. That is going to be about 30 digital creators that are going to come and we're facilitating meetings with industry in the traditional media and digital media, so it's a whole day. We wanted to create an event for them because they don't have a Sundance or a Tribeca on their calenda… to encourage their films to grow. Creating those environments for people to meet in New York is important to us.
We'll have Josh Hutcherson there talking about the work he's doing with The Black List and Indigenous. They're producing shorts on unproduced scripts that are meant for online consumption. We'll have YouTube original series with a new series called Sing It. You'll get more involved in this world and know these guys – we're all being pushed in that direction in some way. There is an aging-out that happens when the audience that follows a lot of these creators, when they hit a certain age the creator has trouble continuing or transitioning. It's like when Justin Timberlake was on Disney and was an actor-singer – or Britney Spears – and then they had to pivot and transition their careers. What we're interested in is the pivot, where these kids have had a lot of training in Hollywood. They're very knowledgeable, but how to do they transition into bigger stuff because it is essentially a talent pool that's really been untested in the more traditional sense.
LH: We're thinking of it as an incubator and putting them in a room and talking about the things they're creating. It's really exciting. We have a film in our US Narrative comptetition called Women Who Kill from Ingrid Jungermann who was a web sieres creator and now she's making her feature film debut and it's a brilliant, witty film. This is a unique voice that came from a unique place. We have Francis For Coppola in Storytellers and he's speaking not just about film but about food and wine. It's remarkable that we've gotten to build this out of the Directors Series and got people to get excited to speak with us. They're calling us and asking how they can get involved. It's a great position.
Virtual reality crops up in the Storyscapes section and you also have a dedicated programme
LH: This year we've created the Virtual Arcade, It's a bigger VR platform. It's more of a populist programme where we're trying to show the breadth of work that VR creators are doing. We have Invasion!, an experience by Eric Darnell [and Maureen Fan] from Baobab Studios. He's the director of Madagascar and has created this animated VR experience about bunnies fighting aliens and and it's really entertaining.
There's another one called Allumette from Penrose Studios created by Eugene Chung, who was at Pixar. It's beautifully animated and it based on The Little Match Girl… We'll have multiple stations for Allumette where people can go in. It's a 10 by 10 stall, you put the headset on, you're tethered to a computer and you get to wander around this beautiful Venetian-inspired world.
GT: You have serious VC's money backing these companies out of San Francisco who are pushing technology forward every day; literally every day they're coming up with new things to solve issues and have created these worlds… Animators in particular are creating worlds around us so you can move inside them and look at things. Maureen [Fan] is playing with the idea of the sense of touch so when you're immersed she introduces something sensory outside your field of vision and how that makes the viewer react.
LH: Felix + Paul are our artists in residence and have Imagination Day, when there will be 500 people with headsets experiencing a piece.
GT: Virtual reality is an isolated experience and we're trying to make it communal. Augmented reality will evolve, but right now we're having a lot of fun supporting the earlier stage. The leaps and bounds they've come since last year is amazing.