Dir: Paola Randi. Italy. 2010. 101mins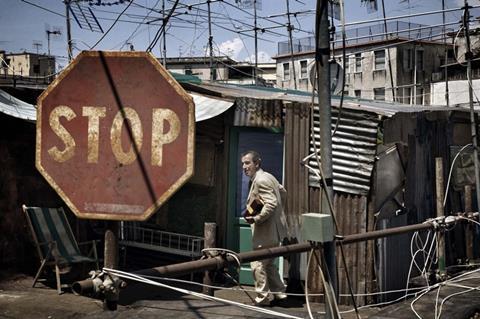 A small but likeable comedy curio about a redundant Neapolitan scientist's unlikely friendship with a Sri Lankan cricket champion, Into Paradiso was unjustly swamped by the big boys on its maiden voyage in the Controcampo Italiano sidebar at this year's Venice festival. Bright and original in story, soundtrack and visuals (which include some stop-motion animation fantasy passages), Paradiso shares a quirky feelgood spirit - and an ageing mother's boy protagonist – with breakout Italian comedy Mid-August Lunch.
The film has an infectiously quirky sense of humour and a real affection for Naples as a sort of run-down but poetic neo-Dickensian melting pot.
It also has a penchant for quasi-surreal comic mannerism that turns on more than one occasion from cute to grating. But this is a promising debut nevertheless, and if general distributors may doubt that its deadpan Neapolitan sense of humour will travel, festival programmers and speciality outlets should certainly take a look.
Cinecittà Luce plans to release the film in Italy in February 2011. It won't fly, but should appeal to challenge-seeking local cineastes enough for a decent arthouse run - which will be bolstered by enthusiastic poster-quotes from the Italian critics who saw the film at Venice.
Superstitious, downtrodden, dapper and living alone with the portrait of his late mother – with whom he still watches their favourite daytime soap, propping her photo up in front of the telly – Alfonso (Imparato) is one of those Italian sons who never quite managed to leave home. When he's made redundant from his job at a university biochemistry institute, he turns for help to Vincenzo Cacace (Peppe Servillo, Toni's musician brother) a haughty local businessman with political ambitions.
Cacace brushes Alfonso off at first, but then uses him as a stand-in for a Camorra courier job he's been pressured into doing. When this goes pear-shaped, the terrified Alfonso takes refuge on the rooftop of a run-down building entirely inhabited by Sri Lankan families, in the anarchic heart of Naples' centro storico. Here he meets – and takes hostage - the newly arrived Gayan (Anthony), a former Sri Lankan cricket champion who is reduced to being a carer for a rich and slightly dotty local dowager.
If it all sounds a little unlikely, it is: there are too many bizarre twists, at least at first, for the story to take a hold; and Alfonso is more a collection of traits than a real character. At the same time, though, the film has an infectiously quirky sense of humour and a real affection for Naples as a sort of run-down but poetic neo-Dickensian melting pot.
And unlike most Italian cinematic takes on immigration, this one takes a true binary view: the Sri Lankan community is presented from the inside, without condescending stereotypes. Saman Anthony is good as the haughty immigrant struggling with the awareness that though he's a demi-god back home, in Italy he's just another home-help; Eloma Ran Janz is equally convincing as the single mum and fortune teller who emerges as Alfonso's love interest.
If Into Paradiso wins us around in the end, it's also thanks to the quality package. From Mario Amura's savoury photography, which makes inventive use of grainy stock, desaturated colour and fish-eye lenses, to the energetic, occasionally ironic multi-ethnic soundtrack by Peppe Servillo's fellow Avion Travel band member Fausto Mesolella, to the classy comic credits – all help the film to punch well beyond its slim budget.
Production company:: Acaba Produzioni
Producer: Fabrizio Mosca
Screenplay: Antonella Antonia Paolini, Paola Randi, Luca Infascelli, Chiara Barzini, with Pietro Albino Di Pasquale
Cinematography: Mario Amura
Production design: Paki Meduri
Editor: Gianni Vezosi
Music: Fausto Mesolella
Main cast: Gianfelice Imparato, Saman Anthony, Peppe Servillo, Eloma Ran Janz, Gianni Ferreri, Shatzi Mosca