Dir: Rob Marshall. US. 2014. 124mins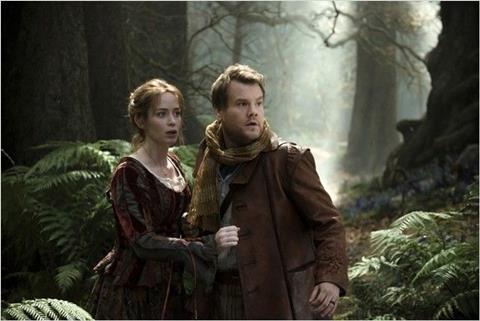 The audience will have a fine time — the characters, less so — with Into The Woods, an energetic, likable adaptation of the beloved musical from Stephen Sondheim and James Lapine. A darkly comic, sneakily touching tale of a collection of fairy tale icons who discover how hard it is to find a happy ending, this big-screen version ably demonstrates the staying power of Sondheim's 28-year-old tunes and the mythic resonance of Lapine's storytelling. Director Rob Marshall gives the film a professional polish, and while the results aren't always inspired, the source material is strong enough that it hardly matters.
From the brilliant extended opening number, which adroitly introduces the central characters and their separate quests, Into The Woods features a bevy of rich, evocative tunes with lyrics that economically push the story forward, even throwing out a joke now or then.
Opening on Christmas, Into The Woods seems destined to be a major holiday attraction, catering to family audiences and musical aficionados. (It will have some competition for those two crowds thanks to Sony's Annie, though.) Between Frozen and Maleficent, Disney has tightened its chokehold on the fantasy/princess/fairy-tale market in recent times, and Into The Woods should only strengthen the company's position. If all that wasn't enough, a starry cast that includes Meryl Streep, Anna Kendrick, Emily Blunt, Chris Pine and Johnny Depp will appeal to different demographics, making this movie one of the surer commercial bets of the winter.
Taking place largely in an enchanted forest, Into The Woods brings together several characters familiar from our childhood. Cinderella (Kendrick) longs to go to the palace ball, where she'll meet a handsome prince (Pine). Meanwhile, a baker (James Corden) and his wife (Emily Blunt) must collect several exotic items for an evil witch (Streep) so that she'll lift a curse that has left them unable to have children. And a boy named Jack (Daniel Huttlestone) trades away his prized cow for some magic beans, which sprout a beanstalk that leads up to a castle owned by a fearsome giant.
Debuting in 1986 in San Diego before landing on Broadway the following year, Into The Woods in some ways anticipated our current fascination with remixing and rebooting well-known fictional properties, finding room for everyone from Little Red Riding Hood to Cinderella to Rapunzel in the same story. Additionally, Sondheim and Lapine's musical remains thoroughly modern because it takes a satiric look at these deceptively simplistic tales, humanizing and complicating them until the characters' desires and fears feel universal and their tales shorn of their easy black-and-white morality.
Marshall (Chicago, Nine), working again with frequent collaborators cinematographer Dion Beebe and editor Wyatt Smith, doesn't radically reimagine the story, and as a result this Into The Woods feels comfortable, like a dependably entertaining all-star revue. Unfortunately, some of the casting choices are so obvious that they don't offer much surprise. (Streep's Witch and Depp's lustful Big Bad Wolf are both portrayed with too much winking theatricality, leaving one to wish that a lesser-known actor could have been assigned those roles.) But others prove endlessly delightful, particularly Kendrick as the empathetic, adorable Cinderella, who, after meeting her prince, can't decide if she would really be happy in a life of luxury. But Pine is the happiest surprise: Best known as the cocky Kirk of the new Star Trek films, he mercilessly mocks his boyish prettiness in Into The Woods, playing a handsome, dull, hollow Prince Charming. Pine may be mere comic relief, but he finds impressive flexibility in a potentially one-joke character.
The star of this adaptation, however, is Sondheim's score. From the brilliant extended opening number, which adroitly introduces the central characters and their separate quests, Into The Woods features a bevy of rich, evocative tunes with lyrics that economically push the story forward, even throwing out a joke now or then. The original musical managed to be both heartfelt and sardonic, mocking the innocence of fairy tales while, simultaneously, explaining why we still value such totemic stories. And in this film version, numbers such as "Agony," "Stay With Me," "On The Steps Of The Palace," "Any Moment" and "Moments In The Woods" have lost none of their potency, provoking laughs or sad stirrings depending on the particular tune. The fine-voiced cast belt out the songs with gusto, even if some of the emotional shading gets lost in translation.
Shot at Shepperton Studios, Into The Woods has mixed success constructing its magical world. Production designer Dennis Gassner can only do so much to make a studio space look like a moody, lush forest, which does help to underline the artificiality of these storybook characters' lives. But the movie struggles to transcend a stage-bound phoniness that undercuts the majestic tunes and spirited performances. Still, Marshall doesn't soft-pedal the original's occasionally bleak worldview. Though not nearly as bloody or macabre as Sondheim's Sweeney Todd, Into The Woods sports its share of death, anguish and grieving; true love fades and families are ripped apart. Though not as incisive as fans' favourite versions of the musical, this Woods marshals what has made Sondheim and Lapine's fractured fairy tale endure.
Production companies: Lucamar, Marc Platt Productions
US distribution: Disney, www.movies.disney.com
Producers: John DeLuca, Rob Marshall, Marc Platt, Callum McDougal
Screenplay: James Lapine, based on the musical by Stephen Sondheim and James Lapine
Cinematography: Dion Beebe
Production designer: Dennis Gassner
Editor: Wyatt Smith
Music and Lyrics: Stephen Sondheim
Website: disney.com/IntoTheWoods
Main Cast: Meryl Streep, Emily Blunt, James Corden, Anna Kendrick, Chris Pine, Tracey Ullman, Christine Baranski, Johnny Depp