Dir: Shane Black. US. 2013. 130mins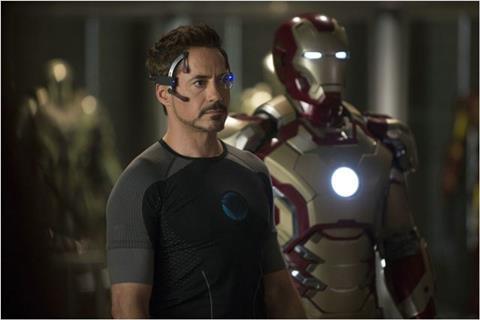 Iron Man 3 blasts it way onto the big screen with just the right blend of explosions, banter, bullets and superhero shenanigans to prove that there is still plenty of life left in this metallic hero. After being brought back on course in Marvel's The Avengers following a rather haphazard stint in Iron Man 2, the franchise looks on solid ground and set for a strong spring box office outing.
Robert Downey Jr. is at his best here, and seems to relish the greater complexity of his character.
The film opens around Europe and Asia on Apr 25 prior to its US release on May 3, and should look to dominate the international box office prior to the arrival of further fantasy fare in the form of Star Trek Into Darkness.
This time round, the engagingly freewheeling plot sees Robert Downey Jr. spending more time out of his Iron Man costume than in it, allowing the film to focus on the ingenuity, grim humour and technical smarts of his Tony Stark character rather than simply tossing yet another bit of armoured action into proceedings.
With Shane Black (who also co-scripts) taking over from Jon Favreau (who still chips in with his Happy Hogan character, now elevated from bodyguard/driver to Stark Industries security head) as director, the film is blessed with some smart, biting and funny moments of dialogue alongside the requisite series of impressively complex villains. Black – who worked with Downey Jr. on his black comedy noir-drama Kiss Kiss Bang Bang – is at his best with the dialogue-driven sequences, though also handles the grandstanding effects-driven scenes with control and verve.
The core of the story is the notion of how Stark can deal with being stripped of his money, fame and technical toys and must find the hard way to being a superhero again, and while this is familiar stuff it certainly allows plenty of room for Stark's character to develop. The villains this time round are also intriguingly different, with their own twists and turns keeping the film fresh and intriguing for its hefty 130-minute running time.
The film opens with a nicely staged bit of delve into Stark's more debauched history and an early encounter with one-night stand/scientist Maya Hansen (Rebecca Hall) and limping nerdy Eric Savin (Guy Pearce), before switching back to current times where The Mandarin (Ben Kingsley) is finding a way onto America's television channels to gloat about his series of bomb attacks.
After Happy Hogan is injured in a bomb blast Stark takes to the airwaves to state his intent to track down The Mandarin. This simply leads to a rocket attack on Stark's clifftop home, with Pepper Potts (Gwyneth Paltrow) barely getting away with her life, and Iron Man/Stark escaping the scene in a new and barely functioning suit of armour that lands him in the wilds and bereft of his usual mechanical tricks and gimmicks.
The fun of the film is seeing Stark reduced to virtually an 'ordinary Joe' – well, a 'Joe' who also happens to be a brilliant scientist/inventor and celebrity blessed with a savvy intellect – who has to reinvent himself. Intriguingly he is also having to deal with the traumas of the alien attack from Marvel's The Avengers – lack of sleep, paranoia, headaches – which challenged his notion of himself and his abilities when put up against the fact the world was invaded by an alien army.
The backstory of the interweaving villains works well, and while Ben Kingsley's performance feels rather smug and hack at times, it does suit the character as The Mandarin's back-story is revealed (fans of the comic book version may be disappointed and bemused at this version of a long-serving villain) and he is shown to be not all that he at first appears.
Robert Downey Jr. is at his best here, and seems to relish the greater complexity of his character. He has a real ease with the witty lines – courtesy of Shane Black and Drew Pearce – and by the end there is a real sense that Tony Stark has grown, both as a man and a superhero.
Gwyneth Paltrow gets to wear the Iron Man armour for a brief moment, and while her character feels slightly beefed up (plus she gets to play action in her sports bra to help emphasise her general toned-ness) somehow the relationship between Pepper Potts and Tony Stark never quite convinces. It is far better here, but as a couple they still have a way to go.
Though nicely cast, Rebecca Hall (especially) and Guy Pearce add a depth and intelligence to the supporting characters without really adding too much to the proceedings, and while there is a certain plodding regularity that the key Iron Man villains tend to be suit-wearing megalomaniacs, the climactic action sequences – filmed with an odd sense of remote distance – are shot with real brio and panache, and the film certainly never feels its well-over-two-hours running time.
The post-credits sequence – much anticipated by Marvel fans – features Stark venting his emotions to Bruce Banner (Mark Ruffalo) who patiently tries to explain he is 'not that sort of doctor' before dozing off again as Stark delves deeper into his emotions.
Production company: Marvel Studios, Paramount Pictures, Fairview Entertainment, Noble Media, Outlaw Sinema
Distribution: Walt Disney Studios
Producer: Kevin Feige
Executive producers: Jon Favreau, Louis D'Esposito, Charles Newirth, Victoria Alonso, Stephen Broussard, Alan Fine, Stan Lee, Dan Mitz
Screenplay: Drew Pearce, Shane Black
Cinematography: John Toll
Editors: Jeffrey Ford, Peter S Elliott
Production designer: Bill Brzeski
Main cast: Robert Downey Jr., Gwyneth Paltrow, Don Cheadle, Guy Pearce, Rebecca Hall, Ben Kingsley, Stephanie Szostak, James Badge Dale, Jon Favreau, Ty Simpkins, William Sadler