Dir: Bryan Singer. US. 2013. 114mins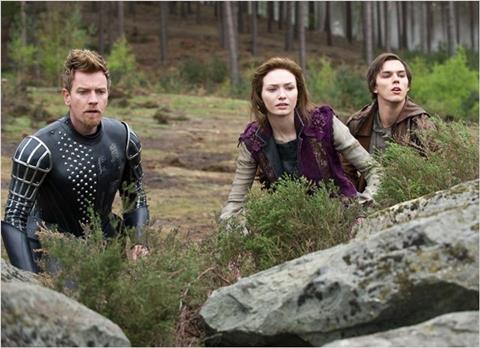 If superhero tales are our modern-day big screen myths, fairytale adventures like Snow White And The Huntsman and Hansel And Gretel: Witch Hunters are attempting to run a certain zeitgeist side game, blending fantasy folk legend with a decidedly contemporary appetite for action swashbuckling, albeit of the sword-and-crossbow variety.
Jack The Giant Slayer can't seem to decide whether it wants to play its hand as a lithe, sweeping fable or a more grounded action-adventure with legendary accessories.
Peddling pat celebrations of valour and perseverance, but marked by distressingly humdrum characterisations, director Bryan Singer's Jack The Giant Slayer arrives as a piece of showcase entertainment for the continued advancement of in particular facial motion-capture, putting its characters through an effects-laden steeplechase that squeezes out some synthetic bedazzlement unattached to much in the way of deep or transportive feeling.
Given its fanciful story and technical achievement, Jack The Giant Slayer should fell plenty of box office, particularly internationally and with family audiences. Concurrent with its 3D and regular debut in 35mm and digital theatres, the movie will be released in IMAX theatres in 3D, further assuring robust theatrical returns.
In the kingdom of Cloister, a framing device resets the well-known bedtime fairytale, while also positing that the essential truth of it has ossified into legend. A decade later, Jack (Nicholas Hoult), the son of tenant farmers, reluctantly accepts some supposedly magic beans from a panicked monk in exchange for his horse. After standing up for Princess Isabelle (Eleanor Tomlinson), Jack plays host to her at his rundown home one rainy night, where one of the misplaced beans yields a huge vine that sprouts straight up into the sky, taking Isabelle along with it.
Distraught King Brahmwell (Ian McShane) tasks his loyal knight Elmont (Ewan McGregor) with leading a rescue expedition, for which a smitten Jack and the deceitful Roderick (Stanley Tucci), to whom Isabelle is betrothed, also volunteer. Up the beanstalk they go, to the isolated land of the human-eating giants. While the king fretfully ponders how long they can leave open this portal between two worlds, Jack, Elmont and the others encounter General Fallon (Bill Nighy), the two-headed leader of the colossal nasty beings, as well as the rest of the giants.
An accomplished technical filmmaker, Singer oversees live action, practical locations and traditional effects blended with CG character born of precision motion-capture performances, using the latest generation of the Simul-Cam system developed for Avatar, in which live and virtual filmmaking elements can be integrated in real time. In this regard, Jack delivers nicely. Its scale is consistent, Newton Thomas Sigel's cinematography evokes a nice sense of space, and the film's 3D presentation, while not quite as well used and valuable as in some animated films, does help give nice perspective to the vertical pitch of scenes on the stalk.
Story-wise, though, Singer's first film behind the camera in more than four years lacks much punch of personality. The lively character interplay of something like The Princess Bride is absent here; Jack The Giant Slayer can't seem to decide whether it wants to play its hand as a lithe, sweeping fable or a more grounded action-adventure with legendary accessories. Though ostensibly set in England's distant past, the movie's look and feel is a bland merging of medieval trappings with a wanly defined contemporary sensibility, further underscoring its all-things-to-all-people sensibility.
The mischievously villainous Roderick's intended alliance with the giants, by way of a crown that controls them, is thinly sketched, to the point of alternating confusion and risible disengagement. Simpler conflict between humans and giants would have worked better. And to accommodate the big third act kingdom assault in which the giants do battle with humankind, the script embraces slapdash functionality, with curious little human discussion of the giant, sprouted stalk, and how this legend is in fact real.
Hoult, so great in the recent Warm Bodies, acquits himself here, but he has chemistry with Tomlinson that can be described as lukewarm at best. McGregor, McShane and Tucci, meanwhile, each seem rather hedged in by the prescribed functionality of their characters. All in all, Jack tames, rather than slays.
Production companies: New Line Cinema, Legendary Pictures, Original Film, Big Kid Pictures, Bad Hat Harry Productions
Domestic distribution: Warner Bros. Pictures
Producers: Neal H. Moritz, David Dobkin, Ori Marmur, Bryan Singer, Patrick McCormick
Executive producers: Thomas Tull, Jon Jashni, Alex Garcia, Toby Emmerich, Richard Brener, Michael Disco, John Rickard
Co-producer: Jason Taylor
Associate producers: John Ottman, Jonathan Stein
Screenplay: Darren Lemke and Christopher McQuarrie and Dan Studney, based on a story by Darren Lemke & David Dobkin
Cinematography: Newton Thomas Sigel
Editors: John Ottman, Bob Ducsay
Production designer: Gavin Bocquet
Visual effects supervisor: Hoyt H. Yeatman, Jr.
Music: John Ottman
Website: www.JackTheGiantSlayer.com
Main cast: Nicholas Hoult, Eleanor Tomlinson, Ewan McGregor, Stanley Tucci, Eddie Marsan, Ewen Bremner, Ian McShane, Christopher Fairbank, Simon Lowe, Bill Nighy, Cornell S. John, Andrew Brooke, Angus Barnett, Ben Daniels, Warwick Davis