Second edition of high-end drama showcase featured 12 upcoming shows.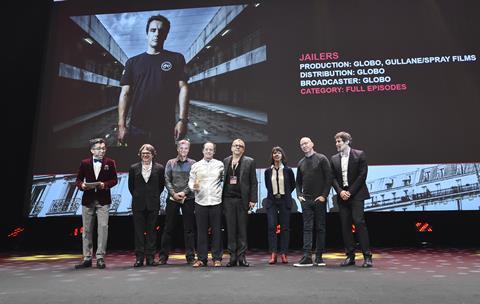 Brazilian prison drama Jailers and Tom Tykwer's ambitious detective tale Babylon Berlin, capturing the city in the Golden Twenties, clinched the grand jury awards in the full episode and work-in-progress categories at MIPDrama Screenings on Sunday.
Unfolding on the eve of MIPTV, the second edition of the showcase put the spotlight on 12 upcoming drama shows, screening either full episodes or extracts as a work-in-progress.
"There is a lot of commercial pressure to do a certain type of drama series but what really struck me was the diversity and originality of all these shows… every one of them was very unique and defied simple expectations," jury member Frank Spotnitz, creator of hit series such as The Man In The High Castle and Medici: Masters Of Florence, said.
Also on the jury were The Bridge producer Lars Blomgren, writer Virginie Brac (Cannabis, Spiral), director and actor Jalil Lespert (Yves Saint Laurent), and former Keshet content chief and Homeland executive producer Ran Tellem, who is currently head of international content development at Spanish film and TV group Mediapro.
José Eduardo Belmonte's Jailers (pictured) was one of the real discoveries of the day.
The gritty drama captures life in a tough Sao Paulo jail through the lives of the prison guards and was produced by Gullane and Spray Filmes for Brazilian media and entertainment giant Globo.
Popular telenovela actor Rodrigo Lombardi stars as tough but fair prison guard Adriano, who is respected and trusted by staff and inmates alike but has a difficult time managing his complicated home life.
In the episode screened on Sunday, he and a colleague are taken hostage when a riot breaks out, in a storyline that lays bare the fiefdoms, brutality and unspoken rules of prison life. Real-life accounts by former prison guards are intercut with the drama to power effect.
Globo's chief content officer Guel Arraes said Jailers was part of the company's push into high-end drama having conquered the telenovela market worldwide.
Describing Jailers as part-action film, part-noir, Arraes said the show, inspired by the writings of Brazilian social Drauzio Varella, also had the purpose of showing the Brazilian audience the conditions in the country's jails.
Marcal Acquino, Fernando Bonassi and Dennison Ramalho, who previously collaborated on the hit show Supermax, co-wrote the screenplay with Marcelo Starobinas.
The highly anticipated Babylon Berlin premiered 15 minutes from the second episode of the first season, featuring a dazzling Berlin cabaret club scene with a polished, cinematic look as well as a montage of other scenes giving at sneak-peak at the intricate, multi-layered storylines.
Tykwer and co-writers and directors Achim von Borries and Henk Handloegten revealed they had written and were editing the series together but that on set they had gone their separate ways each taking charge of different locations.
Produced by Tykwer's X Filme Creative Pool, Ard Degeto, Sky and Beta Film, the series is due to launch on Sky in Germany in October.
Other prize-winners included Danish series Ride Upon The Storm, which won both the Critics Award and Audience Award in the work-in-progress category.
The latest series from BAFTA-winning Borgen creator Adam Price, it revolves around a contemporary family of Danish priests who can trace their ecclesiastical roots back 250 years.
Lars Mikkelsen stars as the devout, family patriarch who struggles to live up to the high standards he sets himself and whose preference for one of his two sons will have tragic consequences for his whole family.
Asked about his move from politics in Borgen to religion with this series, Price, who was in attendance with Mikkelsen, replied: "How do you get from politics to religion? Religion these days is almost more political than most political issues.

"When we're discussing integration, immigration, the refugee crisis, or how secular we are, we are in fact debating religion and that's why I had to go into this."
Winners in the completed works categories comprised French sci-fi show Missions directed by Julien Lacombe for the Critics Award, and UK series Clique, about an elite group of alpha girls at Edinburgh University for the Audience Award.
Missions marks a first foray into television for Lacombe, whose previous credits include the pioneering 3D feature Behind The Walls starring Laetitia Casta. He co-wrote the screenplay for Missions with Henri Debeurme and Ami Cohen.
Other noteworthy series screening on Sunday included the German-Luxembourgish financial thriller Bad Banks.
The work-in-progress, which finished shooting last month, stars Paula Beer, who made her big screen debut in François Ozon's World War One drama Frantz, as an ambitious young investment banker who gets caught up in a web of corruption. It is a co-production between Letterbox Filmproduktion and Iris Productions.
Other titles sparking buzz included Swedish thriller Veni Vidi Vici, starring Thomas Bo Larsen as a washed-up Danish film director who is hired to shoot porn movies; character-driven Russian crime series The Territory starring respected actors Pyotr Fyodorov and Kirill Pirogov as a pair of mismatched police detectives, and the youthful UK backpacking comedy-drama Gap Year.