Screen talks to esteemed industry veteran James Higgins, recipient of the outstanding contribution to the industry accolade at this year's Screen International Marketing & Distribution Awards.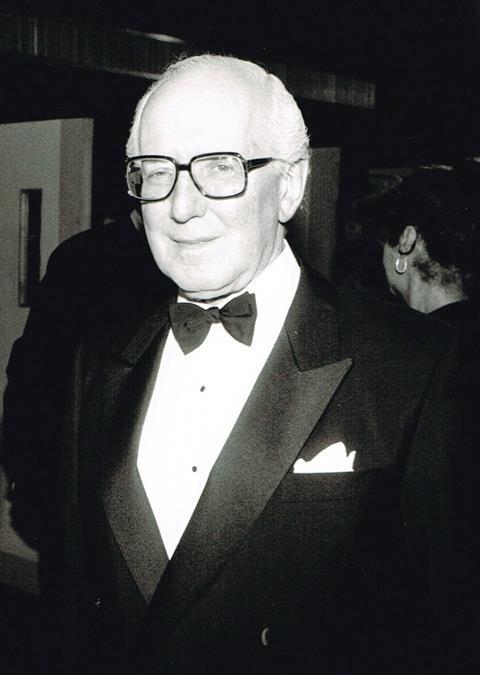 The recipient of the outstanding contribution to the industry award – sponsored by the Film Distributors' Association – at Screen International's Marketing & Distribution Awards 2012 James Higgins worked for Paramount/CIC during the 1970s and headed up United International Pictures (UIP) UK through the 1980s.
After retiring from UIP he became president of the distributors' trade body now known as the FDA from 1992-1998. Over his career he distributed such films as Jaws, Grease, the Indiana Jones trilogy, Beverly Hills Cop, Trading Places, Back To The Future, Top Gun, A Fish Called Wanda and Shirley Valentine. Now 89, Higgins maintains a role in the industry as a director of Astoria Productions.
How did you start in the industry?
I joined MGM in London in February 1951. I joined as a student salesman and they sent me off for a year's training down to the Rhondda Valley in Wales, where I had to sell films to the workmen's halls. In those days the mining industry was still going strong and some mines had their own workmen's halls, which they were licensed to show films at.
Was that a good way of learning the trade?
I think it was really. I had to persuade a committee of miners that ours was a good film for them to show and – as I had films like The Student Prince – they were very popular there.
You released some major films throughout your career.
One of the films I enjoyed was an early one in 1956 called High Society, which was a brilliant film and which I've always really liked. But I've handled an awful lot of very big films. Each film is a different challenge and you have to make your mark with the director and the stars of the film when you're marketing it.
Is treating each release differently and working with the filmmakers key?
Well, that is obviously the most important ingredient but there's also an unknown ingredient in each film which makes it successful or not. With the experience that I've had I can tell fairly well whether a film was going to be a big success or not and one tailored the advertising budgets and the number of prints that one had to one's expectation.
But nowadays, at long last, you don't have the celluloid prints like we used to have. We have now, finally, got to a digital position pretty much everywhere which makes it a lot easier. You had to physically deliver reels of celluloid to each individual cinema, which was the same system as when film was first invented in the 19th century, which we kept on doing until relatively recently. So there has been a big change altogether.
What was interesting from my point of view was that in 1951 [when Higgins joined the industry] there were thousands of independent cinemas in this country and the impact of television was just beginning to have its effect.
We had the BBC to start off with and ITV came in and this had a cumulatively disastrous effect on admissions for cinemas in this country and they declined from millions a year. And then after we had persuaded the American companies to start building multiplexes in this country the box office recovered and the multiplex building extended…
What is also interesting is that people of some influence in the film business were predicting, in 1980 I think it was, or before, that there would be no provincial cinemas in this country; there would be a few in key cities but the rest would be on television. And they were proved quite wrong.
You must have heard of 'the end of cinema' a a few times over your career?
I did, yes. But it always remains that people enjoy seeing a film in the company of an audience and the reaction that you get from an audience. It's a different sensation from just watching it on the television. That's what keeps it going. And people want to go out.