Dirs/scr: Jay Duplass, Mark Duplass. US. 2011. 83mins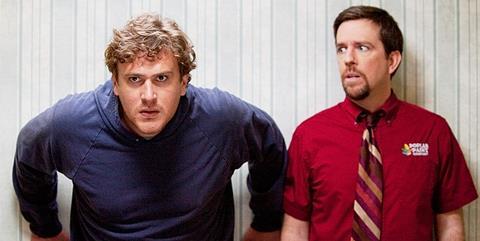 The Duplass brothers make a quirkily delightful leap into the almost-mainstream with Jeff, Who Lives At Home, a charmingly oddball gem of a movie that is funny, tender and ultimately moving as takes a fresh look at family and relationships. With a strong cast including Jason Segel, Ed Helms and Susan Sarandon, Paramount will be hoping this oddball little number could be a slow-burner, especially if critical support comes its way.
An enchantingly quirky and funny film.
Jay and Mark Duplass have long been mumblecore darlings through their micro-budget movies The Puffy Chair (2005) and Baghead (2008), and their most recent film, Jonah Hill starrer Cyrus (2010) gained good reviews. But they have gone up a gear with Jeff, Who Lives At Home and bring out the very best in their top-notch cast.
Impressive Jason Segel brings just the right amount of bumbling slacker charm to the role of Jeff, a directionless 30 year-old whose favourite film - and source of inspiration in his life - is M Night Shyamalan's Signs, and who happily lives in the basement of his mother's house, smoking a little weed and waiting for his destiny to come along.
When one day the name Kevin keeps cropping up in a television advert, random phone call and on the back of someone's basketball top Jeff thinks he has found a 'sign', and ignoring a request from his mother (Susan Sarandon) to run an errand he decides to follow where 'Kevin' takes him.
This leads him to his brother Pat (Hangover star Ed Helms), whose marriage to wife Linda (the sublime Judy Greer) is in disarray - Pat ignores her and is more interested in the Porsche he has bought that they cannot afford. When they see her with another man the brother head off in pursuit - leading to a stream of funny moments - eventually confronting her in a hotel room where Pat finally comes to realise his true feelings for her.
While all this is going on their mother (Susan Sarandon, in her most charming performance for a while, blessedly not playing a wacky grandmother this time round) who is amazed and amused to find an unknown admirer at her office is subtly romancing her.
All of the strands tie together is a majestically moving moment as Linda, the two brothers and their mother all find themselves heading across the Lake Pontchartrain Causeway to New Orleans, and in a moment of drama Jeff finds his destiny. It is a scene that will bring a tear to the eye and is the perfect end to an enchantingly quirky and funny film.


Production companies: Right of Way Films, Indian Paintbush, Mr Mudd Productions
Producers: Lianne Halfon, Russell Smith, Jason Reitman
Executive producers: Steven Rales, Helen Estabrook
Cinematography: Jas Shelton
Editor: Jay Deuby
Production designer: Chris Spellman
Music: Michael Andrews
Main cast: Jason Segel, Ed Helms, Judy Greer, Susan Sarandon, Rae Dawn Chong, Steve Zissis