According to local filmmakers, the recent suppression of documentary Beyond The Fear is just one episode in a quickening erosion of artistic freedom in Israel.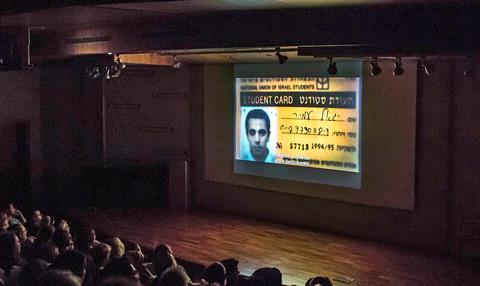 As Nanni Moretti's Mia Madre began to roll on the opening night of the Jerusalem Film Festival in the picturesque Sultan's Pool amphitheatre in early July, another screening was kicking off just metres above the spectators' heads.
On a terrace overlooking the event, some 50 film-makers and producers had gathered for a protest screening of Maria Kravchenko and the late Herz Frank's Beyond The Fear.
They included The Kindergarten Teacher director Nadav Lapid; Keren Yedaya, who won Cannes' Camera d'Or for her debut work Or; Ra'anan Alexandrowicz, whose credits include the award-winning The Law In These Parts; and Shlomi Elkabetz, co-director of the Golden Globe-nominated Gett: The Trial Of Viviane Amsalem which premiered in Cannes Directors' Fortnight in May 2014 and went on to win best film at Jerusalem two months later.
In any other year, most of the film-makers would have joined Mia Madre star John Turturro and the President of Israel Reuven Rivlin down in the bowl for the opening night ceremony.
Just days before the festival, however, Israel's Minister of Culture and Sport Miri Regev demanded the controversial Beyond The Fear – revolving around the personal life of Prime Minister Yitzhak Rabin's assassin, Yigal Amir - be pulled from the line-up, threatening to cut funding if her request were ignored.
The minister said she had received thousands of messages from members of the public, outraged by the focus on Amir, requesting the screening of Beyond The Fear – which world premiered uneventfully at Canada's Hot Docs earlier this year ­– be stopped.
The festival opted to keep the work in the documentary competition but remove it from the main programme, issuing a strongly worded statement saying it objected to "a work of art being condemned purely on the basis of its subject matter".
The decision dismayed many in Israel's film-making community. The festival and its parent venue the Jerusalem Cinematheque have never before bowed to political pressure.
"We were protesting against the interference of the politicians in the artistic decisions of the festival as well as the festival for surrendering," said producer Liran Atzmor, one of the organisers of the renegade screening.
"It's not about the documentary, it's about the principle of artistic freedom. We feel that giving in sets a dangerous precedent," he added.
The attack on the festival and cinematheque's independence was a leitmotiv running throughout the event.
At a commemoration for its late founder Lia van Leer who passed away in March, director Amos Gitai, who is working on his own narrative feature about the Rabin assassination, talked about how she had taken on conservative religious groups opposed to Saturday screenings.
He also recalled how van Leer had shown his controversial documentaries House, about the former home of a Palestinian doctor in West Jerusalem requisitioned by the Israeli government after his flight in 1948, and Field Diary, capturing southern Lebanon and the Gaza Strip before and during the Israeli invasion of Lebanon in 1982, in the face of opposition.
"She stood like a lion on the stage. For her, critical works were a homage to the country," he recounted.
Ada Ushpiz kicked off the screening of her documentary Vita Activa, The Spirit Of Hannah Arendt, with a quote from the late political philosopher on the necessity of cultural pluralism and listening to multiple voices.
In another protest action, director and producer Elkabetz, who has won best film at the festival twice – most recently with Gett and before that 7 Days (Shiva) in 2008 –withdrew from the main competition jury, setting out his reasons for doing so in an open letter in Israeli broadsheet Haaretz.
Talking to Screen after the festival, Elkabetz said the decision had been "painful".
"It's not something I did just like that. The Jerusalem Film Festival is an important event for me. I've presented all my films there and won best feature twice. I don't want to weaken the event. It's an important platform for Israeli film. I didn't want to hurt or blame anyone at the festival. It was about not agreeing and playing along as if nothing had happened… something has been broken in these last two weeks," he said.
Growing censorship trend
For Elkabetz, Atzmor and many of the film-makers at the protest screening, the suppression of Beyond The Fear is just one episode in a quickening erosion of artistic freedom in Israel.
A few days after the Jerusalem Film Festival opening, another documentary, Shivering In Gaza – capturing a therapy programme for Palestinian health workers suffering from post-traumatic stress disorder after the 2014 war with Israel – was banned in the southern Israeli towns of Sderot and Beersheba.
A planned screening at Sderot's Cinematheque, which was to have been followed by a Q&A with its Dutch director Geert Van Kesteren, was cancelled after right-wing activists mounted a text message campaign directed at the city's mayor.
A week later, another screening in the city of Beersheba was also cancelled after a similar text message campaign.
Beersheba's mayor revoked a licence for the screening saying the work was political and therefore could not be screened in a municipal building.
The Association for Civil Rights in Israel (ACRI) issued a statement on July 20 stating that the order was "illegal and unreasonable" and "violated freedom of expression".
Atzmor said Israel's mainly left-wing cultural community has been feeling under attack since the surprise re-election of right-wing prime minister Benjamin Netanyahu last March.
"There has been a growing campaign against freedom of expression in the artistic community, and not just against filmmakers, but in other areas also in theatre and dance," he said.
The newly-appointed Regev, a former Israeli army spokeswoman, appears to have thrown down the gauntlet to Israel's film-making community which has never been scared to critique the country, its military campaigns, its politics and its social ills.
Setting the agenda as she took office in May, Regev said in an interview: "In the name of that pluralism I won't lend a hand to undermining the image of the State of Israel, Israel Defense Forces soldiers or the state's heritage as a Jewish and democratic state."
A month later in a heated debate on culture at the Israeli Knesset, or parliament, the minister was more explicit. "Whoever wants to defame Israel can do it alone. We won't block it, but we won't fund it," she told the assembly.
Elkabetz said the events of the last two months signal a worrying trend.
"Is it only by chance that all these things are happening at once? Or is one person giving an example to the other and by doing that enabling censorship and enabling politicians and people who work in government offices to determine what kind of art we're going to consume and what we're going to show," he said.
His fear, he added, is that the recent screening restrictions will also start influencing film-makers.
"The impact is not only on the audience but also the creators who start to ask, 'Can I make this film or not?' You start to create sort of internal censorship," he explained.
Like many in Israel's film-making community, Elkabetz is also concerned by recent legislation barring Palestinians with Israeli citizenship registering Israeli-state funded works as Palestinian in light of the controversy surrounding Suha Arraf's Villa Touma at the Venice Film Festival last September.
"Let's not be mistaken. The Palestinians applying to the Israel Film Fund have lived in Israel all their lives. They are taxpayers. They should apply for film funding and they should get it. But now they cannot describe their film as Israeli-Palestinian, even when part of its DNA is Palestinian," said Elkabetz. "This is a big problem."
Theatre and dance
While the film industry is keeping a close eye on Regev's next move, the dance and theatre worlds have already been hit by the clampdown on cultural pluralism.
In June, the Al-Midan Theatre in the northern Israeli town of Haifa ­– one of the few venues in Israel dedicated to Arab-language theatre where the likes of Salvo and When I Saw You star Saleh Bakri cut his acting teeth – had its funding frozen over its production A Parallel Time.
A right-wing councillor in the city claimed the play glorified Palestinian militant Walid Daka, who kidnapped and killed an Israeli soldier in 1984.
It is, however, about a group of Palestinian prisoners who attempt to build an oud for a musical inmate who is about to get married, although playwright Bashar Murkas did interview Daka as part of his research.
A week later, the Elmina Theatre in Jaffa was also threatened with a funding cut after its Palestinian-Israeli director Norman Issa, who founded the venue with his Jewish wife, refused to perform in an Israeli settlement in the West Bank.
In the dance world, Israeli choreographer Arkadi Zaides' show Archive recently lost its Culture and Sport Ministry sponsorship because it includes clips filmed by activists from B'Tselem, one of Israel's most prominent human-rights organisations which monitors abuses in the West Bank.
Israeli media also reported earlier this year that information on Zaides' show, which is currently touring Europe, was removed from the website of the Israel's embassy in London on the order of then Foreign Minister Avigdor Lieberman.
Overhaul of cultural spending
In the backdrop to these recent events, Regev is promising a large-scale overhaul of her ministry's spending policies and issued a call at the end of June for the public to air its views. In a statement, the minister explained the appraisal was in response to the fact that Israeli society has changed in recent years.
No one quite knows what the implications of this review will be for the country's main artistic hubs in Tel Aviv, Jerusalem and Haifa.
Regev declared in one speech this year that, if she wanted, she could allocate the entire culture budget to communities in the north and south of the country as well as Israeli settlements in the West Bank.
For now, the funding allocations of Israel's two main film funds, the Israel Film Fund and the Rabinovich Foundation's Cinema Project, are protected from government interference by Israeli law.
In an interview just before the Jerusalem Film Festival, Katriel Schory, executive director of the Israel Film Fund, noted that Regev could not currently directly influence funding decisions.
"You cannot just wake up in the morning and say, 'I am going to change the regulations'," he said. "There are laws, a process and a Ministry of Justice. What will happen next month, next year, I have no idea but for now nothing's changed."
Israel's film-making community will be watching carefully to see whether he is right. Otherwise, Israeli state funding for documentaries like the Oscar-nominated Five Broken Cameras and The Gatekeepers and narrative features like Shira Geffen's black comedy Self Made, about an Israeli and Palestinian woman who swap identities, and even Talya Lavie's box-office hit Zero Motivation, about the antics of a group of bored, female army conscripts, could be a thing of the past.