Dir: Kevin Greutert. US. 2014. 90mins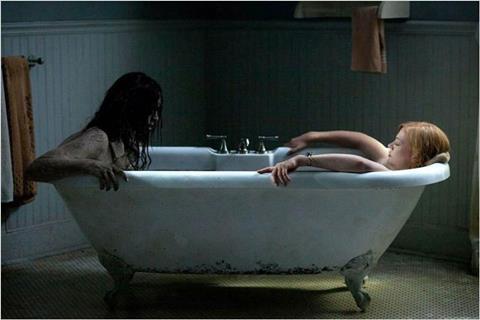 You can't go home again: That's but one cliché trotted out in Jessabelle, an ineffective horror movie that draws most of its minimal shocks from familiar genre conventions that feel even mustier than usual. A tale of a traumatised young woman tormented by an enigmatic demon, it aspires to be an atmospheric, Bayou-flavoured mystery, but the only thing uncovered is that there's precious little to keep us engaged.
To give the film its due, Jessabelle does have a somewhat nifty third act twist that's both unexpected and a plausible explanation of what we've seen transpire.
Opening in the States on November 7 — a week after Halloween, which is when horror movies usually debut — Jessabelle will probably not be much of a theatrical player considering that it boasts no stars. (In truth, the film's biggest draw is probably production company Blumhouse, which was behind the Paranormal Activity and Insidious films.) The film will arrive on VOD on the same date, and Jessabelle's modest stakes and low-key horror make it ideal for genre fans who don't want to bother getting off the couch.
The film stars Sarah Snook as Jessie, who is two months removed from tragedy: Her boyfriend and unborn child died in a car accident that left her recuperating in a wheelchair before she begins physical therapy. With nowhere to go, she returns to her hometown, a sleepy Louisiana community surrounded by swamps and memories of a childhood she couldn't wait to escape. But soon, she notices that her old family house seems to be haunted by a ghost determined to make contact with her.
That ghost's objective provides the narrative engine for Jessabelle, which is directed and edited by Kevin Greutert, a veteran of Lionsgate's Saw series. (He edited the first five instalments and directed the final two.) No matter what one thought of those influential torture-porn movies, they at least flaunted a vibrant nasty streak that's sorely missing from Jessabelle, which longs to be a more old-fashioned creepy-crawly kind of horror film. Last year's The Conjuring proved that such an approach can still sizzle, but Greutert doesn't show much mastery of tone or subtlety.
Also crippling is the fact that Greutert can't build tension from a screenplay that recycles plenty of horror tropes. (Oddly, Jessabelle is credited to Robert Ben Garant, a screenwriter better known for comedies like Night At The Museum.) Eerie messages on old VHS tapes, relaxing baths that suddenly turn terrifying, occult imagery showing up in dreams, a big twist that finally explains what's been going on: Jessabelle checks them all off its fright-night to-do-list, but the sluggish pacing and uninspired creative choices keep our anxiety in check. (This is the sort of movie where characters find clues incredibly conveniently, like under the bed or on a tombstone they just so happen to be standing by.)
As for the performances, they range from the shrieking to the overly earnest. Snook's entire character is built around her recent tragedy, and the actress can only do so much with this rather helpless young woman who mostly gets scared by a demon until she figures out the apparition's objective. Joelle Carter, playing Jessie's long-dead mother who recorded the videos for her daughter while in the womb, has a little more presence, going from loving to unsettlingly cold as Jessie's past slowly comes into focus. And Mark Webber is tasked with the thankless job of portraying the sweet, shy guy who grew up having a crush on Jessie, becoming her unlikely protector now that she's come home. If Webber ever needs to demonstrate that he can play a doormat convincingly, Jessabelle will be at the top of his résumé.
To give the film its due, Jessabelle does have a somewhat nifty third act twist that's both unexpected and a plausible explanation of what we've seen transpire. Even then, though, Greutert settles for a campy final note that's jokey instead of chilling. Also, it should be said that the movie continues an unfortunate cinematic tradition of introducing an element of voodoo through black Haitian characters who are meant to be freaky-scary mystics stripped of any sense of humanity. It would be tempting to call it offensive, but then one remembers that nobody in this film comes off very well.
Production companies: Lionsgate, Blumhouse Productions, Principato-Young Entertainment
US distribution: Lionsgate, www.lionsgate.com
Producers: Jason Blum, Paul Young, Peter Principato
Executive producers: Robert Ben Garant, Jerry P. Jacobs, Matt Kaplan
Screenplay: Robert Ben Garant
Cinematography: Michael Fimognari
Editor: Kevin Greutert
Production designer: Jade Healy
Music: Anton Sanko
Website: www.facebook.com/JessabelleMovie
Main cast: Sarah Snook, Mark Webber, David Andrews, Joelle Carter, Ana de la Reguera, Larisa Oleynik, Chris Ellis, Fran Bennett, Amber Stevens