FIRST IMAGE: It looks as if Santa is on the naughty list this year in this first still from Christopher Smith's upcoming feature.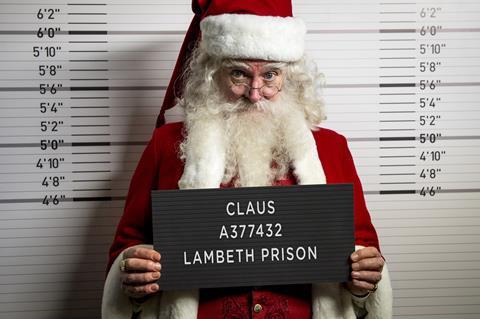 Oscar-winner Jim Broadbent is seen here in the first production image from Get Santa, which has begun shooting in the UK and will be sold at the EFM in Berlin by Altitude Film Sales.
Warner Bros will distribute the feature in the UK.
The film, written and directed by Christopher Smith (Black Death, Severance), is produced by Ridley Scott's Scott Free London, the BFI, Screen Yorkshire and Altitude Film Entertainment.
Produced by Liza Marshall, the film also stars Rafe Spall, Stephen Graham, Ewen Bremner, Jodie Whittaker, Warwick Davis, Joanna Scanlan and Nonso Anozie.
The film begins when nine-year-old Tom, played by newcomer Kit Connor, discovers Santa (Broadbent) in the garden shed just days before Christmas. Escaping the wreckage of his sleigh and desperate to return to Lapland, Santa has come to ask Tom and his dad Steve (Spall) for help.
But Steve has just been released from prison and he just wants to stay out of trouble and spend time with his son.
Only after Santa is arrested - for trying to liberate his reindeer from Battersea Dogs Home - can Tom persuade Steve to carry out Santa's plan.
Whilst Santa adjusts to life on the inside, Steve and Tom are on the run with the clock ticking, on a desperate quest to save Christmas.