Director Joe Wright and producer Paul Webster talk to NFTS about their vision for 'Pan' and making a tentpole movie with Warner Bros.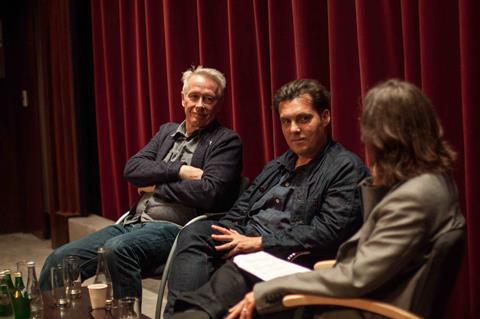 Producer Paul Webster who has worked with Joe Wright on three Oscar and BAFTA winning films (Pride & Prejudice, Anna Karenina, Atonement) says Joe is "…a producer's dream because he knows what the film is going to look like from the start and then shares that vision. And what he creates is always very beautiful."
Speaking to students from the National Film and Television School (NFTS) about their latest film, Pan, Wright said that as soon as he read the script, he knew that he wanted to make the film - and exactly how it would look.
"I saw Peter as a version of myself, aged 10 or 11, and my son, superimposed on this character and I was clear what I wanted to do with this film," said the director.
"My idea was that Neverland is Peter's trauma response to the Second World War bombings that we see at the beginning of the film. It's an escape from that trauma, so visually it is informed by the things that he has seen, which is why you see him drawing pictures of mermaids and a ship in a bottle, images that come to life in Neverland.
"Captain Hook is how a boy from the 1940s would imagine an American; the landscape looks like pictures he'd have seen in National Geographic and the Neverbirds are like roadkill. It is from Peter's imagination that this world grows."
This vision was in place at the very beginning when Wright gave an unusual visual presentation to Warner Bros, using a scroll in which he'd charted Peter's journey to Neverland from start to finish.
"Warner Bros. loved it and we pretty much stuck to it throughout the film," said Webster.
Production & Costume Design
The film has a deliberate pantomime element, which Wright says partly comes from a childhood memory of seeing the story enacted on stage.
He wanted his pirates to stand out as being different to other pirates in films so they wear flamboyant costumes including wigs and dresses. When they shoot the natives they explode into puffs of coloured powder instead of being hit by bullets.
Weight also wanted the film to have a "hand-made feel" that was part steam punk, part fantasy. The animation sequences created by Andrew Huang have a "hand-drawn" feel.
"I wanted the film to feel like my mum had made it in a puppet theatre."
His sister, who is a puppeteer, created the Never birds using a parrot skull, two raw chicken feet, some old feathers and a rib cage made out of cane. It was transformed into a CG model and given movement like a physical puppet.
Visual Effects
VFX play an integral role in creating this fantasy film, but the only part of the film that is a totally CGI environment is the Crystal Kingdom.
This is where the final fight scene takes place as the characters battle with flying pirate ships, which career through an intricate cave of crystals. Even this was based on a real place; the giant Cave of the Crystals in Mexico.
"I had been a bit nervous of doing VFX beforehand because I hadn't used this in previous films - but I found I really enjoyed it. I loved constructing the action scenes, creating a temporal reality and the kinetic energy."
The fight scene took 24 days to film in an unglamourous airplane hanger and Wright is full of praise for the actors involved. "Hollywood actors work incredibly hard and have very high standards. You meet them and realise that they are fiercely driven, smart and focused people."
The famously professional and affable Hugh Jackman, who plays pirate leader Blackbeard stepped into the role as company leader. "He took on the job of looking after the supporting actors, which created a kind of collaboration and a web of support that I believe shows on screen."
Music
The music used in the film played a crucial role in setting the tone for the actors and a sense of camaraderie among the pirates. During three weeks of rehearsals, they created a 'pirates boot camp,' during which they played a variety of anarchic Punk music.
"When they heard Nirvana's Smells Like Teen Spirit, the pirates all started jumping up and down and I knew we had to use that music in the film," said Wright.
"I like playing around with tone. In a fantastic world you can do anything you like. It doesn't always have to be tonally consistent."
Guiding the audience's emotional journey throughout the film is music composed by John Powell of whom Wright said: "It was fascinating to see how he created themes specific to emotions. His contribution to the film is huge and I owe him a debt of thanks."
Directing a tentpole movie
Asked by students what it was like making a tentpole movie as compared to an independent film, Wright admitted it felt like, "being the CEO of a giant pop-up corporation".
"The trick is to stay really focused on the story I was telling and not be overwhelmed by the vast juggernaut behind you. It really helped that I had (Paul Webster) someone I could trust beside me."
Webster said making a tentpole movie with Warner Bros. had been an entirely positive experience. "If you're going to make a movie of this scale, it is essential to have a studio behind you supporting you all the way. Warner Bros. gave us the resources we needed to realise Joe's vision and encouraged us to tell the story the way we wanted to."
Asked how he felt about the film, Wright, said it was the antidote to all things deemed "cool".
"I wanted to make this film for the part of myself aged 10 or 11 who liked magic, wore a tail-coat and who wasn't cool. I turned my back on that kids when I became a teenager.
"This film was my way of telling that kid that he was brilliant! I decided to give it a pantomime element because pantomime isn't cool; it makes everything bigger and sillier than ever. It's a film I think that my 10-year-old self and my son would like to see."
Pan is in cinemas across the UK from October 16 with nationwide previews Oct 10/11