Disney's sci-fi epic lands top after an estimated $3.3m debut; The Best Exotic Marigold Hotel drops just 18% in third weekend; The Woman In Black becomes highest grossing film of the year.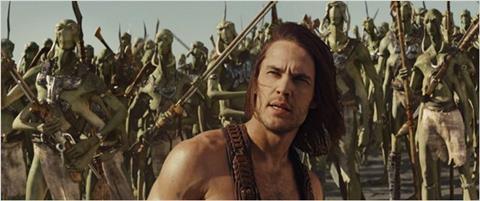 Despite middling reviews and a disappointing opening in the US, Disney's John Carter denied Fox's The Best Exotic Marigold Hotel a second week at the top with an estimated $3.3m (£2.1m) opening tally.
Andrew Stanton's adaptation of Edgar Rice Burroughs' novel A Princess Of Mars recorded a higher opening than that of Prince Of Persia: The Sands Of Time ($2.2m/£1.4m), but is some way down on the director's animated efforts Finding Nemo ($11.6m/£7.4m) and Wall-E ($6.7m/£4.3m).
A lack of direct competition opening this week should boost the sci-fi's returns, but stronger competition arrives next week in the form of Lionsgate's The Hunger Games.
While distributor Fox claimed victory and a second straight week at number one for The Best Exotic Marigold Hotel, non-final figures suggest it dropped to second after grossing $3.1m (£2.0m) from its 495 screens.
It's still a strong result for the comedy-drama though, marking a drop of just 18% in its third weekend for an impressive overall tally of $17.3m (£11.0m) after it dominated again during Mon-Thurs, adding over $3m (£1.9m).
Falling a place to third was Momentum's horror The Woman In Black, after adding $1.8m (£1.1m) on its way to becoming the highest grossing film of the year so far. Hammer's adaptation of Susan Hill's ghost story has accumulated a superb $30.5m (£19.5m) since its release, further underlining Daniel Radcliffe's ability to sell a film outisde of the Harry Potter franchise.
A decent hold saw Fox's This Means War add $1.7m (£1.1m) in its second weekend for fourth spot. After a drop of only 29%, the action-comedy stands at a solid $5.8m (£3.7m) after ten days in play.
Rounding off this week's top five was Universal's action-thriller Safe House after it took a further $1.4m (£850,000) for $9.8m (£6.2m) overall.
This week sees saturation releases for Sony's action-comedy 21 Jump Street, Paramount's found-footage horror The Devil Inside, Universal's crime thriller Contraband and Fox's based on real life drama We Bought A Zoo. Metrodome's Oscar-nominated drama In Darkness receives a wide release.