Dir/scr: Raymond Depardon, Claudine Nougaret. France. 2012. 101mins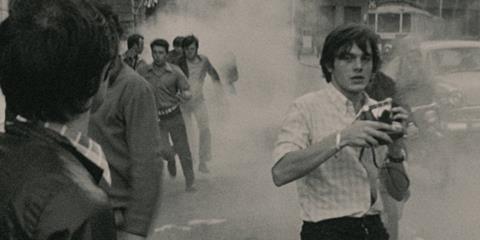 Raymond Depardon looks back at the life he captured on camera in Journal de France, assembled by his longtime collaborator (and sound engineer) Claudine Nougaret from, she says, "footage in his basement". And what footage! From tanks rolling through Prague to deaths on the street of Venezuela, famine in Biafra, and the two years he spend in the deserts of Chad, award-winning film-maker and Gamma agency founder Depardon had documented places and people most could only dream of long before his haunting films began to win awards (including the Un Certain Regard top prize for La Vie Moderne in 1988).
Depardon's footage really is the 'journal de France', its keen, silent focus speaking volumes as ever.
Nougaret, who provides the voiceover, cuts this in loosely chronological order interspersed with present-day footage of Depardon touring around France in a camper van, painstakingly arranging his pictures of a disappearing France with an old-fashioned tripod apparatus. The result, for all its all its impressiveness, is oddly impersonal, however, and Journal de France has a dispassionate air that will restrict it to specialist exposure outside France.
For all that he looks into the soul of subjects, Depardon gives little of himself, and Journal de France is oddly chilly for all the sound and fury the footage showcases.
Early intimations that this might be Depardon's Of Time And The City fail to materialise, with Nougaret content to deliver footage without much in the way of editorial commentary - the speciality of agencies such as Gamma and Magnum, which Depardon also later ran. Papa Doc Duvalier in Haiti is followed by protests in Aden, mercenaries in the Biafran jungle, and the tanks rolling into Prague.
We also see Depardon as an agent provocateur, making his first film about France's then finance minister, Giscard D'Estaing, as he campaigned for the presidency - displaying some cold cynical politicing which later got the film banned. Depardon also became involved in the Claustre affair, racing off to join the guerillas of Chad for two years before gaining an interview with the captured architect (for which he was later charged). The black and white footage of the desert here is almost tangibly lustrous (Journal de France is comprised of 16mm, 35mm and Super-8 stock transferred to digital).
Everything is here. Asylums in Italy, psychiatric care in France. Alain Delon, Nelson Mandela, Godard, the Paris courts of justice (an amusing sequence from 2003). Depardon's footage really is the 'journal de France', its keen, silent focus speaking volumes as ever. Here, however, more is required from behind the camera to overcome Depardon's dispassionate manner as the film tracks his professional life. We never get a feeling for the man behind these images, which may be entirely appropriate in his other work, but here it makes a fragile pillar for a 100-minute running time.