Dir: Todd Graff. US. 2012. 118mins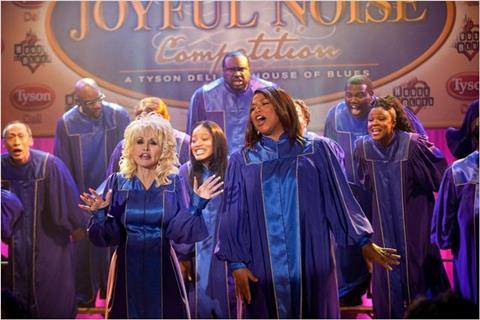 An unwieldy, frequently baffling piece of claptrap that careens wildly to and fro in its efforts to serve many different narrative masters, gospel-tinged Joyful Noise aims for many different marks, and misses on almost all of them. By turns a musical competition drama, a blue-collar homily, a forbidden coming-of-age romance and a tale of familial reconciliation, the movie tries to use noisy, open-hearted effort to mask its narrative deficiencies, but it comes across as phony — a duet of prefabricated sentimentality and self-satisfied impudence.
The performances of Latifah and Parton are things of volume and homespun sass.
While its shopworn underdog narrative recalls movies as various as Footloose, Step Up, Beauty Shop and writer-director Todd Graff's own Bandslam, Joyful Noise is most similar in story to 2003's The Fighting Temptations, starring Cuba Gooding, Jr. and Beyoncé Knowles. That film hit a $30 million domestic ceiling however, and found virtually no international translation. With strong awards season holdover box office competition and less notable stars, it's hard to foresee Joyful Noise doing any better.
After the choirmaster husband of G.G. Sparrow (Dolly Parton) suffers a fatal heartache, Divinity Church Pastor Dale (Courtney B. Vance) appoints Vi Rose Hill (Queen Latifah) the new leader of the small town Georgia choir, in advance of a big competition.
When G.G.'s grandson Randy (Jeremy Jordan), vaguely defined as a "bad boy," returns to town, he's instantly drawn to Vi's 16-year-old daughter, Olivia (Keke Palmer), and the feeling isn't entirely unrequited. Randy also helps draw Vi's Asperger's Syndrome-stricken son Walter (Dexter Darden) out of his shell a bit, and enliven some of the group's stuffy traditional arrangements. Vi doesn't much like Randy's ideas, or his interest in her daughter, but burying the hatchet with G.G. may be the key to bringing everyone together and finally winning the recognition they deserve.
Graff's last film, 2009's well received Bandslam, was also musically inclined. And while it's true that some of the movie's musical numbers soar — in particular a version of "Man in the Mirror," a song made famous by Michael Jackson — Joyful Noise almost willfully resists concentrating on what it does best. When the Divinity choir heads to the regional competition, the audience doesn't even see or hear them perform. They later qualify for the national finals in Los Angeles only after another group is disqualified, which seems an awfully strange manner to celebrate plucky underdogs.
Graff is seemingly more interested in trying to plumb the social networks the choir provides, but he does this in superficial ways. The movie's many subplots come off as strange, unsatisfying, or both. One choir member brands herself an unlucky man-killer after bedding a colleague who has a heart attack and dies — a scene that brings the movie to a screeching halt.
The teen romance is also unconvincing, seemingly foisted upon the narrative for convenience's sake. And Graff additionally never persuasively gets at the root of the conflict between Vi and G.G., whose relationship veers wildly from rancor and hostility (albeit campily portrayed) to begrudging respect, depending on what the moment requires. Given that they've each been members of this choir for so long, theoretically there should be a rich interpersonal history from which to draw, but the film bungles any legitimate exploration of female competitiveness.
In short, these aren't characters, they're vessels for wan moralizing and snappy if tired rejoinders, even if the movie attempts to cannily exploit economic hard times with a litany of made-for-TV-movie-type mini-catharses. Ladled across all of the hokum is a bunch of convoluted, cornpone metaphors. Exactly one scene, in which Vi finally rips into Olivia, emanates something approaching honesty.
Palmer and Jordan have a certain believable youthful innocence to them, but the performances of Latifah and Parton are things of volume and homespun sass.
Special note should go to hairstylist Cheryl Riddle, though, who creates a mesmerizing special effect and the movie's most lasting reminiscence in the form of Parton's towering, teased-upwards hairdo.
Production companies: Alcon Entertainment, Farrell Paura Productions, ONC Entertainment
Domestic distribution: Warner Bros.
Producers: Michael Nathanson, Joseph Farrell, Catherine Paura, Broderick Johnson, Andrew Kosgrove
Executive producers: Timothy Bourne, Queen Latifah, Shakim Compere
Co-producers: Yolanda Cochran, Steven Wegner
Screenplay: Todd Graff
Cinematography: David Boyd
Editor: Kathryn Himoff
Production designer: Jeff Knipp
Music: Mervyn Warren
Music supervisor: Linda Cohen
Website: www.JoyfulNoiseTheMovie.com
Main cast: Queen Latifah, Dolly Parton, Keke Palmer, Jeremy Jordan, Courtney B. Vance, Dexter Darden, Angela Grovey, Paul Woolfolk, Jesse L. Martin, Kris Kristofferson, Francis Jue, Kirk Franklin