Mandela: Long Walk to Freedom director Justin Chadwick talks to NFTS students about 'authenticity'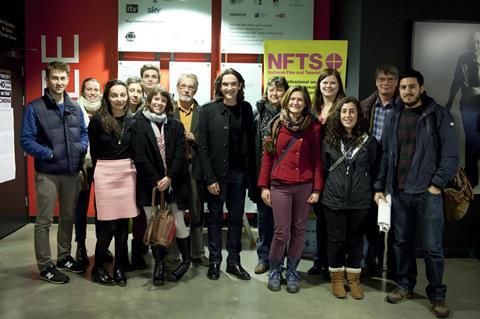 Director Justin Chadwick has given a masterclass about his latest feature film, Mandela: Long Walk to Freedom, to first year students at the National Film and Television School (NFTS).
Based on Nelson Mandela's autobiography, it chronicles his early life including 27 years in prison for his role as leader of the Black resistance movement the ANC, before becoming South Africa's President and working to rebuild the country's once segregated society.
Speaking in conversation with NFTS head of documentary Dick Fontaine, Justin Chadwick said he'd tried to make the film as 'authentic' and true to life as possible: "Mandela's life spanned almost 100 years of South African history and the impact of apartheid on South Africans is still being felt. I wanted the film to be real. This is present history."
That core principle is the reason why he lived in South Africa for a year before agreeing to take on the project at the request of Anant Singh (Producer) and the Mandela Foundation, he said. While in South Africa, Justin Chadwick took time to retrace Mandela's steps, to "soak up the culture…to speak to as many people involved; Mandela's interrogators, jailors, guards, lawyers, friends and family – I wanted to hear the story from as many sides as possible…The incident with his first wife, that wasn't in his autobiography but I put it in the film because I wanted the film to celebrate him as a flesh and blood man."
It was after meeting Winnie Mandela that he decided to make the film. "I'd been invited over for what I thought would be just a cup of tea with Winne Mandela but I stayed the whole day. My impression of her had come from Western newspapers that painted her as a villain and yet here she was with a grandson on her lap and so many children playing around her – she wasn't what I had expected."
Through his extensive research, Justin Chadwick found some old rolls of film shot just hours after Winnie Mandela had been released from solitary confinement. "She was completely broken, abused physically and mentally and never knowing what had happened to her two babies. She was just 23 years old. I felt it was important to tell her story truthfully."
Working with William Nicholson who had written many previous versions of the screenplay, Justin Chadwick said he chose to make a biopic that focussed on the love story and the destructive impact that Apartheid had on the relationships between Nelson and Winnie Mandela, "…the human cost to men and women, husbands and wives."
"I spoke to the guard outside on the day that Mandela was officially released from house arrest. I asked him why it had taken so long for Mandela to emerge from the building when the world's press were outside…waiting? He said it was because Nelson would not leave the building without Winnie Even though their marriage had already broken down, Nelson wanted to her by his side."
Going to great lengths to achieve authenticity, Justin Chadwick included many of the actual guards, jailors, generals and others in the film who had experienced the historical events first hand. The photographer who took the photos of the Sharpsville massacre, when policed fired on Black peaceful protestors and shot them in the back, was with Justin Chadwick on the film set to ensure veracity.
"The crowd scenes outside the court and in the riots are actually people who lived and breathed the experience. We went into the community months before filming and spoke to the elders and asked for their involvement. Even the sound of the crowds is real, not remixed. The only main actors who were from outside were Idris Elba and Naomi Harris. We dropped them into these real crowds so that they could feel it."
Asked why he took a documentary-style approach, he replied: "Because if we hadn't, if Idris' performance as Mdiba hadn't been true, then the crowds wouldn't have accepted it. I've always tried to be authentic. I wanted to create a 360 degrees world in which was as visceral as possible; inside his briefcase are the legal documents. And it had to be true because I knew I'd be showing it to the Mandela family!"
He was cutting the film 10 days before Mandela died. "I always thought he'd live to see it, in fact I thought he'd out live us all."
The Mandela family, and many of those who were part of the ANC struggle came to the South African premiere, which he said was "…pretty nerve-wracking but afterwards they embraced me."
Asked if, given the chance, he'd make the film any differently Justin Chadwick replied: "No. I made this film for South Africans and those involved say it is true to their struggle and their lives. That's what matters to me."