Amazon Studios' Ted Hope to reveal "vision for film"; works in progress winner to receive new award worth more than $100,000.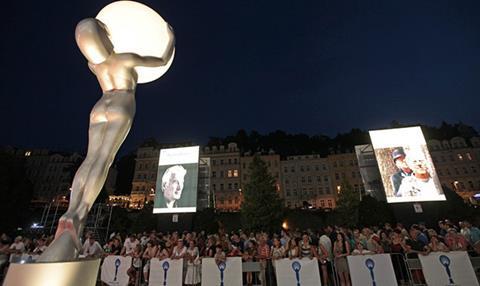 Karlovy Vary International Film Festival (July 1-9) has announced its industry programme and the projects selected for its works in progress and Eurimages Lab Project awards.
The line-up includes an in conversation event with Ted Hope, head of motion picture production at Amazon Studios, who will offer his future vision for film.
The festival will also host mark 20 years since the death of Czech filmmaker František (Frank) Daniel with a workshop, where Daniel's teaching methods will be presented by analysing the film Some Like It Hot.
Other events will provide insight into the Czech Republic's production benefits; panels on approaches to film education in Europe; and the 10th annual conference of Europa Distribution.
In addition, the European Parliament will unveil the 10 films nominated for the 10th LUX Film Prize; the Sundance Institute's Feature Film Program Lab will be introduced; and the TorinoFilmLab Alumni Meeting will be held. The complete Film Industry @KVIFF programme is available here.
Works in Progress
For the first time, the best project at KVIFF's works in progress selection will receive an award of €100,000 ($113,000).
The nine projects, selected from 57 submissions from Central and Eastern Europe, the Balkans, Turkey, Greece and the post-Soviet territories, include:
Borders, Raindrops (Granice, kiše)
dir. Nikola Mijović & Vlastimir Sudar, Bosnia & Herzegovina, Montenegro, Serbia, UK
Produced by Nikola Mijović, Vlastimir Sudar, Predrag Karlo Kalezić, Andrijana Stojković
Little Crusader (Křižáček)
dir. Václav Kadrnka, Czech Republic
produced by Václav Kadrnka st. (CZ), Marko Škop (SK), Carlo Cresto-Dina (IT)
Filthy (Špína)
dir. Tereza Nvotová, Czech Republic, Slovak Republic produced by Miloš Lochman, moloko film a Peter Badač, BFilm
The End of The Chain (Keti lõpp)
dir. Priit Pääsuke, Estonia
produced by Marianne Ostrat
The Marriage (Martesa)
dir. Blerta Zeqiri, Kosovo
produced by Keka Kreshnik Berisha
Heads and Tails (Cap si Pajura)
dir. Nicolae Constantin Tănase, Romania
produced by Anamaria Antoci
Requiem for Mrs. J (Rekvijem za gospođu J)
dir. Bojan Vuletić, Serbia, Bulgaria, Macedonia produced by Nenad Dukić, Pavlina Jeleva (Co-Producer), Tomi Salkovski (Co-Producer)
The Stone (Taş)
dir. Orhan Eskiköy, Turkey
produced by Armağan Lale
Out of Competition
Khibula
dir. George Ovashvili, Georgia, Germany, France
produced by George Ovashvili, Eike Goreczka, Guillaume de Seille
Eurimages Lab Project Award
The first Eurimages Lab Project Award, announced last year, will be presented at KVIFF. The initiative aims to award "innovative" films with funding of up to €50,000 per project.
Eight projects in production or post-production have been selected out of 64 submitted projects from Eurimages countries. Titles include:
Death Over Gold (Smrt nad zlato)
dir. Petr Šprincl, Czech Republic
produced by Xova Film - Marek Novák
FREM
dir. Viera Čákanyová, Czech Republic, Slovakia produced by Hypermarket Film, Nina Numankadić
In Praise of Nothing (My Nothing Is Bigger Than Yours)
dir. Boris Mitic, Serbia
produced by Boris Mitic (Dribbling Pictures)
Flickering Ghosts of Loves Gone By (Et j'aime à la fureur)
dir. André Bonzel, Slovakia, France
produced by Juraj Krasnohorský
Lying Carpet (Lažljivi Tepih)
dir. Željka Sukova, Aleš Suk, Croatia, Slovakia, Czech Republic
produced by Peter Kerekes
Perseverance (Vztrajanje)
dir. Miha Knific, Slovenia, Croatia, Italy, Serbia
produced by Siniša Juričić
Letters to Paul Morrissey
dir. Armand Rovira, Spain
produced by From Outer Space
13 Summer Under Waters
dir. Wiktoria Szymańska, UK, Mexico, Poland
produced by Wiktoria Szymańska, Luna W
Pitch & Feedback
Pitch & Feedback is the annual presentation of selected Czech and Slovak film projects in development, in which filmmakers directly consult with experts who this year include Laufey Gudjónsdóttir (Icelandic Film Centre), Mira Staleva (Sofia Meetings), Tine Klint (Level K), Riina Sildos (EAVE) and Guillaume de Seille (Arizona Films). Titles include:
Case Closed (Ad Acta)
dir. Rafani, Czech Republic Miloš Lochman (moloko film)
Get-Together (Sešlost)
dir. Tomáš Pavlíček, Czech Republic
producer: Jakub Mahler, Tomáš Michálek / MasterFilm
Hornet in a Bottle (Sršeň v láhvi)
dir. Vít Zapletal, Czech Republic
producer: Mikuláš Novotný, Radim Procházka / Background Films
Waiting (Čakanie)
dir. Zuzana Liová, Slovak Republic
producer: Barbara Janišová Feglová / HICHHIKER Cinema
Message (Správa)
dir. Peter Bebjak, Slovak Republic
producer: Rastislav Šesták, Natália Rau Guzikiewiczová / DNA production
Summer with Bernard (Leto s Bernardom)
dir. Martina Saková, Slovak Republic
producer: Katarína Krnáčová / SiLVERaRT
Docu Talents
The 12th Docu Talents will include the presentation of 12 Central and Eastern European creative documentary projects in production or post-production.
Organized and curated by the Jihlava International Documentary Film Festival in cooperation KVIFF, the documentaries are planned for theatrical release between August 2016 and July 2017.
The Docu Talents' 12th edition will be held for the first time at the Hotel Thermal Congress. More information about the projects here.
A Long Day (Dlhý den)
dir. Pavol Pekarčík, Slovakia
Producer: Pavol Pekarčík (partizanfilm)
A Tall Tale (Khronika / Bajka)
dir. Lucia Nimcová, Slovakia
Producer: Roman Babjak (sittcomm.sk)
Batalives (Batalives)
dir. Karolina Zalabáková, Petr Babinec, Czech Republic Producer: Karolina Zalabáková, Lukáš Gargulák (Cinebonbon)
Diagnosis (Diagnoza)
dir. Ewa Podgórska, Poland
Producer: Małgorzata Wabińska (Entertain Pictures)
Gogita's New Life (Gogitas akhali tckovreba)
dir. Levan Koguashvili, Georgia
Producer: Levan Koguashvili (Kino Iberica)
Helena's Law (Zákon Helena)
dir. Petra Nesvačilová , Czech Republic Producer: Klára Žaloudková (Background Films)
Nine Months War (Kilenc hónap háború)
dir. Laszlo Csuja, Hungary
Producer: Agnes Horvath-Szabo, Andras Pires Muhi (ELF Pictures)
Opera About Poland (Opera o Polsce)
dir. Piotr Stasik, Poland
Producer: Anna Gawlita (Kijora)
Pepik the Czech Goes to Poland in a Quest for Love of God (Český Pepík jede do Polska poznat lásku k Bohu)
dir. Vít Klusák, Filip Remunda, Czech Republic, Slovakia, Poland Producers: Jana Brožková, Zdeněk Holý (Vernes), Alena Müllerová, Jiří Vlach (Česká televize), Vít Klusák, Filip Remunda (Hypermarket Film), Joanna Plesnar, Maria Krauss (Plesnar & Krauss Films), Peter Kerekes, PISF
The Road Movie (Doroga)
dir. Dmitrii Kalashnikov, Russia
Producer: Dmitrii Kalashnikov, Angelina Kalashnikova (Eight and a Half Studio)
The Self and The Other (Despre sine si celalalt)
dir. Ionut Piturescu, Romania
Producer: Alexandru Teodorescu (Saga Film)
There Will Be Fog On the Roads (Na dorogah budet tuman)
dir. Ivan I. Tverdovskiy, Russia
Producer: Ivan I. Tverdovskiy, Natalia Mokritskaya, Mila Rozanova (New People Film Company)