Two of Australia's most loved and idiosyncratic TV comic characters, Kath & Kim, have been taken out of their usual suburban setting and dropped into Italy for their big screen debut, which will be unleashed on Australian cinemas in September.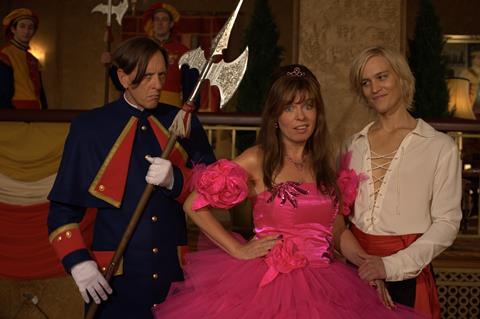 Synopsis: When foxy empty-nester Kath Day-Knight wins the trip of a lifetime to a tiny European kingdom with her spoilt princess daughter Kim, she embarks on a fairy-tale adventure filled with power, love, lust and even a royal wedding.
Director: Ted Emery, whose other features include The Craic and The Honourable Wally Norman
Written and created by: Jane Turner and Gina Riley
Producers: Rick McKenna (Rick McKenna Entertainment), Jane Turner and Gina Riley (Riley Turner Fillums)
Cast: Jane Turner, Gina Riley, Magda Szubanski, Glenn Robbins, Peter Rowsthorn, Rob Sitch, Richard E Grant, Barry Humphries.
DoP/Do-producer: David Parker
Editors: Steven Robinson and Jane Moran
International Sales: Royalty and Distribution Services
Finance: Screen Australia, private investment, Italian tax credits, Australian producer offset, Film Victoria.
Distributors: Roadshow Films (Australia).
Locations: Italy and Melbourne, Australia.
Releasing: September 2012 (Australia)
Kath & Kim is one of the most loved properties in Australian television history and when its big sister, Kath & Kimderella - made under the banner of Riley Turner Productions and Rick McKenna Entertainment - comes out in cinemas from September 6, it is expected to go gangbusters.
The title characters in Kath & Kim, a mother and her self-obsessed married adult daughter, are written and performed in exaggerated fashion by Melbourne-based writer/performers Jane Turner and Gina Riley.
There are other key characters too, including their husbands, but it is the heightened interactions, ridiculous preoccupations and odd language of these two characters that makes the show overwhelmingly popular. Indeed, "look at me" (the "me" is pronounced "moi") – which is what Kath (Turner) says when she is trying to talk some sense into Kim (Riley), is now part of the Australian vernacular.
"It has always been about the mother-daughter relationship," said director Ted Emery, who has directed the upcoming film and all four television series, the first of which went to air on ABC TV in 2002. The TV series sold throughout the world, including to all the key English-speaking markets, namely the US, where it inspired a remake for NBC, Canada, and the UK, where it was shown on the BBC.
"You have to have a story of course but they are the people that the audience identify with because everyone lives with or knows a mother and a daughter and the way they love each other one minute and hate each other the next," adds Emery.
Whilst much of the action of the TV series is centred on Kath's suburban home, (although there are always regular excursions to the Fountain Lakes Shopping Centre), in Kath & Kimderella, Kath wins the trip of a lifetime to a tiny European kingdom and invites Kim (Riley) and their friend Sharon (played by Magda Szubanski, who will next be seen in Mark Lamprell's Goddess).
"Yes we are making a feature and it's a bloody big screen and yes, every scene has to be a Rembrandt and there's a lot more bells and whistles, but you still have to make those two key characters take precedence," said Emery.
Other well-known actors in the cast include Rob Sitch, who directed The Castle and The Dish, and English actor Richard E Grant — who play King Javier and the king's page respectively – as well as Barry Humphries, who is best known for his alter ego Dame Edna Everidge.
Rick McKenna, who produced the series alongside Turner and Riley (he and Riley are married), told Screendaily that he constantly comes across examples of the universal resonance of the franchise.
When they first met socially several years back, Grant said "Look at moi!" as soon as McKenna told him that he produced Kath & Kim. Grant then recalled watching one episode three times during a flight and the air hostess asking him not to laugh quite so loudly. More recently, when Grant was invited to join the cast, he jumped at the chance without reading the script.
When McKenna first met the man who became his Italian production partner, Lorenzo Mieli, managing director of FemantleMedia Italy, Mieli revealed that he looked at buying the format rights to Kath & Kim when he was working with Fox International Channels Italy.
The Italian executive producers are Mieli, Tony Stern, the senior FremantleMedia Worldwide executive who introduced Mieli and McKenna, and local "fixer" Guido di Laurentiis. Lawyer Greg Sitch is an Australian executive producer alongside McKenna, Turner and Riley.
The film was shot on 35mm over 40 days, principally in and around Melbourne, but also in Italy for 12 days at Orsini Castle, 40 kilometres from Rome, Sorrento and along the Amalfi Coast.
The story takes on a lot of international flavour just because the characters go overseas, and the creative team have taken full advantage of the spectacular Italian locations. But the key creatives are adamant that there has been no adjustment to the core nature of the production for the sake of overseas audiences.
"In The Full Monty there was no consideration whatsoever of the rest of the world," said Emery. "You either got it or you asked the person next to you what was just said. You may not understand everything but you felt it. If they had tried to modify thatfilm in any way it would have ripped the heart and soul out of it. It's the same for us."
Federal Government film agency Screen Australia. a principal investor in Kath & Kimderella, allowed the production team to handle international sales through its associated distribution entity, Royalty & Distribution Services, despite the distributor's lack of theatrical experience.
"If we were to have one sales agent representing what is an oddball film, it would have gone to two, possibly three markets, then been put in the back of the filing cabinet with the rights tied up," said McKenna.
Roadshow Films is handling local distribution and the Seven Network has television rights and is already putting out the word that they will be running popular episodes and unseen footage in the coming months.
When the last series of Kath & Kim was shown on Australian television it's peak audience exceeded three million viewers, which was a 56 per cent national share of those watching television at that time.
"In a multichannel world, no comedy show will ever see those figures here again," said McKenna.