Dir: Ted Emery. Australia. 2012. 86mins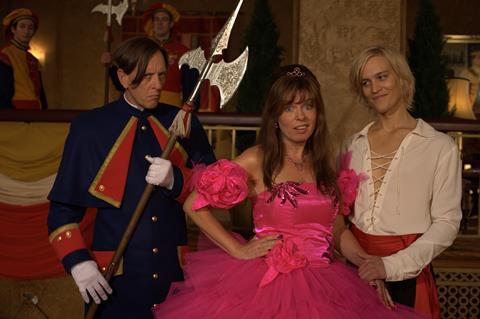 The successful ultra-suburban Australian TV sit-com Kath And Kim is here transmogrified into a hit-and-miss send-up of costume dramas set in a fictional European principality. There is some cheeky fun along the way as the crass Aussie 'foxymorons' blunder through a broadly farcical, throwaway plot. True-blue fans — of whom there are many, and not just in Australia — will be happy to be reminded of K&K's bizarre dress codes and to hear all their well-established catch phrases employed in a big-screen overseas caper. Others might wish they had explored Fountain Lakes, their home territory, at greater comic depth.
Regular TV series director Ted Emery keeps the pace going, if not the logic.
Australians fell hard for the grotesque mother/daughter combo when introduced via a 2002 series on ABC TV; three further series and a switch to a commercial channel only increased their popularity. The monstrous creations of writer/performers Gina Riley and Jane Turner have entered the national consciousness, with their heightened attitudes, dialogue and regional pronunciations ('noice' for 'nice', etc).
While shopping at the Fountain Lakes plaza, Kath (Riley) wins a holiday for two in pocket-sized Papilloma somewhere on Italy's Amalfi coast. Her husband Kel (Glenn Robbins), the local 'Purveyor of Fine Meats' (i.e. butcher), has a fear of flying so Kim (Turner) gets the second ticket, though first she has to divorce her husband Brett (Peter Rowsthorn) in order for the coming plot to work. Kim's 'second best friend' Sharon (Magda Szubanski, underused) tags along, though who arranges her ticket is unexplained.
In bankrupt if scenically spectacular Papilloma, Kim is soon mistaken for visiting royalty — well, she is sporting 'PRINCESS' in spangles on her t-shirt — and seedy King Javier (Rob Sitch) sees her as a good catch for his wayward son Prince Julio (Eric Mullally).
Regular TV series director Ted Emery keeps the pace going, if not the logic. Fairy tales like Sleeping Beauty and The Princess And The Pea get started but quickly scrapped. There's a deliberately wonky green-screen chase sequence without a resolution. Barry Humphries as Dame Edna, K&K's grossly satirical forerunner, materialises for a brief, humour-free moment. Fortunately Richard E. Grant camps up the King's floppy-haired factotum to real comic effect.
Production companies: Riley Turner Fillums, Rick McKenna Entertainment
Aust/NZ distribution: Roadshow Films
International sales: Royalty and Distribution Services, http://rhgo.tv
Producers: Rick McKenna, Gina Riley, Jane Turner
Screenplay: Gina Riley, Jane Turner
Cinematography: David Parker
Editor: Steven Robinson, Jane Moran
Production designer: Penelope Southgate
Music: Paul Mac
Website: www.kathandkimderella.com
Main cast: Gina Riley, Jane Turner, Magda Szubanski, Glenn Robbins, Peter Rowsthorn, Rob Sitch, Richard E. Grant, Erin Mullally, Jessica de Gouw