The adaptation of Bill Bryson's account of the Appalachian Trail brings Robert Redford and Nick Nolte together on screen for the first time since Redford's 2012 thriller The Company You Keep.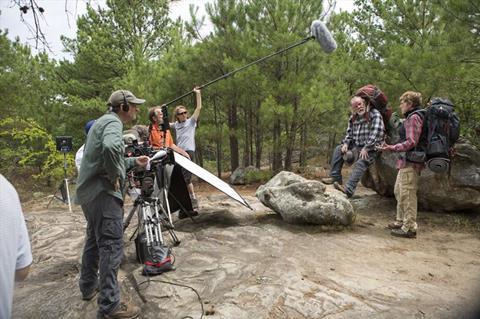 Ken Kwapis, whose credits include the recent Showtime episodic Happyish starring Steve Coogan, talks to Jeremy Kay about adaptations, long walks and the road not taken.
A Walk In The Woods premiered in Sundance and Broad Green releases it on September 2. IM Global handled international sales.
Robert Redford and Nick Nolte tackle the notorious Appalachian Trail. What's A Walk In The Woods really about?
It's really about two men going from Point A to Point B. The big question is will they make it. Whether they finish the trail or not takes a back seat to whether they will reconnect as friends and rediscover things about themselves. As much as it's about events on the Appalachian Trail it's also an interior journey. It's hard not to think about a film I like, Lawrence Of Arabia, in the sense that it brings epic scope and also an intimate focus. It's a character study.
How did you get involved?
I was a latecomer to the party. Robert Redford had been developing this project for a number of years, maybe close to ten. Robert's original intention was to develop A Walk In The Woods for Paul Newman and himself. Paul Newman grew ill and after he passed away Robert shelved the project and told me [later that] he couldn't imagine doing it with anyone else. Then he worked on The Company You Keep and he cast Nick Nolte in a supporting role. It was the first time they had worked together and the first time they got to know each other. They had a couple of scenes together and got on splendidly.
After that Bob pulled the script [off the shelf] and said, 'I think we have our Stephen Katz.' There were various writers and directors attached, but for different reasons it didn't move forward. Bob and I met in fall 2013 and we got on terrifically.
Was Bryson involved in the film?
Bill gave us his blessing but wasn't involved in the production and saw it for the first time at the world premiere in Sundance and I met him for the first time after the lights came up. I am relieved to saw he was happy with it.
You've adapted before. It brings its own set of challenges
I have had the experience of adapting popular books before. I did The Sisterhood Of The Traveling Pants, which was not only a beloved novel but [it had] fans who were very protective of it and I felt an obligation to get it right and I get the same with Bill Bryson. His fans are quite devoted. It was important to make sure we got the spirit of Bill's book right.
Did you shoot on the actual trail?
We shot some things on the trail but most was done in and around Atlanta. There's ample hiking available in and around the city, so it wasn't hard to create part of the Appalachian Trail. We went to the trailhead where most northbound hikers begin. We took a small crew up the trail to [shoot] them at spots like McAfee Knob, which is in Virginia close to Roanoke. It was not an easy experience. We could not get there by car and had to put the equipment on our shoulders and hike the rest of the way. When we got there, there was a lightning storm, so we had to get our shots quickly and get back to our care. We managed to capture a lot of the trail.
Redford as Bryson and Nolte as his old friend Stephen Katz make an interesting pair
There's a wonderful contrast between them. Bill is quite brainy, observant, curious about the world around him, sardonic. Katz in contrast is an anti-intellectual. He cannot care less about the world around him and at the same time he's emotionally effusive, wears his heart on his sleeve. He has qualities Bill could use and vice-versa. Bill has been very productive with his life, whereas Katz lacks the ability to follow through on anything and could use a bit of Bill's dedication. I like the fact they have something the other needs. Redford and Nolte's personalities are parallel.
One of the episodes sees Bryson have a moment with a motel manager played by Mary Steenburgen
Here's why I like that vignette – nothing happens. You don't really expect something to happen. It's just a moment of two people making a connection and reflecting on roads taken or not taken in their lives and then we're gone.
There's a lot of psychology but the film keeps a light tone
I remember talking to Bob about the essential optimism of A Walk In The Woods even though these two guys are in the autumn of their years and Bob really responded to that.
We also talked a lot about how Bryson felt compelled to do this [hike the trail] but couldn't explain why. Catherine [Redford's on-screen wife played by Emma Thompson] asks but Bryson cannot say. It makes the journey all the more interesting to me that the main character embarks on something with a stated reason."
I have to give credit to [screenwriter] Bill Holderman. The script deals with a lot of profound issues but not in an obvious way. It has a lightness on its surface.