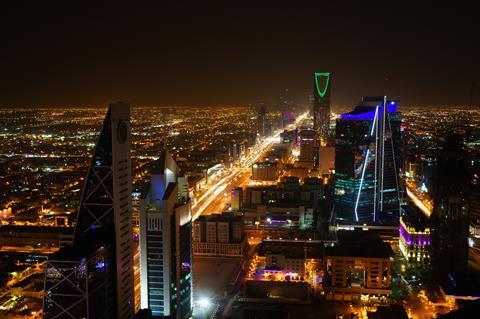 The growing crisis over the disappearance and supected killing of Saudi dissident journalist Jamal Khashoggi has put the brakes on Hollywood's flirtation with Saudi Arabia.
"The party's over after it barely began," says Sky M. Moore, an entertainment attorney at Los Angeles-based Greenberg Glusker of what looked like the beginnings of a long and lucrative relationship between the US film industry and the Middle East powerhouse.
"Studios were going to build facilities there, clients were going to shoot there and it's come to a screeching halt."
The international community's outrage over the fate of Khashoggi, a Washington Post columnist who has not been seen since he entered the Saudi consulate in Istanbul on October 2, has ballooned into a diplomatic catastrophe for the Kingdom and a major embarrassment for its key trade partner and strategic ally, the United States.
Mega agency Endeavor was the first to act earlier this week and is understood to be tearing up a $400m investment by a Saudi sovereign fund. The move is about as big a statement as it gets given the sum of money involved, and all of Hollywood is pausing, whether it comments to this effect or not, to consider any connection it has to the country effectively led by Crown Prince Mohammed bin Salman.
Until the Khashoggi affair blew up, the 32-year-old had forged an image as a dynamic figure in touch with modern sensibilities who had courted US businesses earlier this year, lifted the ban on female drivers, and ushered in the return of commercial cinemas for the first time since the 1970s.
No longer seen outside the Kingdom primarily as a crusading reformer, his reputation is morphing into that of a brutal power player who will brook no dissent – the core of Khashoggi's work – in a kingdom whose dubious human rights record has never gone away.
The Saudis have denied foul play and US president Donald Trump has attempted to deflect scrutiny of a valued regional ally's role in the reporter's disappearance, despite the release of an audio recording on Wednesday (17) that according to a senior Turkish official reveals Khashoggi, who lived in the United States, was ambushed by a 15-strong Saudi hit squad, some of whom had links to bin Salman, almost as soon as he entered the consulate to pick up a document required for his upcoming wedding. According to the recording, within minutes Khashoggi was beheaded and dead after possible torture.
AMC had not replied to inquiries by Screendaily over its stake in the Saudi exhibition circuit and upcoming plans. The giant theatre chain has been at the forefront of Hollywood's role in the revival of Saudi exhibition, and screened Black Panther at a single screen venue in Riyadh last April after the company and its local partner were granted the first cinema operating license.
At the time reports emerged that AMC was targeting between 50 and 100 cinemas by 2030 as part of bin Salman's Vision 2030 policy to diversify the Kingdom's economy away from an over-reliance on oil.
AMC and Saudi Arabia were the talk of the annual CinemaCon exhibitors convention in Las Vegas last April, and it emerged that the US luxury circuit iPic and European chain Vue were also planning to open venues.
In Cannes, the love-in continued when the Saudis launched the world's most generous film incentive, offering cash rebates of 35% for expenses incurred in the Kingdom, and an even more tantalising 50% cash rebate for spending on local crew. Saudi ambitions to launch a film festival, especially in light of a withdrawal by the Dubai International Film Festival, were also a talking point.
A spokesperson for iPic told Screendaily the company had no venues up and running in Saudi Arabia and declined to comment further. US lobby group National Association of Theatre Owners, who said in April that besides AMC, four or five of its members were building venues in the Kingdom and said the country had the potential to become "a very big market", declined to comment to Screendaily.
The Motion Picture Association Of America, whose chairman and CEO Charles Rivkin, a former ambassador to France and Monaco and assistant secretary of state for economic and business affairs, said at the time that Saudi Arabia "could be a very interesting opportunity for members of the MPAA", had not returned emails at time of writing.
Entertainment attorney Moore notes that Hollywood's relationship with Saudi Arabia was shaping up to be different to that involving other countries boasting great riches. "The good news to the extent there is any, is Hollywood was initially hoping when the Prince came in spring that it would be the beginning of Saudi Arabia putting money into Hollywood in the same way China, India and Russia did.
"[However] it turns out it was more about Saudi Arabia looking for Hollywood to bring expertise to Saudi Arabia, which isn't so exciting for Hollywood."
Regardless of who is funding or delivering know-who to whom, Moore is sure of one thing: "This reeks and it's going to stick for a while."
The Washington Post published what would apear to be Khashoggi's final column on Wednesday entitled 'What The Arab World Needs Most Is Free Expression'.