Dir: John Krokidas. US. 2012. 104mins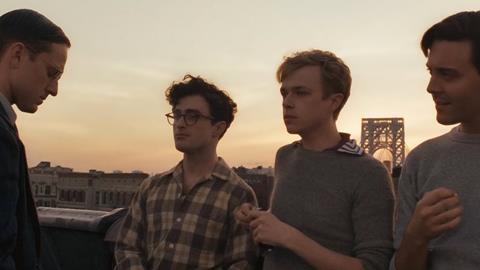 A murder in pre-Beat New York is a prequel to literary history in Kill Your Darlings. And crime pays here. The blonde blue-eyed killer gave his friend Allen Ginsberg the courage to become a poet. John Krokidas's debut feature, which revisits an act of legend, even by Beat standards, will tour festivals with its tale of gay college comradery and youthful adventures. The period piece probably won't extend beyond art houses in the US, even with Daniel Radcliffe as a callow Ginsberg and a dream team supporting cast. This is not a film for most of the multiplex Harry Potter public.
Radcliffe gets the accent down, but he's fine-featured compared to the fleshier Ginsberg, never reaching the point where it's Ginsberg rather than Radcliffe that the audience is watching.
Yet Radcliffe's fame should take this literary archaeology to audiences throughout the English-speaking world. The Beat legend (plus Radcliffe's novelty as Ginsberg) could help the film theatrically in Europe and Japan, where the Beats are revered.
The killer in Kill Your Darlings is Lucien Carr (Dane DeHaan), a free spirit who quoted Yeats and Rimbaud but didn't write – a friend to William Burroughs (Ben Foster), an inspiration to nerdy Ginsberg, and an obsession for an older young man, David Kammerer (Michael C. Hall). In 1944, Carr stabbed Kammerer with a Boy Scout knife in Riverside Park, bound him, and rolled him into the Hudson River.
Ginsberg, Burroughs and the belligerent Jack Kerouac (Jack Houston) were all implicated in the improbable crime. Carr testified that Kammerer was a predatory homosexual, and that the "honour slaying " was in self-defense. He served less than two years in prison.That legal drama begs for more time in the film. Without it, nostalgia for Beat beginnings edges in.
Kill Your Darlings sets out its position - Carr is not innocent in his relations with Kammerer or in his deployment of anti-gay sentiments to win a minimal sentence. Historians are divided. Expect debates to be fierce among Beat fans as the film travels. Carr set out his own position, requesting that Ginsberg remove Carr's name from the dedication of Howl, published in 1956.
Krokidas's script, written with Austin Bunn, morphs from brat pack schoolboy antics to sexual initiations to an anguished bond between Carr and Kammerer - mutually needy in shifting power plays rather than one man stalking the other.
Rather than surrender his story to the crime or the courtroom, Krokidas scrutinises the ensemble of friends that galvanised the young men into literary vocations and kept the brooding Kammerer at a distance.
As Carr, DeHaan (In Treatment) has an angelic face and a confident mercurial flair that make Ginsberg's and Kammerer's affections understandable. It doesn't hurt that he looks more than Byronic in close-ups by cinematographer Reed Morano.
Kill Your Darlings is the first cinematic telling of the Lucien Carr story, already told in an early novel by Burroughs and Kerouac, suppressed by Carr during his lifetime. Just as central is Ginsberg's coming of age. In a setting where youthful silliness meets ambition, Radcliffe gets the accent down, but he's fine-featured compared to the fleshier Ginsberg, never reaching the point where it's Ginsberg rather than Radcliffe that the audience is watching. Radcliffe does persuade you that it was Carr's courage, or his sheer abandon, plus his beauty, that helped transform the younger student from a shy New Jersey kid into a writer who shocked readers.
As the older thirty-ish Kammerer, Hall (Dexter) speaks with an Orson Welles resonance. His slow burn of controlling passion for Carr flares when challenged by a teenager like Ginsberg, stoking the despair of a man old enough to envy younger men discovering themselves.
Burroughs and Kerouac fill out the period script as supporting players. While not the buffo literary chums of Woody Allen's Midnight In Paris, they are there mostly for laughs – Foster with the poker-faced nasality of a blunt saw and Huston mixing rough tactility with wanderlust.
Stephen Carter's production design exploits the Columbia locations, but misses the squalid corners of wartime New York in which Burroughs bought drugs, Kerouac brawled, and a drunken Carr quoted Henry Miller.
Carr, after prison, worked for the United Press International for decades as an editor, where he went on to head the general news desk until his retirement in 1993. He and Ginsberg, who died in 1997, remained in contact. Carr died in 2005.
Production companies: Benaroya Pictures, Killer Films
International sales: IAV International, LLC 1 310-651-9946
Producers: Michael Benaroya, Christine Vachon, Rose Ganguzza
Executive producers: Joe Jenckes, Stefan Sonnenfeld, Jared Ian Goldman, Pamela Koffler, Randy Manis
Screenplay: John Krokidas, Austin Bunn
Cinematography: Reed Mano
Editor: Brian Kates
Production designer: Stephen Carter
Main cast: Daniel Radcliffe, Dane DeHaan, Michael C. Hall, Jack Huston, Ben Foster, David Cross, Jennifer Jason Leigh, Elizabeth Olsen