Dir: Eli Roth. US. 2015. 99mins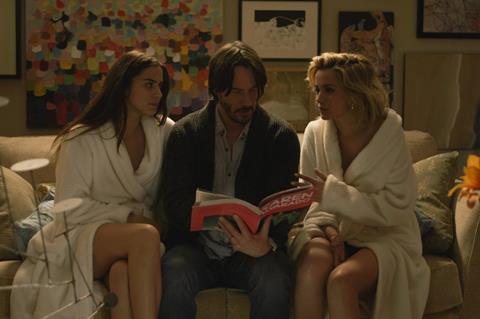 Funny Games, it's not. But this latest film from Eli Roth (Cabin Fever, Hostel) has a lot in common with Michael Haneke's seminal psychological thriller about a bourgeois home invasion—minus the intelligence or self-awareness. Though entertaining—in a sick, sadomasochistic way—fans of Roth's horror oeuvre may not exactly get their rocks off from Knock Knock, which is a relatively tame affair compared to he and his colleagues' previous outings. Gore is kept to a minimum, with the torture less physical and more psychological.
Knock Knock offers little redemption or even unclean satisfaction, preferring to reduce its entire project to a cruel Facebook joke.
That leaves Knock Knock in a strange place, not as bloody disgusting as horror aficionados might like, but too exploitational for a more mainstream genre-loving audience. Still, with Keanu Reeves in the lead role, Roth's fan-base, two sexy co-stars, and a plot that holds together reasonably well (based on 1977's Death Game), Knock Knock should find easy entry into theatrical and ancillary markets.
Revees stars as Evan Webber, a "hot" happily married 43-year-old successful architect (and former DJ!) and father of two. The film begins with aerial shots of Hollywood Hills mansions before eventually landing on Evan's own precisely designed, majestic geometric dwelling.
It's Father's Day! But after a morning of brief celebrations with the wife and kids, Evan will be left alone to finish a big project. These early scenes not so subtly suggest the various details of Evan's life that will provide pay-offs later: his asthmatic friend Luis who must return to the house the following day; Evan's hair style; and his artist wife's many sculptures that decorate the house. In the next 48 hours, all will, unsurprisingly, end up in ruins.
Later that night, two sexy kittenish young women, drenched wet from the falling rain, show up at Evan's front door, as if in a porno. They ask for help, a place to dry their clothes—providing them the opportunity to undress—and begin to flirt incessantly with Evan, offering him tales of their open sexual lives and lots of come-hither looks. We know what's coming, and Roth delays the inevitable for as a long as possible, creating a palpable air of tension that finally releases. But it's a full hour into the film before these young ladies prove to be far more dangerous than they first appear.
If Roth is out this time to punish his young adult male audience of oglers and voyeurs, he only does so with half-hearted success. The girls' efforts to torment poor Evan never reach levels of squeamishness—turning up the volume on some headphones to earsplitting volume doesn't translate as well visually as, say, the slow slicing of limbs. And certain destructive acts, such as covering a corpse with paper maché or playing a gameshow revolving around Evan's punishment, come across as weird rather than disturbing.
Rather, the film gets more suspenseful mileage out of Evan's ability or inability to escape, seek retribution against his torturers, or get help through various electronic devices. Unlike a film like Hostel, where the protagonists are easy to write off, the audience is on Evan's side. Despite the outrageousness of the story, Reeves endows the suffering character with a bit of, not exactly, pathos, but sympathy. The film's best and funniest scene comes in a furious monologue when Evan screams at the young ladies for entrapping him, comparing their arrival and invitations to sexual fantasies like "Free Pizza" at his door.
Young actresses, Lorenza Izzo, who plays the dark-haired vicious vamp, and Ana de Armas, a Marilyn Monroe-like nymphette, are fine as the sociopathic femme fatales, toying with their sexiness like a loaded weapon. But Reeves is the obvious big draw here, and he's fun to watch, alternating between exasperation, fury and helplessness.
But only for the most cynical and misanthropic, Knock Knock offers little redemption or even unclean satisfaction, preferring to reduce its entire project to a cruel Facebook joke. Though no one will presumably be looking for themes here, either of class warfare (there is some mention of Evan coming from "one per-center land") or child molestation (the girls seem motivated by some kind of female-driven outrage), there may be an inkling of meaning inside Roth's latest hostile venture. But probably not.
Production companies: Sobras International Pictures, Dragonfly, Camp Grey
International sales: Voltage Pictures, www.voltagepictures.com
Producers: Eli Roth, Miguel Asensio Llamas, Nicolás López, Colleen Camp, Cassian Elwes, Tim Degraye
Executive producers: Keanu Reeves, Teddy Schwarzman, Sondra Locke, Larry Spiegel, Peter Traynor
Screenplay: Eli Roth, Nicolás López, Guillermo Amoedo
Cinematography: Antonio Quercia
Editor: Diego Macho
Music: Manu Riveiro
Main cast: Keanu Reeves, Lorenza Izzo, Ana De Armas, Aaron Burns, Ignacia Allamand, Colleen Camp