Dir/scr: Jan Sverak. Czech Republic–Denmark. 2010. 95mins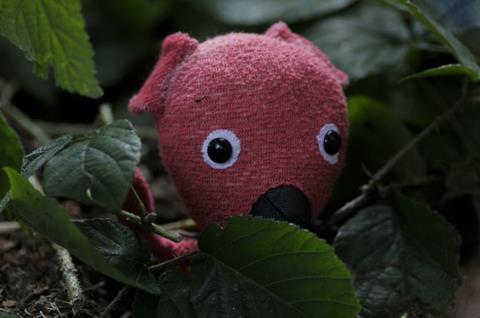 While everybody's looking around for the next 3D-CGI animated blockbuster feature, here comes one of the Czech Republic's favorite sons, Jan Sverak, the same director who brought home an Oscar for his1996 film Kolya with a diametrically opposed proposition. Animation yes, 3D and CGI most definitely no, just old-fashioned puppetry for which the Czechs are famous.
The puppet animation techniques are basic, the puppets never even change facial expressions, barely move their limbs.
This is the kind of challenge that only dreamers and the reckless dare take on, particularly when the plot uses a premise uncomfortably similar to Lassiter's Toy Story 3. Kooky screened in the main competition of the Karlovy Vary Film Festival.
As with the Pixar smash, the hero, Kooky, is an abandoned toy who has to make his way back home from the city dump. Once a red bear whose colour has rather faded in the meantime and his straw-filled belly is unhealthy for the asthmatic little boy Ondra, who still adores him.
Kooky is discarded by the boy's mother with other unusable toys and thrown into the bin. Just as he is to be crushed along with all the rest of the trash in the dump, Kooky is resuscitated by Ondra's ardent prayers, manages to escape into the forest and, as you might have guessed, after many adventures there in the company of imaginary creatures who are nothing if not a reflection of human society and all its foibles.
He manages to learn a lot about friendship, valour, democracy and decency, before reaching his goal. Looking for all purposes like a Jan Svankmajer-induced fairytale, with occasional live action transitions which suggest this could be Ondra's fantasy, more real for him than real life.
Sverak, a director who gives each of his films a distinctively different look, this time went all the way back to animation style used more than 20 years ago in his short film Oil Gobblers. The script may not be quite clear or tight, but its universe is populated by characters that are anything but cuddly and cute.
The puppet animation techniques are basic, the puppets never even change facial expressions, barely move their limbs, and the viewer is supposed to work overtime and fill up the missing visual – and to be fair also narrative - gaps. An English-language dub is being delivered later this summer. But will this be good enough for the Disney-spoiled tots of today, spoon fed in every sense of the word? One wonders.
Production companies: Biograf, Jan Sverak Pictures
Producers: Jan Sverak, Eric Abraham
Executive producers: Jeffrey Brown, David Rauch, Monika Splichalova
International Sales: Fandango Portobello Sales, www.portobellopictures.com/Fandango-Portobello
Cinematography: Vladimir Smutny, Mark Bliss
Production designer: Jakub Dvorsky
Editor: Alois Fisarek
Music: Michal Novinski
Main voice cast: Ondrej Sverak, Zdenek Sverak, Oldrich Kaiser, Kristyna Fultove-Novakova, Filip Capka