Film professionals call for resignation of KOFIC chairman and Busan mayor over government's suppression of filmmakers and content.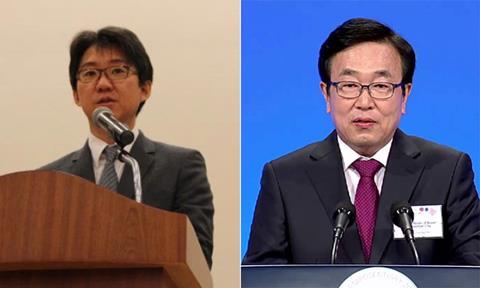 Over 1,000 local film industry professionals protesting the South Korean government's blacklist are calling for the resignation of Korean Film Council (KOFIC) chairman Kim Sae-hoon (above, left) and Busan mayor Suh Byung-soo (right).
The protestors are saying the two should be arrested and investigated for their alleged collaboration with the government's suppression of films, filmmakers and the Busan International Film Festival over content that was "not to the regime's taste."
They are also demanding that the Korean Film Night reception - organised by KOFIC and to be held February 9 during the Berlinale - should be cancelled.
At a press conference held yesterday (Feb 7) in Seoul, the protestors announced a declaration signed by 1,052 film industry professionals, including director Ryoo Seung-wan (Veteran) and producer Goh Young-jae (Old Partner).
The declaration went over recent revelations pertaining to the blacklist, including the arrest of and/or investigations into top presidential aides and former ministers of culture. It expressed "shock" and "rage" against the kind of censorship and regulation "carried out under the Park Chung-hee military dictatorship regime".
Protestors criticised the reduction of KOFIC's funding for the Busan International Film Festival (BIFF) after it screened The Truth Shall Not Sink With Sewol against the government's and mayor Suh's wishes in 2014.
They also noted the distributor of the film, Cinema DAL, was struck from government-funded programmes, and that documentaries dealing with the Sewol disaster and other films that "were not to the regime's taste" were otherwise "suppressed" – along with the producers, investors, distributors and "even conglomerates" related to such films.
It is understood there was more than one version of the blacklist and the protestors noted "the most recent" one contained names of those who called for a probe into the Sewol ferry disaster or supported president Park Geun-hye's political rivals.