South Korean prosecutors today named president Park Geun-hye as a suspected accomplice in pressuring CJ Group vice chairwoman Miky Lee to step down in 2013.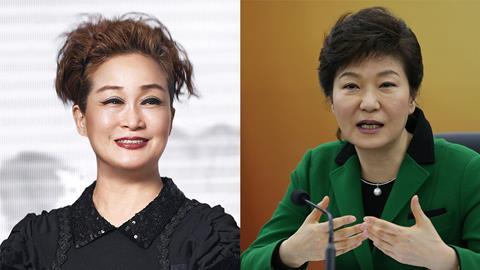 Lee in part established and ran the nation's leading entertainment and media company, CJ E&M, a subsidiary of family-owned conglomerate CJ Group.
CJ E&M produced box office hit The Attorney (2013), which was based on the life of the late Roh Moo-hyun, a liberal president who faced fierce opposition from Park's party until his suicide in 2009.
The media giant also produces late-night comedy show SNL Korea, which has a political satire segment, Yeouido Teletubbies. The segment came up in National Assembly hearings last week as the possible reason for presidential disfavor.
The sketch series parodied candidates including Park during the 2012 presidential election and Park's Saenuri party legislators had taken issue with it at the time.
As part of an investigation into the multi-faceted corruption scandal that led to the president's impeachment in the National Assembly on Friday (Dec 9), Park's former senior economic aide Cho Won-dong was charged with colluding with the president in pressuring Lee to leave.
Prosecutors also indicted former vice minister of Culture, Sports and Tourism, Kim Chong, on other charges of abuse of power and co-ercion.
CJ Group chairman Sohn Kyung-Shik, in the course of being questioned at National Assembly hearings on Dec 6, confirmed reports that the president's aide notified him in 2013 that the president wanted Lee out.
On questioning at the next day's hearings, Cho claimed that it was inevitable that the president's intent would have been conveyed whether he had been the messenger or not.
Lee's unexpected withdrawal to the US after Park took office in 2013 was said ostensibly to have been for health reasons. But insiders spoke of the likelihood that she was compelled to leave under threat of retaliatory audits and investigations by the government.
Dubbed the 'Park Geun-hye/Choi Soon-sil Gate' after the president and her close friend, who has been indicted for influence-peddling, the scandal with its daily developments in breaking news and analysis has been riveting the nation's attention.
It sent an accumulative 6.4 million protesters into the streets over six weekends of Saturday rallies according to JTBC, and is seen to be a factor in the sharp 17% drop in November box office attendance this year.
Other allegations of abuse of power and co-ercion pertaining to the culture industry that have recently come to light include a government blacklist of artists, the targeting of the Busan International Film Festival over documentary The Truth Shall Not Sink With Sewol, and support for VR tech development.